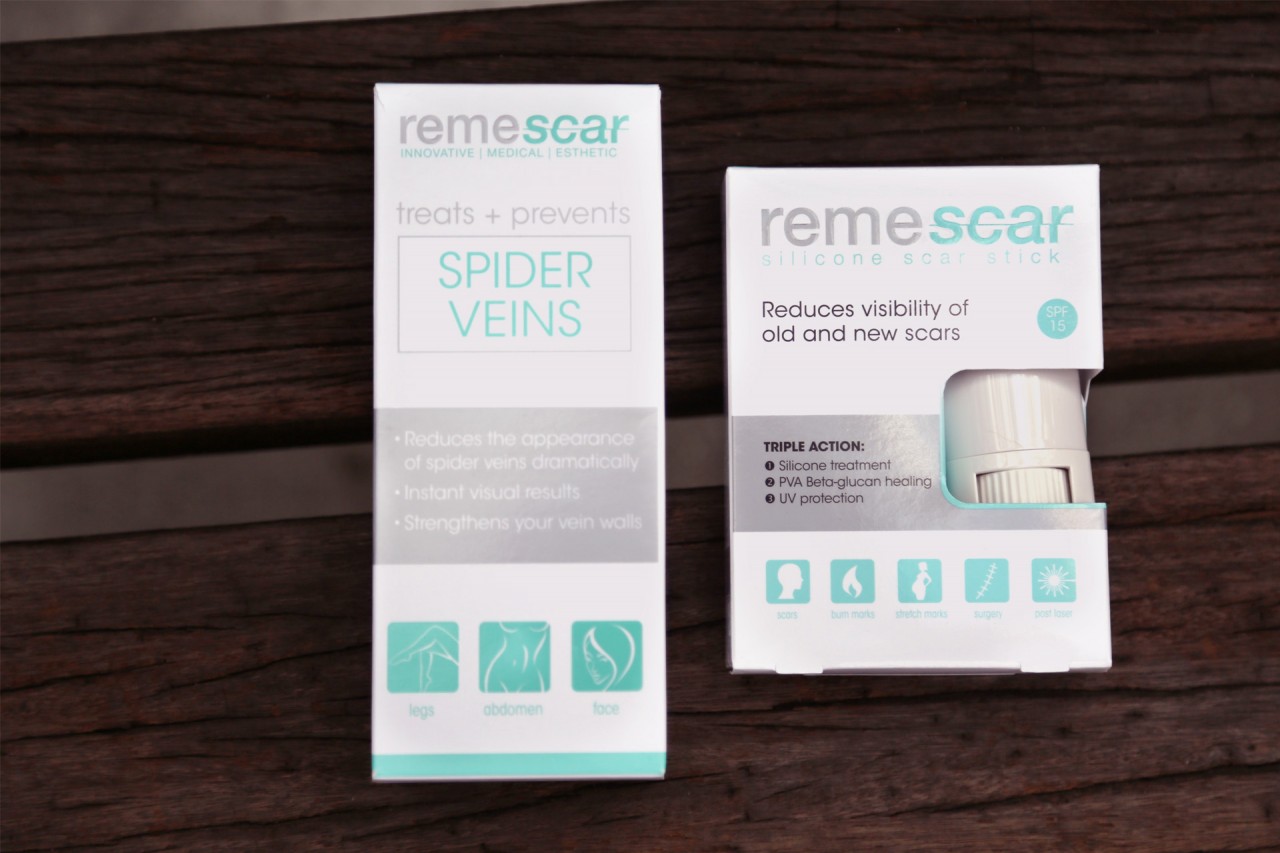 Scars, stretchmarks, spiderveins and all the other pesky things are what we hate to see on our skins. Naturally, it caught my eye when I saw two revolutionary products – Remescar Silicone Scar Stick and Remescar Spider Veins creams on parcel day.
Remescar Silicone Scar Stick
Everytime we suffer an injury, there's always a chance of getting a scar when the wound heals. Scars are areas of fibrous tissue that replaces normal skin after injury. A scar results from a biological process of wound repair. While scarring is a natural part of the healing process, the body tries its best to remodel the wound, and often, the structure of the skin changes.
Remescar Silicone Scar Stick is an advanced silicone stick that assists in the healing process of both new and old scars resulting from surgery, burns, bug bites, acne and stretch marks. It can help to reduce the scar's length and depth, to soften and flatten scar tissues, to restore skin to a more normal colour and texture and to relieve burning, tingling and itching sensations. It can also be used as a preventive therapy on closed wounds to minimise scarring or for post laser skin treatments.
Just pop the cap and roll on your scars. It's small and handy enough to bring around when travelling too.
The science behind:
Remescar Silicone Scar Stick is an innovative breakthrough that is based on the triple-action of silicone treatment, Beta-glucan healing and UV protection. This advanced clinical solution smoothens and softens scar tissue, which helps both new and old scars to fade in appearance.
Remescar Spider Veins
Next, is a product specifically for the treatment of Spider Veins. Telangiectasiasor spider veins are small dilated blood vessels near the surface of the skin characterised as purple, blue or red lines. They are similar to varicose veins but are much thinner in diameter and cannot be felt by the individual. Although there is no major health risk associated with spider veins, the social embarrassment can be a personal issue causing a person to seek therapeutic solution. It is a bane for the body-conscious woman and the worrying thing is that some individuals with severe cases of spider veins even lose their self esteem – a dampener when it comes to being happy and productive in life.
Remescar Spider Veins is a unique clinical solution proven to provide visual improvement by reducing the appearance of spider veins up to 51%, and prevent the formation of new blood vessels.
Just gently rub onto clean skin.
The science behind:
It is based on the dual-action of shielding the affected skin area with silicones and in-depth therapy of the vascular structure using Remescar Spider Veins' active ingredients – Phospholipids and Hyaluronic Acid; topical Anti-oxidants and Phyto Dynamic Complex to help repair weak vein tissues and reduce the vascular discolouration caused by spider veins. The combined effects protect, treat and prevent unsightly spider veins that can appear on the legs, abdomen or face.
Available from 1st July 2015 at Guardian, Watsons, Unity and major pharmacies, Remescar Silicon Scar Stick retails for $30 while Remescar Spider Veins retails at $40.
Thanks for reading.