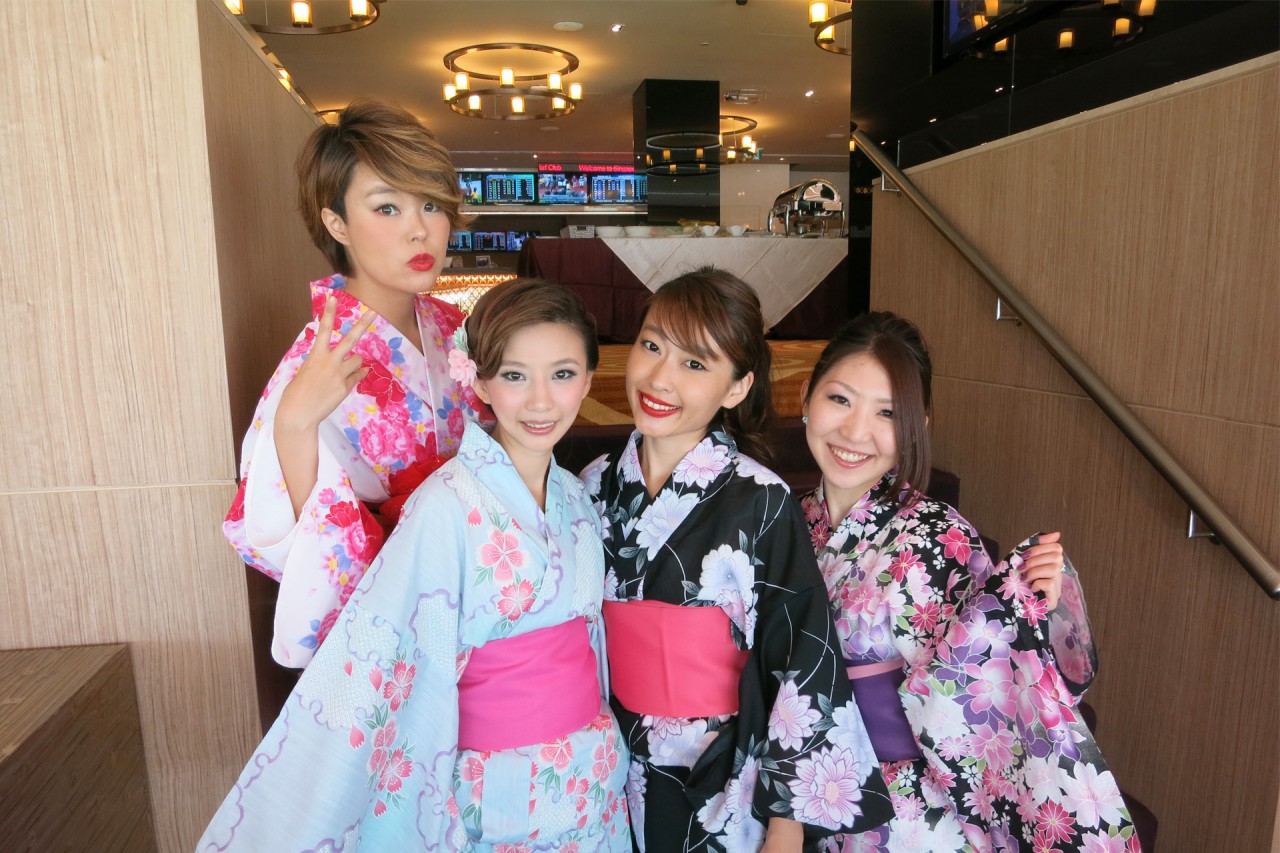 It was an all Japanese themed lovely Sunday at the Singapore Turf Club as they presented Sakura Day in conjunction with the $500,000 Group 1 Panasonic Kranji Mile, run over 1,600m on turf. Adhering to theme, I managed to dig out my old yukata ( which I previously worn about 5 years ago ) on that very morning before heading to the races. It was a good thing I managed to find my yukata because when I arrived, I realised that all the girls invited came beautifully dressed in theirs!
We were hosted by Jessie at the Derby Room on level 3 of the Grandstand along with a sumptuous Japanese buffet spread with free flow of beverages. Most importantly, we had an awesome view of the horses and the race below as we sat there enjoying our sushi, sashimi and sake.
I enjoyed the sushi, soba and Japanese dishes so much I forgot to take photos and only remembered to snap a picture of my dessert (pictured above) so I'll have to leave it to you to imagine the sumptuous dishes I had.
If you love the Japanese culture, this is an excellent opportunity to get immersed in it. I spent the day in wonderful company of actual Japanese girls as well as Singaporeans girls who were in love with Japanese culture. Many of the guests including myself couldn't differentiate the Japanese girls from the Singaporean girls! Even though I've visited Japan countless of times and even participated in a cultural study of Japan for one of my work projects, I felt that there were so much to learn from these girls.
In the 2 photos above, I'm with the vloggers, Ninja Girls. They are actual Japanese girls who are living in Singapore while I'm the Singaporean trying to blend in .
To keep us entertained as well as to share with us more about the Japanese culture, we had a mini origami folding session.
I honestly don't know much about origami and the only thing I knew how to fold was the iconic paper crane. It was an eye-opening experience to see so many different possibilities you can create with just using a square sheet of paper. I love the Full Bloom Kawasaki rose origami which is an intermediate level creation. Since we were all newbies, we decided to start with something simple yet fun such as the peacock origami.
If you follow me on instagram (@renzze) you might have already seen my instagvideo on how I folded this!
The day's activities include a lucky draw with the prize of a Panasonic Toughpad!
Speaking about the race sponsor for the day, Mr Simon Leong, Vice President (Corporate Services) for the Singapore Turf Club said: "Panasonic is renowned for their innovative technology and believes in creating a better life leading to a better world. The Club has also benefited from this technology by deploying one of the world's largest Astrovision LED Display Boards at the racecourse. Now into the seventh year of the sponsorship, we are happy to announce the renewal of this strategic partnership with Panasonic for another three years."
We also got the chance to head down to the parade ring to watch the horses up close before they headed out to the tracks.
All the girls were excited to be able to see the horses cross the winning line at such close proximity! The thrill of the race is one that can only be experienced and not explained.
Thank you Singapore Turf Club for such a sublime experience and for always making my day at the races a dazzling one.
*****
*****
*****
*****
Outfit of the day
This yukata is an absolute oldie but I still love the colour immensely.  If you look back on how I wore this yukata for a Halloween celebration in 2008, you can see how much I've grown and aged over the last 5 to 6  years. Thankfully, traditional outfits such as this one, never goes out of style 🙂
I kept the look simple with no earring and just slipped on a Chanel ring on my finger.
I couldn't find my kimono fabric bag that I bought in Japan so I used this LV bag instead.
Other accessories included a floral fan I borrowed from my girlfriend, Sushi, and a floral hair clip that I bought in Korea.