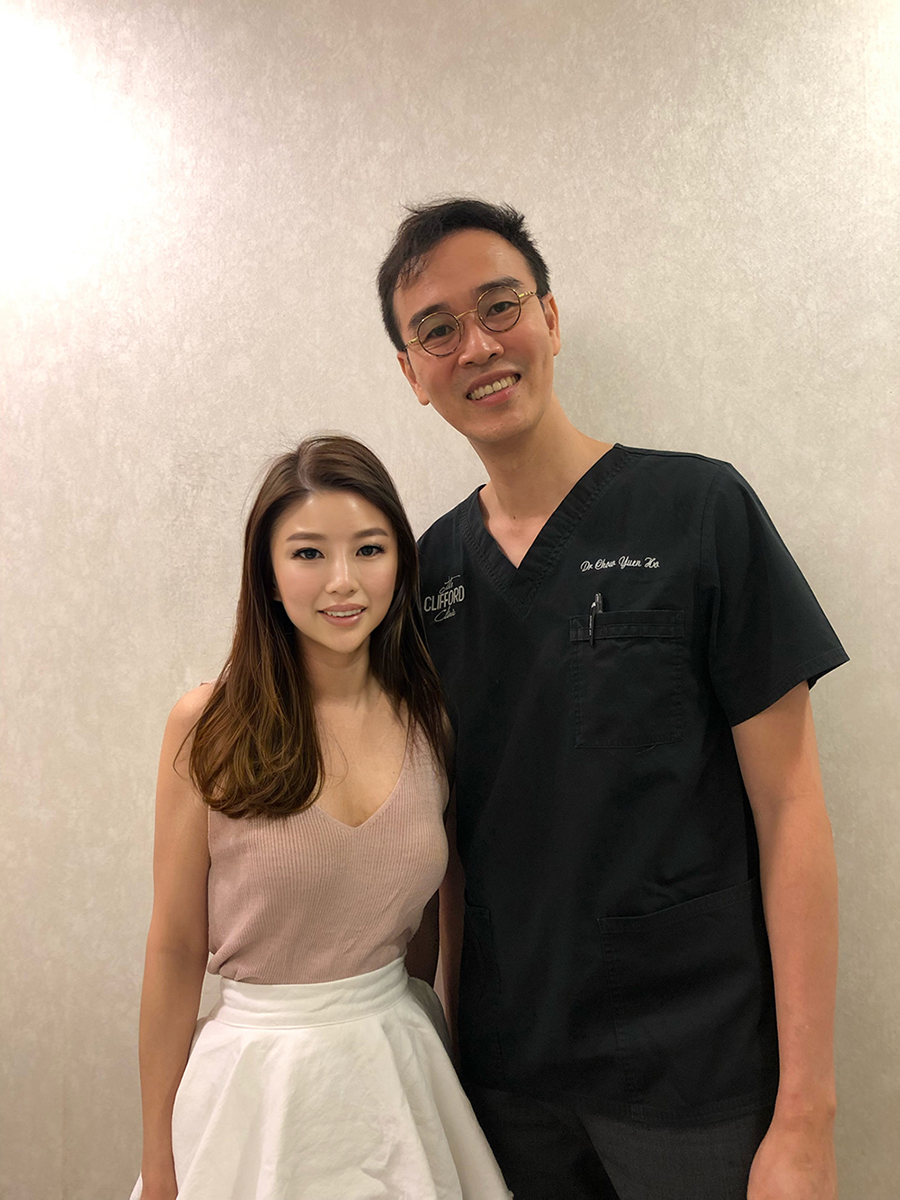 Demi Moore, Gwyneth Paltrow and Jennifer Aniston have a few things in common. They are successful, gorgeous women that look younger than their age suggests. They have also all done Thermage.
What is Thermage?
Thermage is a zero-downtime, non-surgical, non-invasive skin tightening treatment that promises visible results that are long-lasting in just one session. Some said Thermage could be painful, but I was told that the latest generation of Thermage – Thermage FLX is not as bad.
Sounds like a dream come true? That's how I felt when I first heard about it from The Clifford Clinic, and I wanted to be the first few patients to try it out.
Both Dr Gerard Ee and Dr Chow Yuen Ho from The Clifford Clinic have many years of experience in administering the Thermage treatment to their patients as they were previously using Thermage CPT before Thermage FLX was first released in Singapore.
In fact, they had personally tried the new Thermage FLX treatment and underwent the whole experience to understand how their patients would feel, and to check the efficiency of the treatment.
The Clifford Clinic is one of the first clinics in Singapore to own Thermage FLX, the Global Leader in Skin Tightening. This latest version has a more substantial treatment tip that promises to be a lot faster and comfortable compared to its predecessors.
How does Thermage work?
Thermage uses patented monopolar Radio Frequency (RF) to deliver heat and energy deep into the subcutaneous fat and tissue. This process kickstarts and encourages your body to start producing new collagen. Since collagen takes months to build, you will see the extent of the improvements more visible in 6 to 12 months.
Collagen that keeps our skin firm and youthful breaks down as we age, and over time, fine lines, wrinkles and sagging skin start to appear.  Dr Chow Yuen Ho shared that Thermage FLX uses RF (radiofrequency) technology to heat the deeper, collagen-rich layers of our skin, and the heat causes collagen to contract, and that stimulates collagen production for firmer and smoother skin. Aftertreatment, skin condition continues to improve for the next 6 months, with results lasting up to 12 months
Who should try Thermage?
Anyone who wants a non-invasive skin tightening, lifting treatment that looks very natural can check out Thermage. Thermage is fantastic for those who do not want surgery or injections and prefer to see results in just one session instead of going for multiple treatments. It is suitable for people who wish for little to no downtime or can't afford much downtime due to work and commitments. Most patients return to their regular activities immediately following the treatment.
Dr Gerard Ee added that Thermage FLX is best suited for those in their mid-thirties or older to reverse the ageing process. Collagen production under the skin will not just lift, tighten, and plump up the skin for a more youthful look; it will also rejuvenate your skin to achieve a radiant, healthy glow.
My Thermage Experience at The Clifford Clinic
I have a very low tolerance for pain and got pretty scared when a friend, who went for Thermage previously warned me that it would be painful. Even though I knew that the lastest version, Thermage FLX, has made improvements in leaps and bounds in ensuring a more comfortable treatment process, I was worried.
Dr Chow Yuen Ho at The Clifford Clinic is exceptionally patient and personally handled the whole treatment. He allowed me to take my time for the nurses to apply layers of numbing cream and even acceded my last minute request for a preventive painkiller.
When the time came, Dr Chow, who is super friendly and chatty, alleviated most of my uneasiness. A cooling gel is applied as the Thermage patented handheld device is 'stamped' over my face until it has delivered the required number of shots needed. There are no needles involved.
Is Thermage painful?
I'm not going to lie and say it was painless, but the treatment duration is short and pretty bearable or pain-free on most parts. The areas on my jawline and one or two points near my mouth were the parts that felt the most intense heat. The heat is a sign that the deeper layers are achieving effective temperatures for collagen remodelling. Luckily, the vibrations emitting from the Thermage handheld device and the stories that Dr Chow was telling me helped to distract me.
The good news is that any pain is just at that moment, and there is no downtime at all. While some people might grin and bear with the intense heat to get the most out of their one session, Dr Chow told me that the aim is not to be in pain but to maximise the effectiveness of the treatment within my comfort zone. As such, he would regularly check if I was doing alright and then adjust the level (higher or lower) accordingly.
The Results
I stopped mid-session to snap a photo when Dr Chow completed Thermage on half my face.
I could see immediate lifting effects especially apparent on the apple of my cheeks. The contours of my face are more defined. As collagen tightening and remodelling start, I am looking forward to seeing improvements for the next six months.
Here is how I look immediately after the treatment. The first photo on this post, taken with Dr Chow was also taken after my Thermage treatment.
Currently, as I'm typing this, it's about two weeks post-treatment, and I feel that my skin is a lot firmer and tighter. Skin is smoother and more bouncy. I'm still waiting for the lines around my eyes and nasolabial folds to soften even more. It is a very natural effect. I still look very much like me but with better skin.
If you are planning to do Thermage FLX in Singapore, my advice is to plan well in advance since the peak of the results at the six-month mark. You can make a consultation appointment at The Clifford Clinic, here's the contact.
24 Raffles Place
#01-03 Clifford Centre
Singapore 048621
(Exit A from Raffles MRT)
Mon to Fri: 10 am to 8 pm
Sat: 10 am to 5 pm
Sun: Closed
Closed on Sundays and Public Holidays
Call: (65) 6532 2400
Whatsapp: (65) 8318 6332