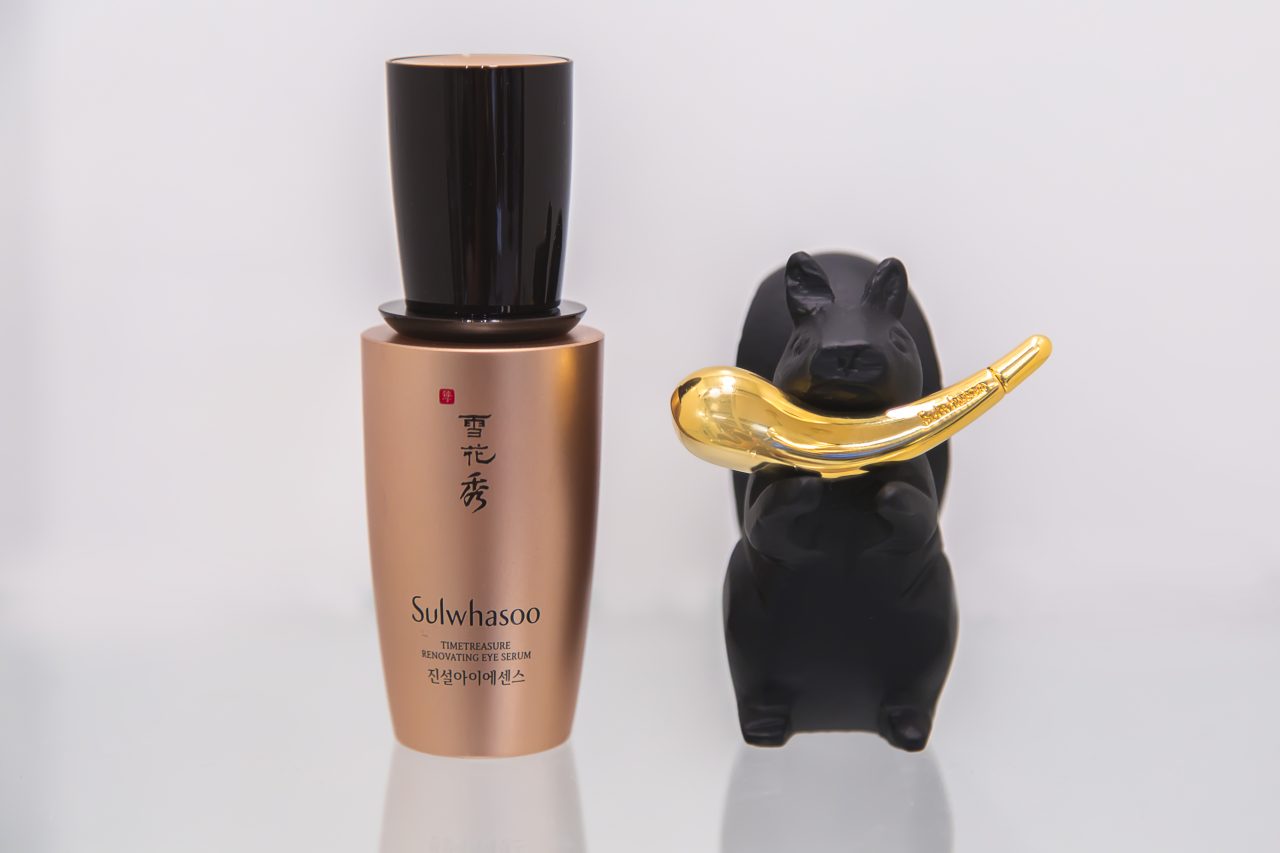 I'm currently in transit at the Dubai airport, waiting to catch my next flight to Munich. A quick check on my Instagram @renzze revealed that there were a quite a number of people sending my messages and asking me questions about the Sulwhasoo's eye serum I posted or Sulwhasoo's products in general so I thought I would take the spare time that I have now to do a quick review as well as share more about it.
I'm a big fan of their Ginseng Cream (which I bought and tested in Korea) a few years back. This time, I was rather privileged to get my hands on Sulwhasoo's newest products before they hit the stores earlier this month. One of their most anticipated products for the year 2017, the Timetreasure Renovating Eye Serum (20ml, $328) comes together with a luxurious 24K gold-plated eye care massager.
One of the newest addition to Sulwhasoo's premium anti-aging Timetreasure line, it is infused with the strong vitality of Red Pine, a historical beauty ingredient prized among Korea's royalty, and DAA (De-aging Age-defying Active).
The texture is light and easily absorbed into the delicate skin around the eyes, bringing youthful radiance and firmness. It addresses issues such as fine lines, dullness and lost of firmness.
I have to be honest. I'm one that usually skips eye care in my daily routine but my hectic lifestyle in the recent weeks have made me realise how efficient stress and lack of rest is at causing aging especially around my eye area. The time has come for me to pay a closer attention to eye care.
The secret to reaping the full benefits of the 24K golden eye care massager is to grasp the proper massaging techniques. Sulwhasoo has made available the massaging methods used to revitalize and firm the delicate skin around the eyes, and enhance absorption of the eye serum. The video can be found here.
I've only started using the eye serum as well as the new Sulwhasoo Extra Creamy Cleansing Foam (120ml,$80) very recently so I haven't seen the serum's full potential yet. However, the eye serum used together with the gold massager and eye techniques have been able to immediately sooth any puffiness around my eyes on the nights that I get very little sleep.
Hopefully, I will be able to keep the fine lines from deepening or hooded lids from appearing by using this regularly. The serum is definitely a luxury but the massaging ritual has made it a relaxing observance before bed.