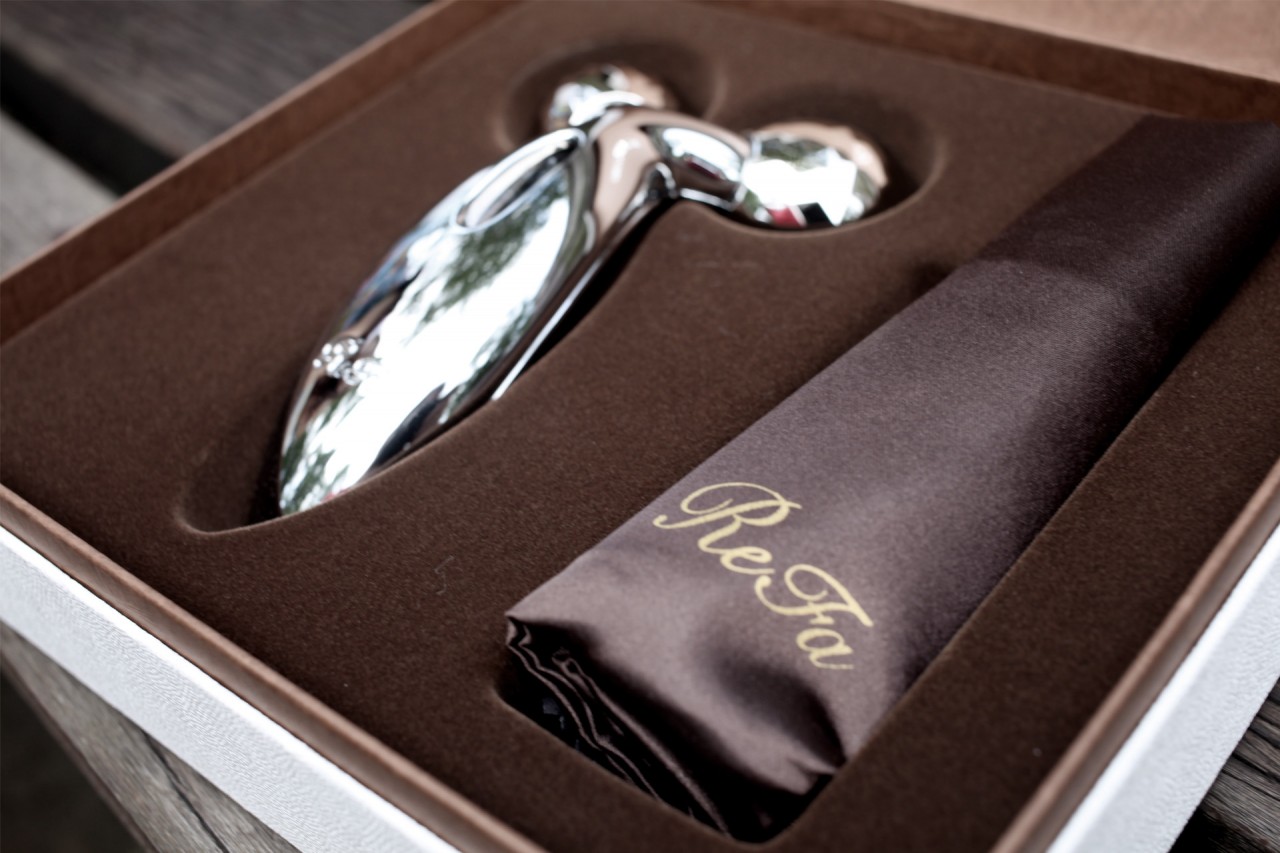 I received a lovely Christmas present from MTG in December and have been trying it out in the past couple of weeks.
To be honest, I've long heard about MTG and their amazing beauty gadgets and have even tested some out before. Some of you might remember my review of the cosme beauty shower head, Obleu, which I fell in love with and still use every day!
Re Fa CARAT is a well known beauty gadget that is widely used and highly recommended in Japan. My Japanese friends tell me that it has consistently topped the "Beauty Must-Have" Charts in Japan and has garnered many good reviews from magazine editors and Japanese models. I have had Re Fa CARAT on my "To-Try" list and was pleasantly surprised that MTG products is now easily available in Singapore.
The platinum-coated electron roller beauty gadget feels luxurious from packaging to finish. When I showed the gadget to Raphael and MM, their first reaction was focused on it being an odd shaped object that reminded them of the male anatomy. Men all think alike. Well, no matter how it is shaped, as long as it makes me prettier, younger and helps slims down my problem areas, the shape doesn't really matter to me.
In fact, if I could be as youthful looking as Masako Mizutani (who reportedly uses this as part of her beauty regime everyday), all the teasing from the guys are a small price to pay. Looking at her youthful photo (above), it's hard to believe that Masako Mizutani is 43 year old and a mother of two. In fact, her older kid is already 20 years old! She spends 5 hours a day taking care of her skin. I don't think I can be as hardworking as her in maintaining my youth but there's no harm in implementing some simple, effective beauty gadgets to my routine.
The Re Fa CARAT is designed to replicate the gentle pinching and kneading sensation that massages the surface of your skin, stimulating the muscles below to increase circulation. According to MTG, human skin normally has weak electrical current flowing through it  and this current is one of the elements that keeps skin appearance firm, resilient and beautiful. Re Fa CARAT absorbs light through the solar panel (on the handle) and generates a weak electrical "microcurrent" that is very similar to the body's own current. Daily treatment with the roller on the surface of your skin affects skin texture, making its appearance supple, shiny and firm.
It's very easy to use and you can use the Re Fa CARAT on the jaw line, face, arms, waist, thigh and neck. Since it is completely waterproof, I just leave it in my bathroom and use it whenever I have time.
During the demonstration by MTG, I saw immediate results on the volunteered models, especially for the lifting and creation of the V-shaped jaw line. When I used it on myself, I felt a slight pinching as the two roller balls pulled at my skin in an upward motions. You can determine the intensity of the pinching depending on the amount of strength you exert during the rolling process. I couldn't feel the microcurrents but the massage felt great on my skin.
I love using Re Fa CARAT on my jaws, cheeks and neck the most. The massage effect on the neck is soothing and helps to keep the skin on my neck from sagging while helping with lymphatic drainage. While I don't notice much difference on my jaw line, it does help with lifting my cheeks and preventing water retention on my face. On mornings when I find the time to use Ra Fa CARAT, my face feels more awake and I see more contour of my cheekbones. The effect is cumulative so I really have to be quite hardworking and remember to use it daily to reap the anti-ageing effects. Luckily its quite easy to use since there is no need to charge, change batteries or use it with any type of lotions.
If I have more time, I'll use it on my arms or tummy too! One gadget, multiple areas. All you need is time and consistency. The platinum coating not only makes the gadget luxurious but helps prevent any possible allergic reactions on the skin to cheaper metals (unless you are allergic to platinum which is very rare).
If you are thinking of getting a Re Fa CARAT for yourself, here's the MTG website. Use code: MTGkaren to get 10% off! The discount is only valid till 28th Feb 2015.
Thanks for reading!