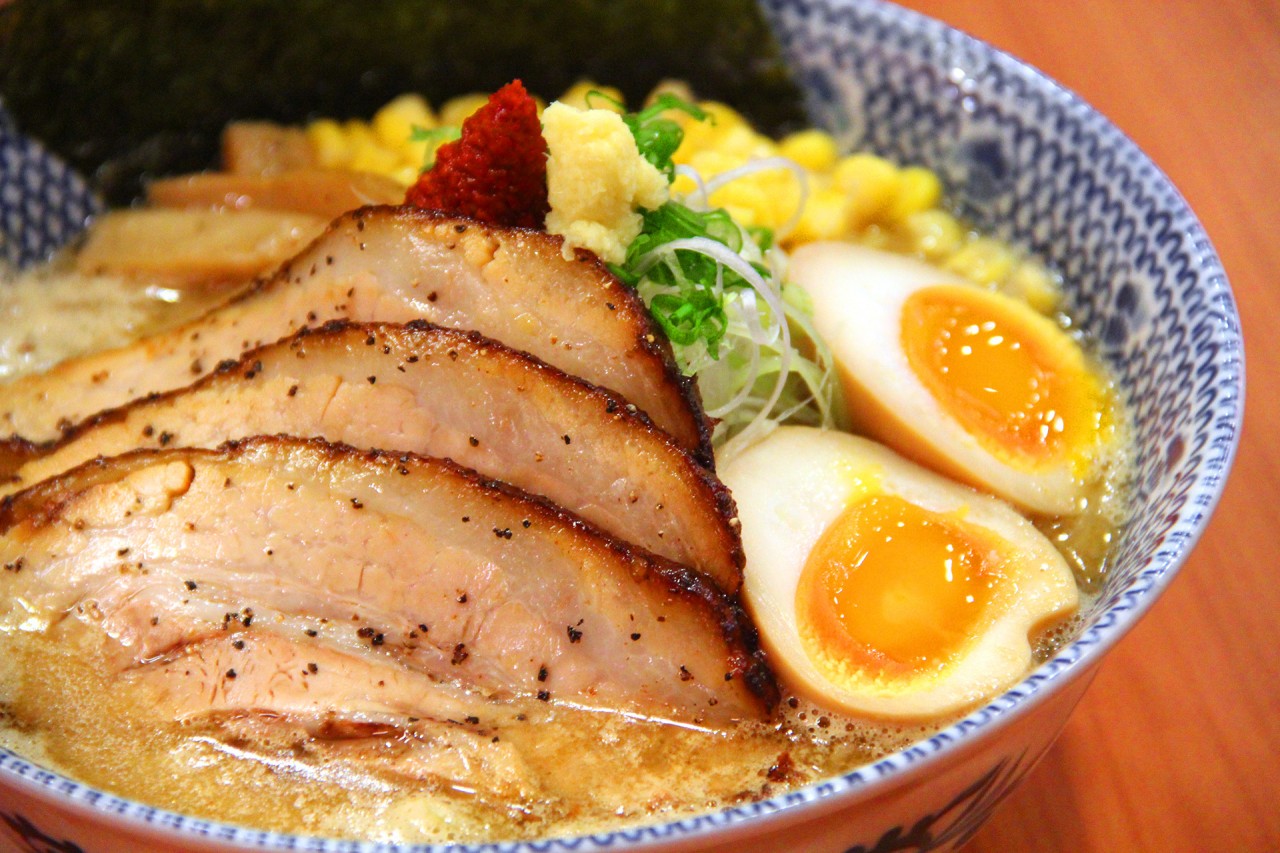 These photos from the Big Eater Challenge Finals 2013 held Ramen Champion at Great World City have been sitting in my computer for the longest time. You guys might recall that I took a month plus hiatus on blogging after my grandpa passed away and now that I'm back blogging regularly, I'm still clearing a ton of backlog posts. In a way, it is astounding how fast life moves along and how exciting each day is filled with new discoveries and experiences for me.
Before the Ramen Champion Big Eater Challenge 2013 began, we were invited to taste and vote the 4 brands of Ramen that are available at the Great World City outlet.
The tasting began with a bang and all the chefs were confident that their ramen was the best.
First up, we have Special Tonkotsu Ramen by Tonkotsu Itto.
Next, is Pork and Vegetable Ramen by Miyamoto.
This is followed by the Special Sukiyaki Ramen by Butaou, my 2nd favourite choice.
And finally my favourite (exactly as I proclaimed on Instagram and on my Facebook Page) , Sapporo Miso Special Ramen by Bismamon Bero.
While the judges deliberated on which ramen tasted the best, I took a photo with the chef of my favourite Ramen when he came over to check our thoughts on his noodles.
Finally the verdict was out! The judges felt the same way I did and my favourite noodles, the Sapporo Miso Special Ramen by Bismamon Bero got the winning vote!
I think the "likes" that the judges pasted on the chefs of their favourite noodles was a really cool idea.
Before the excitement had any time to settle, they were preparing to begin the Ramen Big Eater Challenge 2013. Two qualifying rounds had been held at Ramen Champions' outlets at Bugis+ and Changi Airport Terminal 3, culminating in this final ultimate battle.
It was a heart pumping showdown of endurance as 10 all-male Ramen fans compete against the celebrity competitive eater from Japan, Tomoko Miyake, at the inaugural RAMEN CHAMPION BIG EATER CHALLENGE FINALS 2013, brought to you by Komars Group.
Ms Tomoko Miyake (born in 1983) is a petite 152cm and weighs 40kg. I've long heard of competitive eaters who are really small built but seeing one in real life was astonishing.
As you can see from the photo, she's even more petite than I am!
As she settled down happily among the guys who are all finalists in the Ramen Champion Big Eater Challenge, I took a quick glance at her past victories and was simply astounded.
Tomoko Miyake Competitive Eating Achievements
• Consumed Special handmade hamburger of 4.6kg within 60 minutes
• Consumed Special 6.5kg omelet set
• Consumed 100 dumplings within 6 minutes
• Won Toro Cutlet Queen title
• Consumed 4.6kg of yam rice within 35 minutes
• Consumed 4kg worth of fried shrimp curry
• Ranked 4th in the National Queen Showdown
• Plus many other eating achievements
Each contestant starts with a huge bowl of ramen that equates to 10 normal bowls of ramen. I had problems even carrying that huge bowl (without any soup) to snap a photo.
See how the giant bowl compares to the normal bowls we eat?
After each contestant finishes his first giant bowl of noodles, he will then be given subsequent normal bowls of noodles. The competitor who can eat the most number of bowls of Ramen in 20 mins will win the prize money S$10,000, a trophy and the title of RAMEN CHAMPION BIG EATER 2013.
The contest began fast and furious! Each using their own eating technique to eat as fast and as many as possible.
Ms Tomoko Miyake was calm happy and concentrated throughout. She even requested for additional plates of gyoza to munch on throughout the competition as added "toppings". These gyoza dumplings are not even counted as part of the competition! Watching her eat is a surreal, " I cannot believe my eyes" moment for me.
At the end of the 20 mins competition, Ms Tomoko Miyake polished off the huge bowl of ramen (counted as 10 bowls), an additional 10 normal bowls of ramen and 8 plates of gyoza and was naturally declared as the winner.
In comparison, the top male contestant and runner-up, only managed to finish that huge bowl of noodles (counted as 10 bowls of noodles) and one additional normal bowl of noodles. Nevertheless, I think he did a great job. I can't even imagine being able to finish half of that huge bowl.
As champion Ms Tomoko Miyake walks away with her trophy and SGD10,000, she shows off her suddenly huge tummy containing all the noodles she devoured!
When asked what she was going to do about it, she calmly replied that it'll take her about 5 to 6 hours to digest everything. How's that for an awesome way to make some fast cash!
Thank you Ramen Champion for opening my eyes to a whole new level of ramen eating!