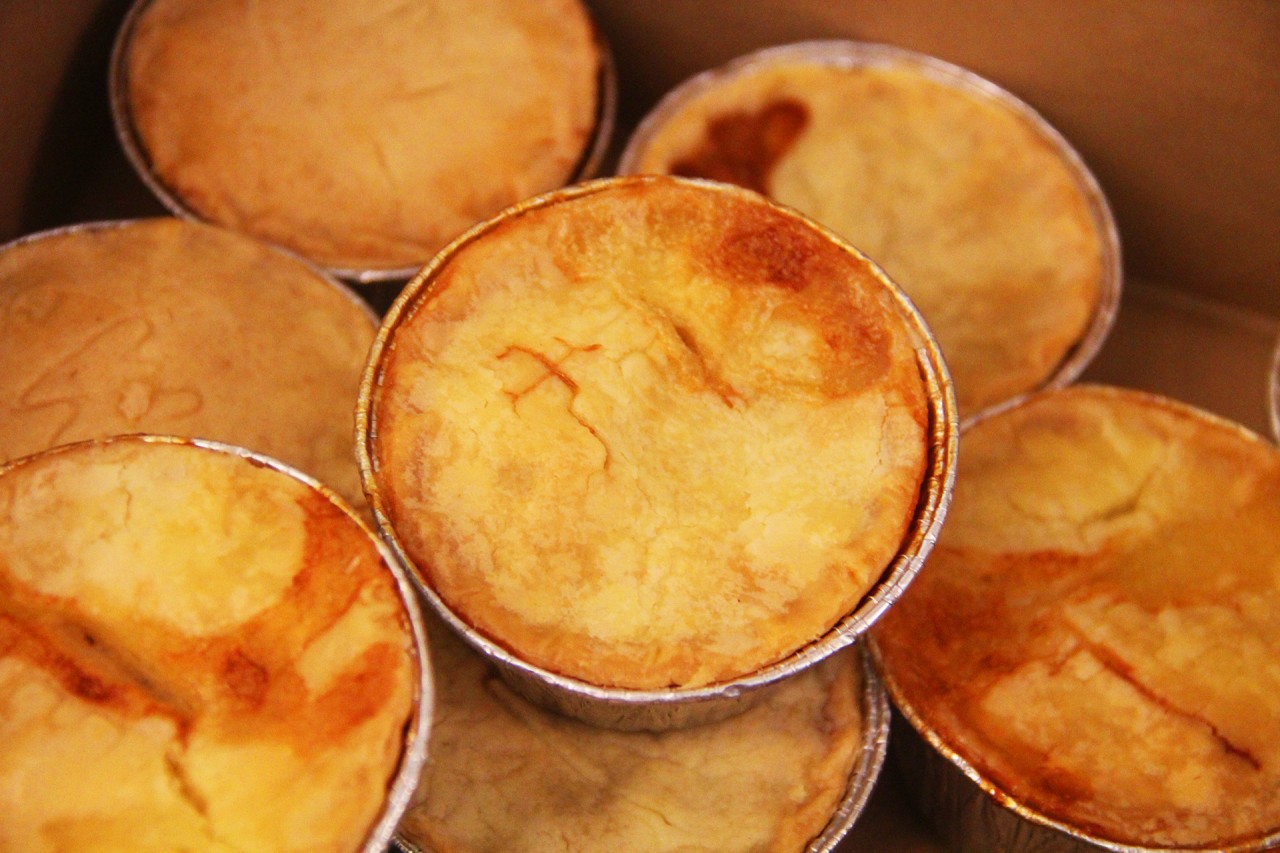 Pies & Coffee aren't exactly the usual pairing I think of when going to a cafe but I couldn't resist checking out this welcoming, clean and straightforward cafe at Grandstand, Bukit Timah. Just like its' name suggest, they specialize in gourmet pies and coffee.
With so many pie flavors to choose from, I really didn't know where to start. In the end I decided on the most delicious sounding one which was the Wagyu Beef Cheek Pie.
It came with a small side salad and delicious mash potatoes, making this quite a filling set for tea and totally worth its S$9.95 price tag. If I had one must try item in Pies and Coffee, this would be it. I love the flaky buttery crust that is so soft and easy to cut through and the superbly well marinated and tender wagyu beef cheek.
It was so good that Regina and JW (who generally don't like pies) had lots of praises for this one. I was also recommended the Duck Confit Pie which I didn't get to try yet.

Even though Pies & Coffee are famous for their pies (duh!), I was also keen to see what other alternatives they had for those who wanted more.
I tried their Shepard's Pie that also came with some salad.  I had originally intended to try their Laksa Shepard's Pie but didn't see any on display the day I went down so I settled for the run-of-the-mill version.
You can't go wrong with Shepard's Pie and it makes a lovely rainy day comfort food. The one at Pies & Coffee comes in a generous portion with a good mix of meat and potatoes. However, after tasting the pies here, if I ever wanted something savory from Pies & Coffee again, I'll definitely stick to ordering the pies.
For those with a sweet tooth, you can try their Strawberry Tart (S$6.95). It's yummy with a distinctly rich chocolate crust that I love. More importantly, it's not too sweet so it'll go perfectly with a cup of creamy coffee or tea.
I didn't get to try their coffee or frappes that day but JW ordered a cup of Honey Yuzu tea which I  shared. They had quite a lot of interesting flavors and I'll probably give the ginger lemongrass tea a try when I visit Grandstand again next week. I definitely feel that their pie with salad and mash makes a perfect light midday meal and worth trying if you want something more filling than a slice cake but don't want just another boring sandwich.
I didn't get to sample all the pies but the Wagyu Beef Cheek Pie won me over and good things ought to be shared! So I got a box of assorted KPies for little Arielle's 4th Birthday Celebration.
These KPies are great for food for parties and gatherings because they are so fuss free yet tasty. KPies are kid size pies but adults love it just as much and the smaller sizing makes it easier to handle at parties.
If you are intending to grab some pies from Pies & Coffee for your next party or gathering, here's some tips:
1. Heat them before you serve because they taste so much better when they are hot.
2. Remember to ask what all the different markings for the different pies represent so you can advise guests that may have food preferences. I forgot all about this and the so the Pies became sort of a surprise because no one knew what filling they were going to get.
Arielle was one happy princess that night and I'm glad I was able to bring a little something extra to contribute to her wonderful princess celebration.
Pies & Coffee can be found at Rochester Mall, Turf City (Grandstand) and Tanjong Katong (click the photo below to see the full size with maps on their website) .
*****
*****
*****
*****
Outfit of the Day
Hair Clip: Korea
Top and Shorts: Rosebullet
Watch: Patek Philippe
Ring: Cartier
Bag: Hermes
Wedges: Pazzion