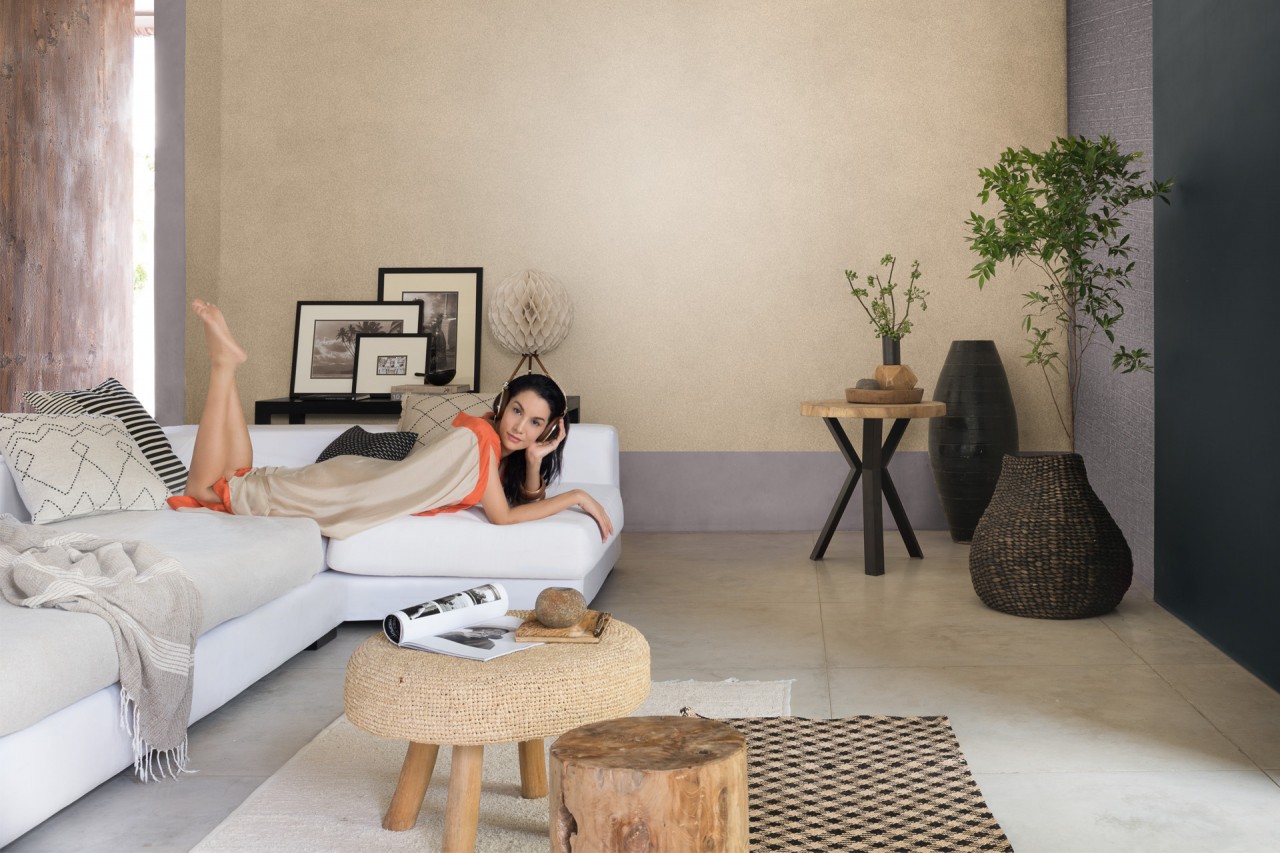 Think about paint and I think about a day in front of an easel with paintbrushes. I'm no artist but on the few occasions that I've painted, I always found myself in a calm happy state. There is power in creating and bringing to life the inspirations that once existed only in your mind. Yet, it never occurred to me to channel these creative energies into painting my own rooms. Recently, I've had the chance to explore Dulux Ambiance Paint collection at Space Furniture Store and I must say, I left more than inspired. With the insane amount of premium paint colors to choose from and the special effects paints that Dulux has developed, the possibilities of personalising your own space with your creativity and personality are endless.
The Dulux Ambiance All range comes with superior toughness, is washable for easy cleaning, developed with Colourguard so you don't have to worry about colors fading easily, is anti-bacterial with mould and fungus resistant properties and is an environmentally preferred paint. The key factor that draws my attention to this range is their "Paint Happy" characteristic. Backed by a research conducted by Nielsen in June 2015 against 'odourless' interior wall paint products in Singapore amongst 110 Singaporeans adults, aged 20-55 years old , 4 in 5 agreed that there is virtually no paint smell when it is freshly painted. I absolutely abhor the smell of fresh paint which forces me to vacate my living premises every time it's time to repaint the walls. With this new paint technology, I can now work on painting and redesigning projects, room by room, while I'm still living in the home. It's a huge game changer for me as I am more likely to consider redecorating and repainting my rooms more often as well.
The other captivating point of the Dulux Ambiance collection is their Special Effects paint. There is a choice of 4 special effects – Metallics, Velvet, Linen and Marble.  It doesn't sound much but combine this with the thousands of colors the Dulux Ambiance All range provides and you will probably have a tough time deciding what you want. You can visit www.dulux.com.sg/ambiance to download their coffeetable book and learn more about the colors. While there are already several established combinations that the Dulux Professional Painters can guarantee in achieving; if you are adventurous enough, you could always experiment different painting techniques with the incredible paints to see what combination of effects you can come up with.
Here are a couple of images from brand ambassador, Nadya Hutagalung's Ambiance collection to give you an idea of how it can be integrated into an actual home.
Ever since I learnt about this paint collection, I've been so inspired to redo some of my rooms. I love texture and I love how I can now achieve it without having to limit myself to wallpapers which are a lot less hardy in moisture rich environments compared to wall paints. I also like the flexibility of paint especially when it comes to small accent areas that can help dramatically change the mood of the room even when furnishings are simple. I'm unabashedly in love with the linen and marble textured paint finishes. Here are some textured walls and rooms I've collated from online sources that are keeping me inspired. Some of them (like the metal wall) are not painted but maybe I'll be achieve a similar look for a lot less with Dulux Ambiance paints.
Of course, you don't naturally need to be inspired solely through interiors. The beauty is in the details and everywhere around you are textures and colors that reflect your personality and can inspire you to create your dream rooms. To encourage you to keep an eye out for that spark of originality, Dulux is running a "#MyAmbiance" Instagram contest. Showcase your photos and how they depict your personality on Instagram and you'll stand a chance to win a 2D1N staycation.
The contest is open from 20th November 2015 to 20th December 2015. Just make sure that your account is set to public and that you write a short description of how the photo inspires you to personalise your space. Hashtag #MyAmbiance & #DuluxSG and you are done! You may submit as many entries as you wish so go forth and be inspired by all you see around you. I'll be joining too! Here's one of my entries. I am inspired by a graffiti wall I came across while I was in Shoreditch, London.
On first look, I may seem all girly and sweet but a deeper look and you can see that I'm a myriad of personalities that takes awhile to discover due to my introvert personality.
For more information visit the Dulux Ambiance Site. Thanks for reading and have a good week ahead!