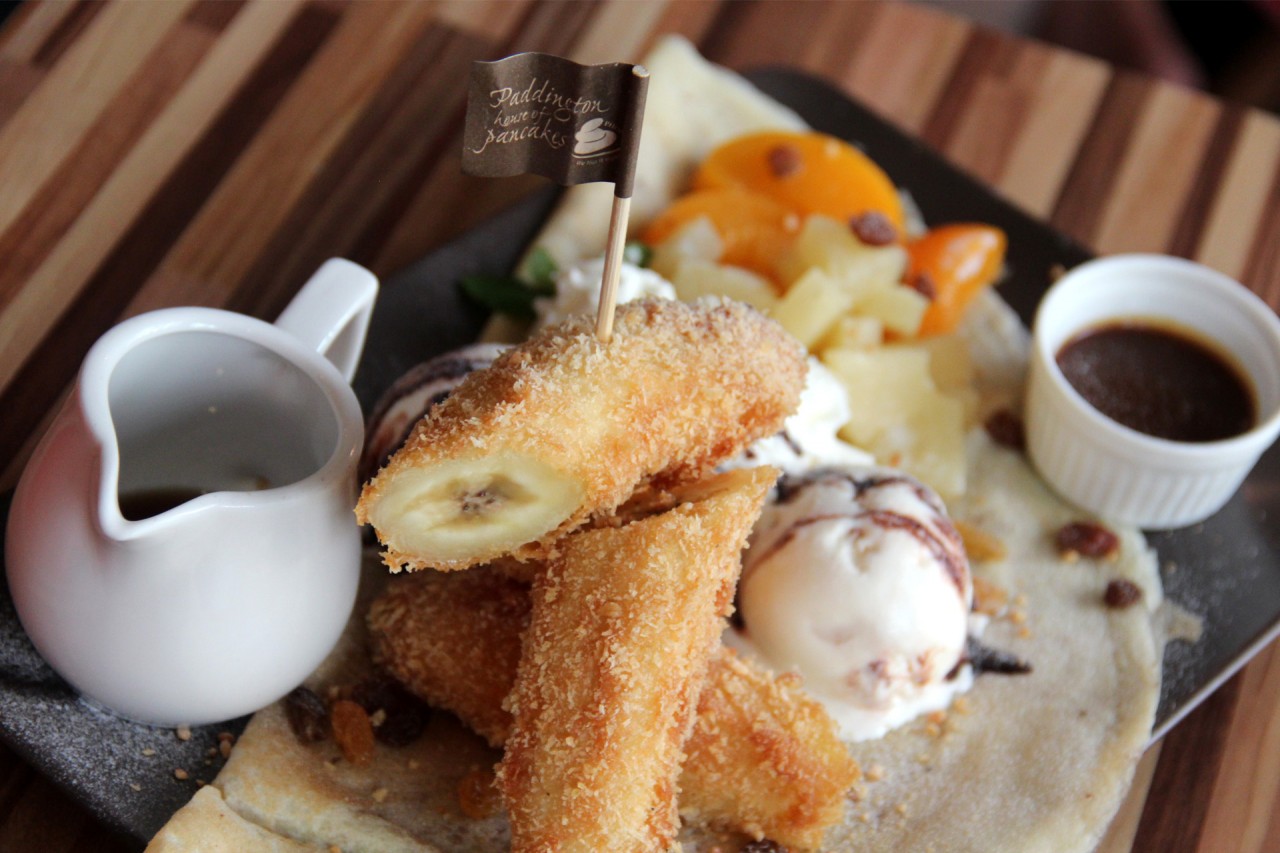 I love Pancakes. I mean I really love to eat pancakes in such a way that if the world no longer has pancakes, I'll bawl my eyes out. There are so many new pancake joints popping up in Singapore these days but most of them didn't meet the standard of the ones I had overseas. My favourite pancake joints are all in Australia and I had so much difficulties finding good fluffy pancakes in Singapore. Riders Cafe used to have really good pancakes, then they removed it from their menu. Bummer.  Then, I heard that they reinstated the pancakes in the menu but it's not as good.
So when I heard about Paddington House of Pancakes (henceforth known as PHOP), I was really excited to see what they had to offer.
On a late weekday afternoon, the place looks partially filled but when I came back (yes, it was good enough for a return trip) on a Friday evening, the place was packed with a long queue waiting. As the sign warns, don't come here if you are not prepared to wait because they only cook the pancakes after they've received your order. I never have a problem with waiting for freshly prepared food, especially if they are good.
The selection is huge! They cover all types of pancakes from every corner of the world. American flapjack pancakes, Dutch pannekoek pancakes, Russian Blini pancakes, French crepes, fusion pancakes, whole wheat pancakes, dollar sized pancakes, savory pancakes, dessert pancakes and everything in between. It's more than one can imagine. I spent quite a while on the menu narrowing the choices because everything looks so good.
Luckily the service staff were really patient! I ordered and ate so much that day. I have a huge capacity for good food and PHOP's delicious pancakes brought out that side of me. I was going to travel the world of pancakes in one sitting.
While the food is fantastic, the drinks here are a hit and miss, I found the Avocado Milkshake kinda odd but I do like the Apple & Honey Infusion.
We decided to skip appetizers and head straight for the savoury main courses.
If you like lamb, you can give The Monaco ($19) a go. The generous serving of grilled herbed lamb shoulders (250gm) is cooked according to your liking. The lamb in the photos was cooked medium well and went well with the mint sauce.  It was serveed with a zucchini and onion pancake as well as some mash potatoes.
The Oslo ($18) is a hot favorite and was highly recommended to me. I love the plating of the smoked salmon sitting on top of two spicy mashed potato pancakes. Served with cheesy scrambled eggs with grilled zucchini  & sour cream; this combination is a treat for your senses. The Oslo, brings back fond memories of my scandinavian trips and is great for fans of smoked salmon.
I was craving for fish and chips that day and fell in love with The Alaska ($15). The deep fried breadcrumbed dory was fresh and beautifully crisps.  The spicy potato pancakes paired so well with the creamy mushroom sauce. It was served with chips of course!
Despite being throughly full and satisfied from the yummilious savory mains, I just had to have desserts. You know what they always say – "There's always a separate stomach for dessert".
With the forced agreement of my partners in crime, we ordered some desserts to share.
Crepes with ice-cream, fruits, hot chocolate sauce, deep fried banana fritters and topped with whipped cream. An incredible mix of textures and colors. Despite my fondness for the taste of the pancakes, fruits, ice-cream and chocolate sauce, I felt that the deep fried bananas were a little lacking. I much preferred the fritters to have been battered and fried instead of breadcrumbed and fried.
If you are sharing desserts, the dollar pancake dessert bowls are definitely worth a go as the portion is truly generous. Overflowing with cute fluffy dollar pancakes, fruits and topped with a scoop of vanilla ice-cream. Drizzle all the maple syrup in before tucking in for best taste.
By now, my little group was protesting against eating another morsel of food even though they finished up everything that was presented because it was so good. I decided to go for one more dessert on my own because it was the one thing on the menu that I was eyeing on the moment I walked in.
It was a simple American stack. This one is strawberry cheesecake pancakes and I absolutely did not regret ordering it. It was perfectly fluffy and filled with hints of cheese and an overload of digestive crumbs. I had requested for them to make my pancakes to be made smaller than usual and completely polished this one off on my own.
Just looking at the photos makes me want to go back there again. If you are a pancake lover, don't miss out Paddington House of Pancakes. Their non-pancake dishes are only average but their pancakes are worth repeated visits, especially the American stacks.
I'm grateful to the owner for finally bringing awesome pancakes to our sunny shores. They can be found in Malaysia and their next destination for an outlet will be Brunei!
Paddington House of Pancakes
180 Kitchener Rd, #02-35/36,
City Square Mall, Singapore 208539
Tel: +65 6612 9029
*****
*****
*****
*****
*****
Outfit of the day
Dress: Liz Lisa
Earrings: Chanel
Watch: Chanel
Cat Clutch: myjotterbook
Heels: Chanel