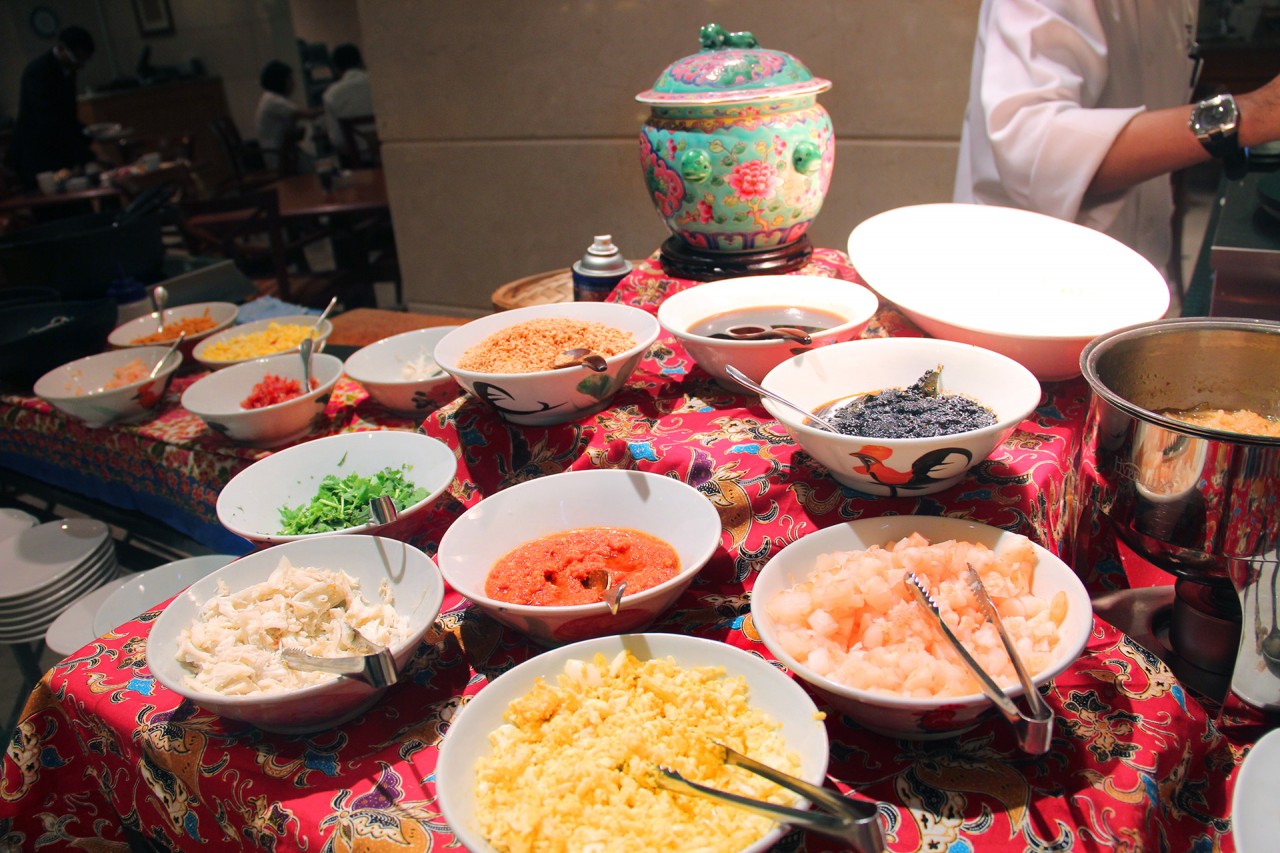 I'm finally back in Singapore again and I'm happy to be back to both working and blogging.
I've had the pleasure of trying out Orchard hotel Singapore, Orchard Cafe's, 'Straits Buffet' a couple of times and they are good. You can read my previous review of their buffet for more information. I'm strangely missing the taste of local delights this morning (it's a common occurrence for me every time I'm away from Singapore for too long) and the wide selection of local favourites at Orchard Cafe came to mind.
My personal favourite would be the Laksa, Otah and Kwey Pie Tee!

In commemoration of  Singapore's 49 years of independence, Orchard Hotel Singapore with Orchard Café is having a special promotion. Every 3rd diner enjoys the "Straits Buffet" at only S$4.90! – exclusively from 1 to 17 August 2014!
            Catch their chefs in action preparing Chicken Rice, Oyster Omelette and Bak Kwa (Barbecued Savoury Sweet Pork), a la minute just the way you like it!  Savour other local top picks like Bak Kut Teh (Double Boiled Pork Ribs with Peppercorn), Carrot Cake, Hokkien Mee, Char Kway Teow, Nyonya Laksa, Sambal Stingray, Chilli and Black Pepper Crabs, amongst the other Straits classics.
Fans of Roti Prata will be spoilt for choice at the homemade prata station with 49 varieties of sweet and savoury pleasures ranging from Chocolate, Banana Nutella, Pineapple, Strawberry, Peach, Pear, Mango, Durian, Chempedak, Jambu, Orange, Grape, Raisin, Dried Apricot, Prune, Longan, Lychee, Peanut Butter, Apple, Cranberry for the sweet; and Mushroom Cheese, Beef Pastrami, Bacon, Salmon Salsa, Bak Kwa, Kimchi, Spinach, Eggplant Salsa, French Bean, Chinese Sausage, Luncheon Meat, Chicken Floss, Chilli Crab, Braised Pork, Tandoori Chicken, Sambal Fish, Ayam Buah Keluak, Egg, Cheese, Onion, Tuna, Sardine, Murtabak, Ham for the savoury, and more!!
Complete your explosion of local flavours with a range of hot and cold desserts infused with the traditional and the 'new' – Tau Suan with Yew Char Kway, Hot Pisang Pengat, assorted Nyonya Kueh, Coconut Gula Melaka Mousse, Chempedak Crème Brulee, Chendol Panna Cotta. Remember to save space for their Live dessert station of Assorted Pancakes filled with your selection of Chempedak, Durian or Peanuts or simply tuck into delightful Durian Pengat!
During dinner, indulge in free flow of heavenly durians at the King of Fruits Station specially set up at Alfresco Dining with the much-loved durian season's best picks – served up fresh!
Start calling your foodie buddies to enjoy these mouth-watering treats; book your table in threes and head down to Orchard Café! For reservations and information, please call 6739 6565 or email orchardcafe.ohs@millenniumhotels.com.
National Day Buffet is served daily at Orchard Café Only from 1 to 17 August 2014  at $4.90 for every 3rd diner :
Buffet Lunch 12:00pm – 02:30pm
Adult : $48.00, Child : $24.00
Buffet Dinner 06.00pm – 10:00pm
Adult : $68.00, Child : $34.00
All prices are subject to service charge and prevailing government taxes.
Thanks for reading.