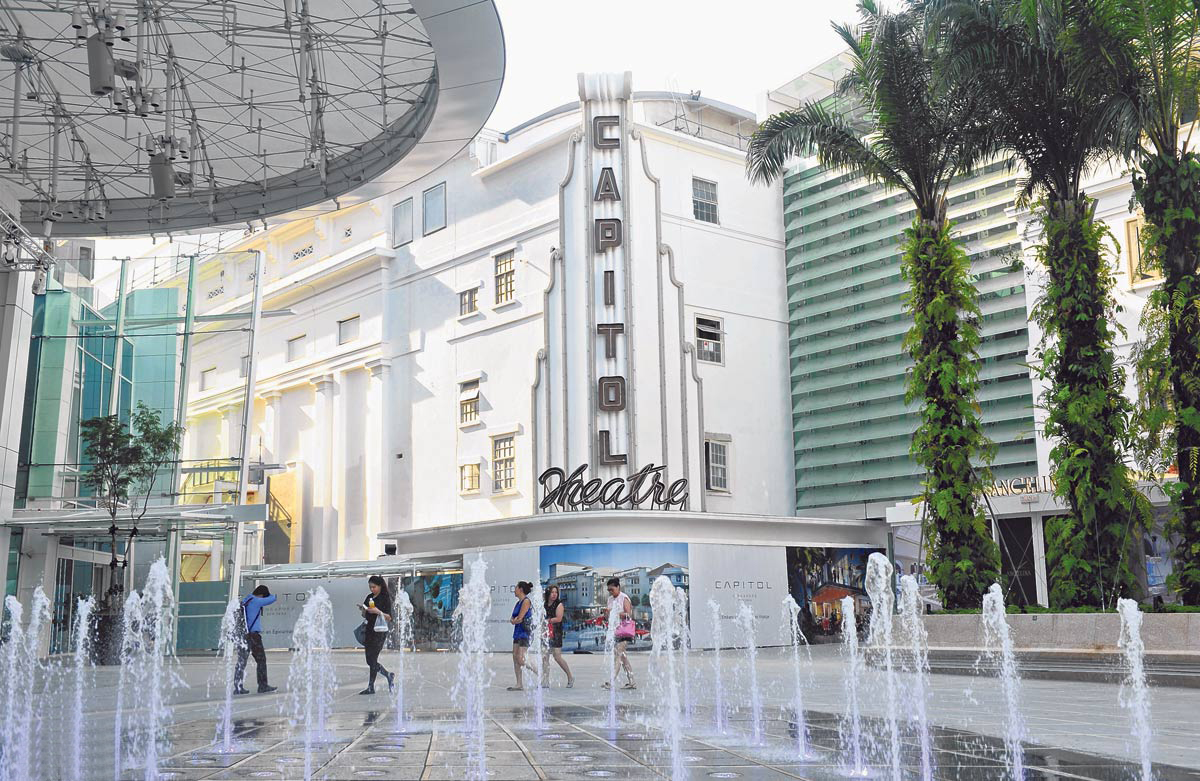 I've always liked the Capitol Building. The romantic architecture with the ornate detailing, keystone arches and Venetian windows was very much appreciated in a city of skyscrapers. My grandma used to tell me stories of her dates to the movies at Capitol theater. In those day, there was no such things as mobile phones and Capitol Theater was very much used as a landmark meeting point. After years of neglect, I'm glad that they decided to conserve the architecture and heritage while infusing modern practicality to it.
I've been to the current Capitol Piazza quite a few times to watch musicals at the theater or to dine at their many establishments. However, this time I was there on a different mission. To suss out 3 amazing beauty brands that have chosen to establish their business at Capitol Piazza.
SULWHASOO
One of the most outstanding Korean beauty brands, Sulwhasoo's flagship boutique is located at #01-72/73 of Capitol Piazza. The air was filled with a calming light ginseng fragrance and I had a lovely time learning more about their products in their plush and luxurious standalone store which also offers exclusive treatments!
Known for incorporating traditional Korean beauty rituals and herbs such as Ginseng into modern technologically enhanced formulas, their products have been well sought after internationally. In fact, I bought my first Sulwhasoo product in Korea before they landed on our shores.
Hidden discretely behind close doors are two treatment rooms which is where they pamper their clients with relaxing massage facials using jade and amber to increase blood circulation to the face. Extremely intrigued by their traditional techniques, I can't wait to book myself a session there.
Feel free to ask any of the consultants there to recommend the right product for your skin concerns and learn more about their holistic beauty philosophies. I brought the Snowise set on my last trip and I'm loving it to bits! If you wanna win a facial treatment and $200 beauty hamper from Sulwhasoo, do check my instagram contest!
PINK PARLOR PRESTIGE
Pink Parlor has been in Singapore since 2005 and have made a name for themselves among the local girls. Their commitment to high treatment standards and service levels has won much recognition and distinction within the industry and media including the following awards:
2006 Harper's Bazaar Beauty Awards
2007 Spa Crystal Awards Nominee – Best Spa in Southeast Asia
2008 Cleo Singapore Beauty Directory for Top 20 Nail Salons
2009 SWW Best Hydration Fix Facial
2009 SWW Best Bikini Wax
2009 SWW Best Specialty Wax (Designer Brazilian)
2010/2011 Singapore Tatler Best of Singapore for Grooming (Waxing)
2011 SWW Best Waxing Parlour
With their Pink Parlor Prestige outlet in Capitol Piazza #B2-21, they have upped their game with a more luxurious set-up offering  discerning guests their famed Painless Brazilian Waxing, Painless Permanent Hair Reduction, Spray Tanning and luxury Nail Services. They even have a hair spa area which will be up and running pretty soon.
I tried their Brazilian waxing and though it is not painless (no waxing near the va-jay-jay is ever completely painless), it was over in a jiffy and rather tolerable. The experienced therapist was there to distract me explain the treatment every step of the way. I'm all bikini-ready for my next beach vacay!
Head over to their website for real time booking and drop by Pink Parlor Prestige for your next treatment.
AVEDA
I'm obsessed with Aveda products and have been ever since my hair stylist, Michelle of Toliv Boutique, introduced them to me years ago. After visiting their store at Capitol Piazza #B2-33, I was exposed to a deeper understanding of their product ranges as well as learning what would work best with me.
Aveda connects beauty with the environment and your inner well-being. No matter how hectic your day is, walk into the shop and let their consultants do a Aveda Rituals of Renewal for you and you will be calmed and balanced immediately. My favourite Aveda composition oil is called stress-fix and I use that on a daily basis at home whenever I feel too overwhelmed by the busyness of life.
At Aveda, they draw on Ayurveda, a 5,000 year-old healing tradition from India, that helps us balance our chakras — 7 spinning wheels of energy — that affect our health, well-being and beauty. The consultants introduced me to Mr. Chakra as my guide to the chakra system.
After answering some simple questions on their chakra board, they were able to use my senses and intuitions to discover the one chakra that I should focus on that day. Using that information, they shared related wellness rituals and chakra balancing aromas, that can support me in discovering the beauty of a balanced life. Your focus areas are constantly changing so you can try the chakra board again anytime.
Personally, I fell in love with Aveda's Tulasara range.  It uses dry brushing before morning cleansing to wake up the skin, gently exfoliate the dead skin cells and bring a smooth, soft complexion to the skin.  The ritual then follows with a facial massage using the nurturing plant oil-infused Tulasara Radiant Oleation Oil to help stimulate microcirculation and nourish the skin. Tulasara Concentrates are three (Firm, Bright and Calm) powerful 97% naturally-derived advanced performance treatment products.
In need of radiance, I selected the Bright Tulasara concentrate to suit me. With continued use, each concentrate strengthens skin's barrier to help protect against environmental irritants that can damage the look of skin.
I'll be selecting 3 readers to win one of the Tulasara Concentrates (Calm, Firm & Bright) worth $105 each. All you have to do is comment on my Instagram (or FB) photo to let me know which concentrate you would like and tag 3 friends! Contest ends 31st August 2016.
I had a fulfilling beauty tour at Capitol Piazza with some of my favourite beauty brands and I hope that you enjoyed learning about them too.