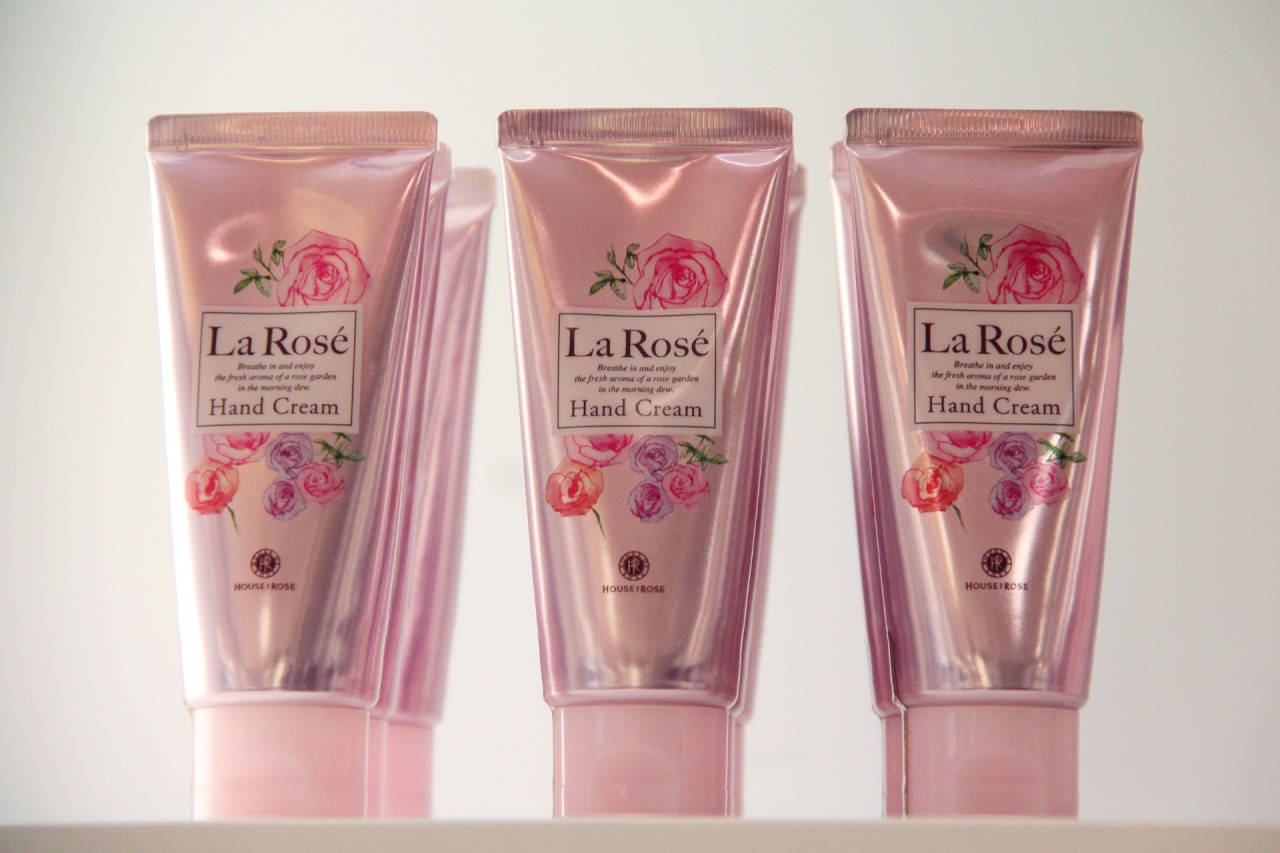 I've been traveling a lot this season and mostly to crazily cold (the winter this year is simply ridiculous) and insanely dry climates. Thus I've been extra hardworking at taking care of my skin. Hydrating and anti-products are my favourite for face care but it's important not to neglect the skin on the rest of my body as well. A good body moisturiser and a weekly scrub is great for maintenance. Our skin is blessed in Singapore with humidity so it's easier to be lazy with body care but when I travel, I immediately notice how easy the skin (especially on my legs) gets flaky and dry.
This is the first time I've tried House of Rose products which are focused on creating skin care products that are gentle on the skin
My latest favourite is Oh! Baby Body Smoother which was ranked #1 in 2011 Cosme.net Best Cosmo Awards Soap and body wash premium Division. It ranked #2 for Cosmetics.com Best Seller in 2011 and  #2 in Cosme.net Best Cosmo Awards body care & cleaning free category for 2012. If you are not familiar with Cosme, it is basically Japan's largest online beauty community (approximately 10 millon users) that ranks products based on user reviews. The ranking is decided by real consumers and users and are highly valued by the beauty companies in Japan.
Oh! Baby comes in a sweet pink colour tub that will brighten up any girls' bathroom. Open up inside and you'll see that the scrub is white and the grains are so smooth and small that the texture doesn't even look or feel like a scrub. It is made this way so that it would be gentle to the skin and you can use this every day instead of just once a week. As you can tell from the photo, unlike some other brands where it's only 2/3 filled, the Oh! Baby scrub is filled up to 90% in the container which makes it value for money.
I snapped these photos just before I was going to take an actual bath using Oh! Baby for the first time 🙂
After using this for a couple of days, I felt that my skin was much smoother and softer.  Oh! Baby is suitable for all ages and  contains no artificial fragrances or colourings so don't expect any smell despite the girly packaging. Using premium alkaline simple hot spring water as the main ingredient, it enhances the smooth skin generation system by maximising the power of water since hydration is a key element in achieving gorgeous skin.  The unique fine grains will start to work on softening and removing excess keratin once it comes in contact with your body since it takes effect at 37 deg C.
After rinsing your body with water, just take some Oh! Baby (I used a little spatula to keep the rest from getting contaminated) and massage it all over your body. I like to pay more attention to my knees, elbows and shoulders as these areas are more prone to skin roughness. I love the paste like consistency because it is a lot gentler to my sensitive skin than most body scrubs which tend to use salt or sugar grains. It's super easy to wash off as it's not oily or gooey.
Use it daily and watch your skin become softer, smoother and your body will absorb moisturisers more readily.
I saw a pretty limited edition version of the Oh! Baby scrub on the 3rd floor of Takashimaya Singapore at the House of Rose counter. I wonder if the ones with the rose print on the tub would have a rose scent instead. Let me know if you check them out!
I love the House of Rose product packaging and I can't wait to try out more of their stuff. For classic Pooh fans, they also have a full range of products with classic Pooh designs!
They are so cute and would make lovely gifts for friends as well.