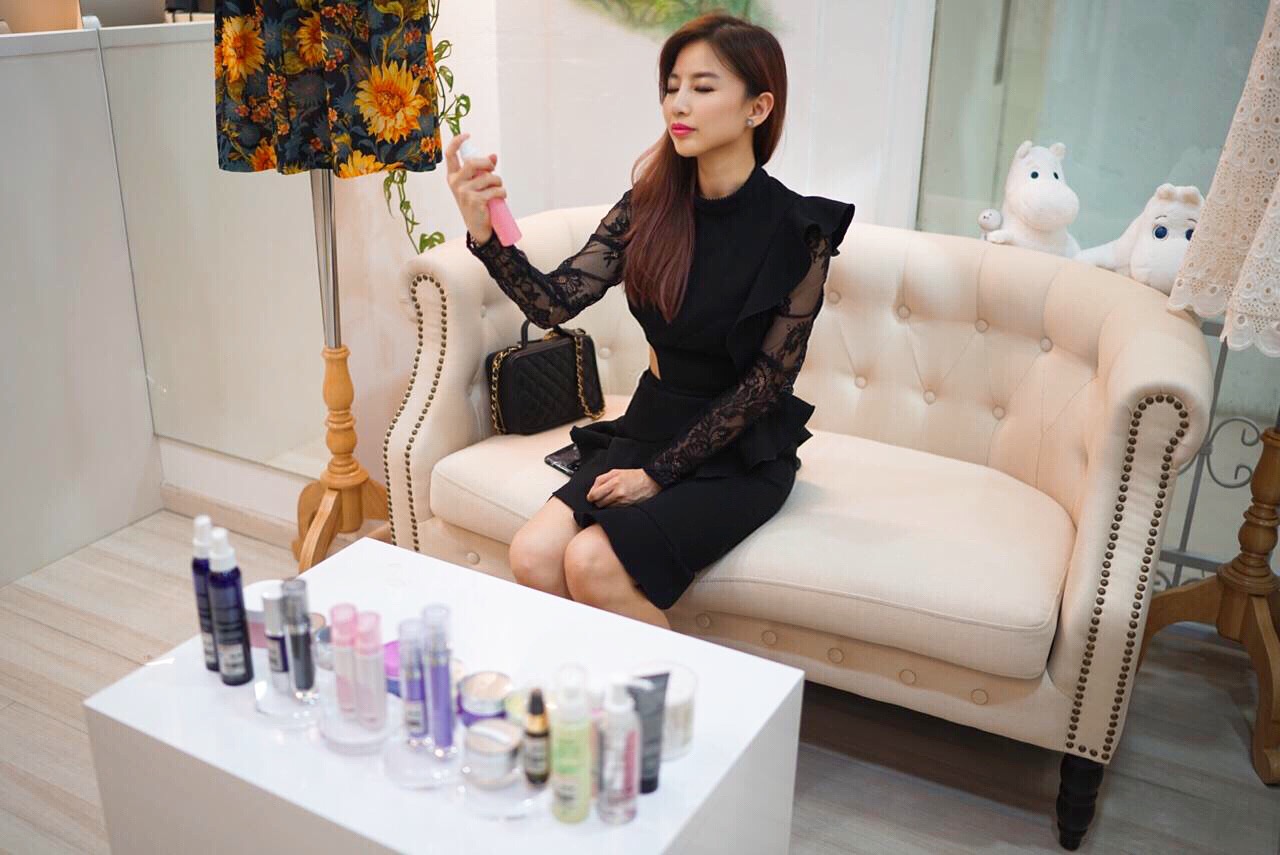 Oguma is one of the brands I've been using consistently on and off for almost eight years now. Oguma originated from Japan under professor Dr.Oguma, who dedicated his life to the improvement of human life quality. Through passion and deep investments in research, Dr Oguma found that mixing Ion Complex Elite (I.C.E) with water and applying it to the skin gave incredible results. The discovery led to the launch of Mitsuion. Initially, it was meant for infant skin maintenance but was later on utilised to solve all kinds of skin problems for all ages. After a partnership with a Taiwan based company in 1999, Oguma is now a cult favourite among many internationally.
When I first tried Oguma Mitsuion Secret Water (神奇水) sprays ( many years ago), I was sceptical that merely spraying "water" on my face would help with improving my skin. However, it works, and that's all that matter. I started to buy cartons of Oguma Mitsuion Secret Water (神奇水) sprays (as it is usually cheaper in a bundle) and haven't looked back. A lot of my close friends and work colleagues can attest to its effectiveness and are also loyal supporters of Oguma.
The Mitsuion Secret Water (神奇水), officially known as MitsuionPro Skincare Magnifier,  contains minerals extracted from the deep sea found to have a high concentration of organic nutrients vital in reviving skin and hair cells. These minerals help regulate cell circulation, assist in the formation of antioxidants and connective tissues, and boost cell turnover rates. The critical ingredient I.C.E allows for optimal moisture absorption. Skin, by nature, is waterproof; thus only water broken down to an ionic level will be able to penetrate beyond the skin's top layer. As the skin releases ions, it absorbs new ones. Using Mitsuion ensures that the new ions rich in moisture and nutrients will penetrate the skin and hair leaving it beautiful and healthy.
I love how I could easily mist my face, body and hair, any time I felt dryness. It effectively helps replenish the cells that lack water, leaving my skin and hair softer and more radiant. As a frequent traveller, the Oguma Mitsuion Secret Water (神奇水) spray is a life saver. I split them up into smaller spray bottles and have one stashed in various bags or locations so I will always have a mist within reach. It is great for calming down heat rash, allergies or bug bites too.
A couple of years ago, I started to notice that Oguma began to expand their skincare offerings, but I was so happy with the secret water (神奇水) mist that I didn't bother to test out the rest of their products. It wasn't until 2018 that I started to try out their full range of products. Since the basis of their products is the I.C.E water, it is generally pretty light, easy to absorb and great for all skin types (including sensitive skins).  Their products are very affordable and give good value regarding the results. While I've tried their full range, I'll only be highlighting a couple of Oguma products that I love.
Mitsuion Day Spa Spray
The Mitsuion Day Spa is a more luxurious and more nourishing form of the original secret water (神奇水). Using the same unique ION formula, it combines with hyaluronic acid and natural moisturising factors to improve moisture retention. The mist helps form a protective layer and gives a firming and lifting effect on the skin's surface. Other than replenishing water and nourishment to the cells, it increases the skin's defence, firmness, elasticity and delays ageing and fine lines. I've only used one of this pink bottle of this so far, and I think I need to get more!
Aquaskin Hydrating Serum
The Aquaskin Hydrating Serum is super lightweight and easy to apply and is recommended for night use as that is the time your skin repairs itself the most. I was told that using this intensive serum is the equivalent of using ten pieces of Oguma Super Mask at night! The deep sea waters work to remove the harmful factors in the skin that has accumulated throughout the day. It activates elasticity, maintains sebum structure and moisture balance, replenishes lost nutrients, and keeps the epidermis healthy. The multiple high moisturising factors and vitamin E is slowly absorbed into your skin while you sleep, so you wake up glowing.
Kawa Kawa Perfect Cream
Kawa Kawa Perfect cream is an extremely popular moisturiser for both day and night. Made out of natural plant essence, it helps the skin fill up the water and nutrients while retaining the bounciness. Antarctic sea glycoprotein prevents further moisture loss. The mixture of six peptides,  vitamin E, vitamin C and Astragalus Extract helps to smoothen fine lines, prevent wrinkles while improving your skin tone. I feel that my skin brightens over long term usage of Kawa Kawa Perfect Cream.
Aquaskin Moisturising Deep Cream
I frequently alternate my moisturiser depending on my skin needs. When I have drier skin, I prefer using the Aquaskin Moisturising Deep Cream. Even though it is intensely moisturising, the cream is still smooth, lightweight and absorbs well. It creates a barrier effect to help the skin resist external invasion and damage while locking in moisture. The light rose fragrance of Aquaskin Moisturising Deep Cream smells so good and refreshing to put on before bed. The new powerful moisturising ingredient Ceramela (MEL-B) combines large, medium and small molecular hyaluronic acid to absorb and penetrate quickly.
A couple of weeks back in Melbourne, Australia, the dry summer heat was making my skin flakey. Aquaskin Moisturising Deep Cream was one of the essential skincare products I attributed to helping me regain my good skin. Firstly, it repairs and strengthens the water retention capacity of the stratum corneum. Next, the invisible protective layer on the skin surface, reduce the adhesion of air and penetrate the skin.  Add to that is the moisturising effect of anti-evaporating keratin, live yeast plus multiple hyaluronic acid ingredients. By allowing the surface to be unaffected by the external dry environment, I was able to get my soft, hydrated skin back after a week of use.
The easiest way to get your hands on Oguma products is to visit the online store – https://oguma.co. Thanks for reading!