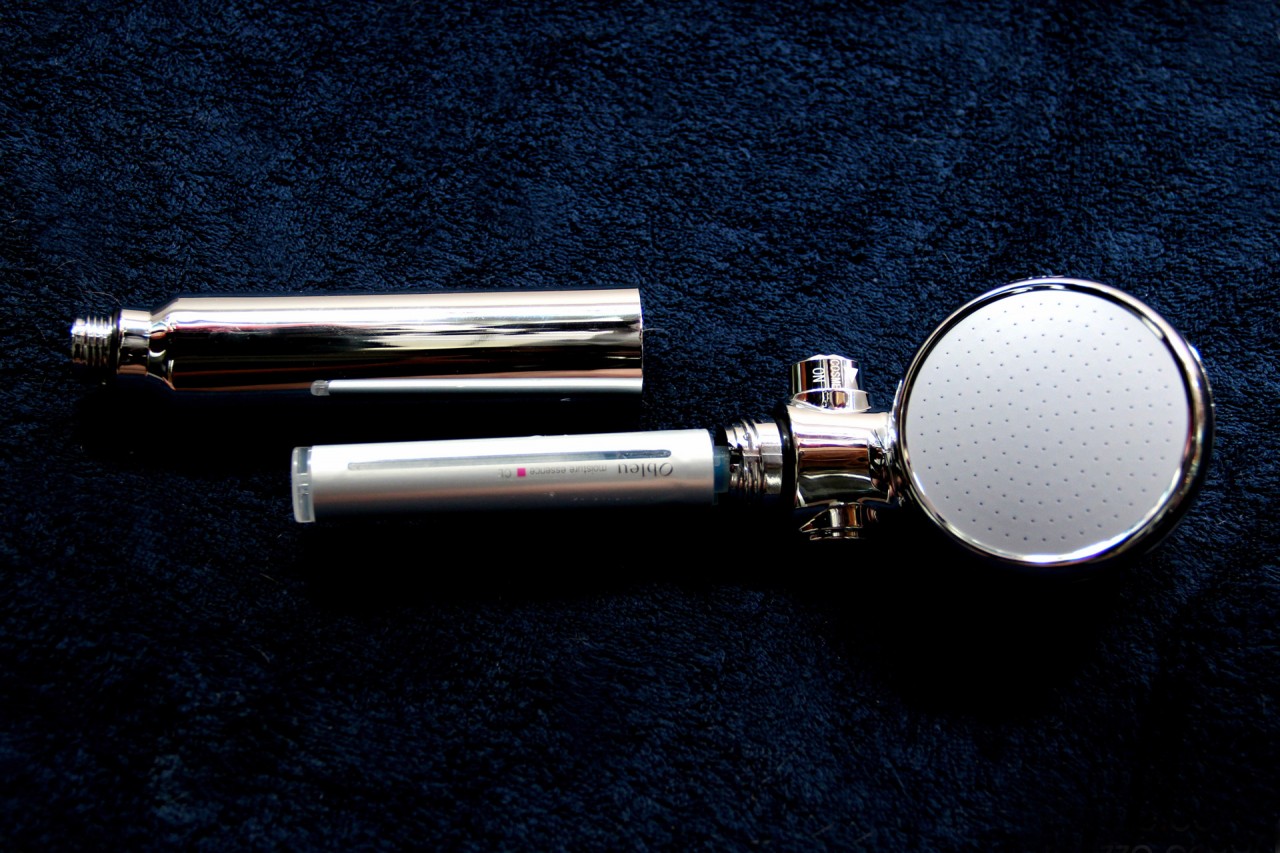 I've been sitting on this secret for a little while but it's time to share the goodness and joy with everyone. I now have cleaner pores, more supple skin and softer hair after using Obleu shower head for nearly 2 months.
Introduced to me by my stylist, Masa, of Naoki Yoshihara by Ash salon, this cosme treatment shower head uses micro-bubbles to clean your pores to a much greater extend compared to normal shower heads. It's a pretty well-known and recognised technology in Japan and you will find it in many homes, salons, spas and even pet grooming salons.
You may have remembered me talking about using carbonated spring water to deep cleanse my hair at Naoki Yoshihara by Ash salon awhile back. While this is not exactly the same, it runs on the same concept.
Although it feels and look like there isn't anything different with the water compared to your usual shower head, my skin is definitely cleaner and more moisturised after using Obleu.
Normal water bubbles are about 1mm in size but micro-bubbles are only 0.05mm in size and can penetrate deep into each pores.
While we may feel clean after a shower, there are actually a lot of dirt still stuck in our grooves and pores that cannot be seen with our naked eyes. Only when using micro-bubble technology can your skin and pores be cleaned properly.
On top of just making sure you are throughly cleaned, Obleu shower head even allows you to insert a special moisturising essence so you can moisturise your clean skin easily every time you shower.
After you finish your usual shower routine, just click on the cosme button on the shower head and moisturising essence will be mixed into the micro-bubble water to hydrate your skin.
I usually leave the cosme treatment button on only for the last 30 seconds of my shower. I love how I can easily moisturise my skin and hair after every shower.
I can't begin to tell you what a luxury this is. Especially on super busy days when I don't have time to pamper my skin, it is such a treat to walk out of your shower feeling soft moisturised skin and hair.
I know that most people in Singapore do not have a bath tub. But if you are the few lucky ones that do, you will be able to see how the micro bubble works.
I left Obleu in the bath tub to fill up.
You can literally see how the micro-bubble starts to form on the surface that has "invisible dirt". The bubbles attract the dirt and lifts it off the surface.
Once I get into the bathtub, the bubbles start their work on me as well!
The water will look a little cloudy due to the millions of mico-bubble that we can't see unless it's attached a surface.
The longer you leave the micro-bubble in the water, the cloudier it will be due to the bubbles.
Of course in Singapore, I don't have the luxury or the time to take a full long drawn out bath often. However, even just with the usual showering, I feel that my skin is less dehydrated and my hair is much softer and smoother.
If you are using any scalp tonic or scalp care products, this shower will enhance the absorption of the essence into your skin as your pores are much cleaner now.
I was told that many pet grooming salons use micro-bubble for the pets as well!
Absolutely fantastic news because everyone in my family can share Obleu with me including my dogs!
Obleu comes with all the attachments so you can fit it into any shower regardless of where you are in the world.
Thanks to Naoki Yoshihara by Ash salon for sharing all the wonderful Japanese beauty secrets with me! I may not have the patience to put hair and skin moisturisers everyday but I won't forget to take a shower so I have to say that it's the easiest addition to my daily beauty routine.
If you want to get your very own Obleu, do contact the salon.
Naoki Yoshihara by Ash
177 River Valley Road
Liang Court  #02-15/16
Singapore 179030
Tel: 63335662
Thanks for reading!