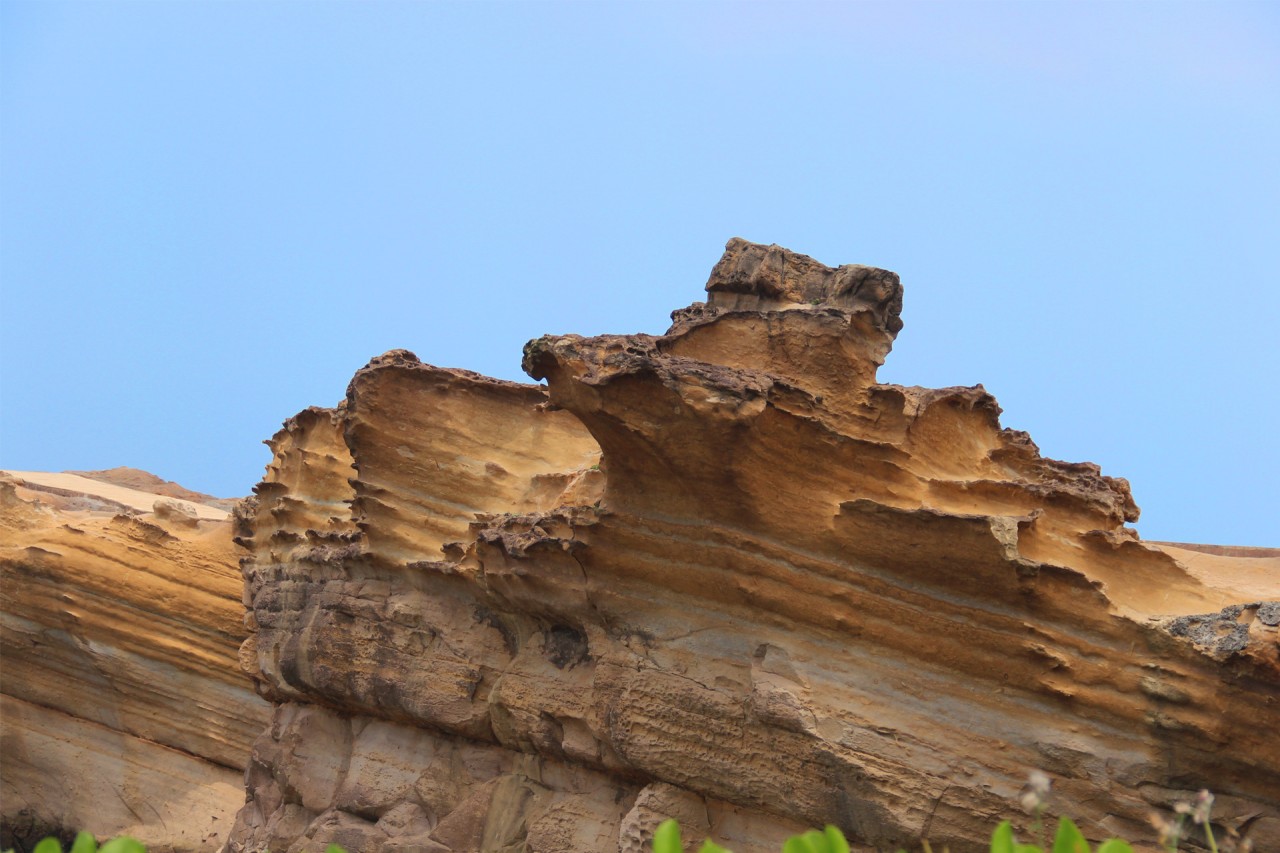 Continuing on my series of places to visit in New Taipei City for all types of travel personalities, in this post, I'll share one of my favourite nature spots in New Taipei City – Yehliu Geopark.
I've already introduced Bitan, Wulai, Yingge, Sanxia and The Great Roots Forestry Spa Resort in my previous post and in this post, I'll share about Yehliu Geopark and Jinshan Old Street.
For places 1 – 3, please read here.
For places 4 – 5, please read here.
 6. Yehliu Geopark
野柳地質公園
A beautiful 1,700 meters cape stretching out to the sea and dotted with unique and marvelous geological sandstone sculptures that have been created with a mixture of weathering and erosion over thousands of years.
Yehliu Geopark is one of the most famous and spectacular attractions in New Taipei City. It's not my first time here but I was just as wow-ed by the sights as I was the first time I came with my family.
As with most famous landscapes, bus loads of tourists come here everyday and I learnt from a local that if you want to avoid the crowds and take nicer photos (without bopping heads everywhere), it is best to come early in the morning when the park opens. Yehliu Geopark opens daily from 07:30 to 17:00 all year round. (Tickets can be purchased until 18:00 for extended visiting hours on May to middle of September)
I was there at noon and it was already pretty crowded but Yehliu is a coastal wonder that doesn't disappoint.
The most iconic rock is called the "Queen's Head" (女王頭) and on a popular day, expect long queues of tourists waiting in line for their turn to snap a photo with it. However, if you just look around, you will find plenty of interesting hoodoo rocks that are waiting to ignite your imaginations.
There's also a statue of a local fisherman called Lin Tien Jen 林添禎 who risked his own life to save the lives of others. In the version that I heard, he had already successfully saved several drowning students but perished together with the last student he tried to save.
Juxtapose the sand colored rocks with the blue skies; white clouds amidst crashing waves and you can easily understand why every photo taken here is postcard worthy.
To get there, you can take a Kuo Kuang bus at Taipei West Bus Station Terminal A (near Taipei Main Station) to Yehliu. The journey is approximately 80 mins.
Good for these travel personalities : Nature Lovers, Photography Enthusiasts, Families, Couples
7. Jinshan Old Street
金山老街
The same bus from Taipei to Yehliu also comes by Jinshan Old Street. This long and narrow street called Jinbaoli 金包里 has been around for an amazing 200 years and is famous for a particular duck meat dish. You can find many old shops selling traditional items and food.
A traditional preserves and spice shop.
A tiny store that sells copies of old books and manuscripts.
Traditional dried food store.
Traditional wooden chopping boards.
As this was my lunch stop and I headed to the most famous store on that street for their stir-fry dishes. To find the store, look for the Guang'an Temple and the long queue of people who are waiting for their turn to order.
There is a unique trust system in place that would probably not work in Singapore. I can imagine that some people might be tempted to just carry the dishes home without paying.
1. Find a table at the seating area which is a couple of shophouses (approximately 30 meters) diagonally opposite. (If you are alone, you might just have to take your chances and get your food first.)
2. Head back to the stall that has the kitchen in front of the temple. There is no menu and no one to take your orders. You just queue and once you get to the front few of the queue, you just pick up the dishes you like as they are displayed. Fastest fingers first! Then just carry them to the table where you have "reserved".
3. Drinks are self-served from the fridges in the same area as the tables.
4. Enjoy your meal.
5. When you are done eating, signal for the staff to calculate your total bill and pay just before you leave.
It's quite funny to see lots of people carrying their trays of food around the old street as they head back to find tables. The Jinshan duck is the highly recommend dish by the locals and I like their stir fried noodles.
If lunch wasn't enough, walk down the street for some desserts or street food to complete your meal.
Good for these travel personalities : Families, Couples, Take-It-Easy Vacationers, Foodies, History and Cultural Buffs
Thank you for reading and I hope you are inspired to create your own New Taipei City journey or at least venture out of a day trip from Taipei City the next time you go Taiwan. Read my "11 Incredible Things About My EVA Air Experience" to see how you can get to Taiwan in the best way possible. I promise to bring you more exciting places to visit in New Taipei City soon!
Trip was a kindly sponsored prize by EVA Air and New Taipei City but as usual, all opinions are my own.