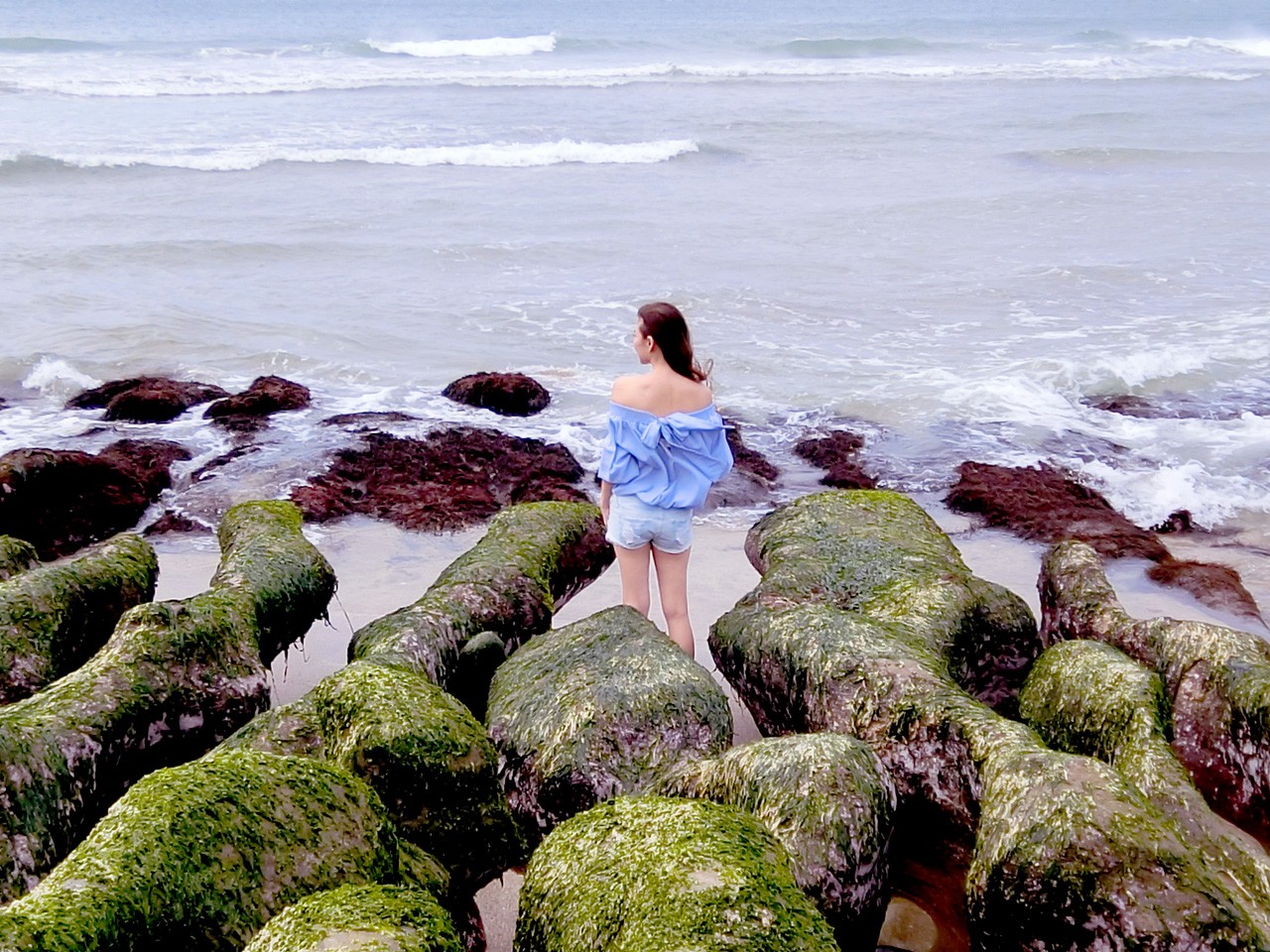 My travel experiences in New Taipei City was nothing short of exhilarating and exciting. There are plenty of places to share with travelers to Taiwan and it might take a while but I'll eventually share them all with you. Next on my series of "New Taipei City For All Types Of Travel Personalities" is Laomei Green Reef, Baisha Bay and Juming Museum which are located in the Jinshan area of New Taipei City.
If you'll like to check out the other articles which I've written about the places to visit in New Taipei City, here are the links.
For places 1 – 3 (Bitan, Wulai and Yingge), please read here.
For places 4 – 5 (Sanxia and The Great Roots Forestry Spa Resort ), please read here.
For places 6 – 7 (Yehliu Geopark and Jinshan Old Street), please read here.
8. Laomei Green Reef
老梅石槽
I love beautiful scenery and I love it even more when they are uniquely formed by nature through the tides of time.
New Taipei City has an assortment of rare natural wonders and one of this is just a few minutes walk east of Fuguei Cape (富貴角), Taiwan's most northerly point. To get there, take the Taipei Mass Rapid Transit (MRT) to Tamshui Station (捷運淡水站). From there, you can board the Tamshui Bus from the bus stop opposite the station heading towards Jinshan. Alternatively, you can also take the King Bus (KuoKuang Bus) toward Keelung (基隆) or Jinshan (金山) that will stop at Laomei Park (老梅站) or the Fuguei (富貴) stop. If you are traveling in a group or want a fuss free ride, a taxi ride from Danshui will set you back about NT$500 – 600.
The best season to catch these odd-shaped stones covered with beautiful green algae is in the the springtime months of March till May. Even though my New Taipei trip happened in late May and I wasn't in the peak of the algae blooming season, I was still able to capture a majority of the water eroded boulders in stunning green. Go during low tides to ensure that the rocks are exposed. You can check the weather and tidal forecast of Shimen at Taiwan Central Weather Bureau's website – www.cwb.gov.tw .
Good for these travel personalities : Nature Lovers, Photography Enthusiasts, Families, Couples, Solo travelers, Sunseekers
9. Baisha Bay
白沙灣
Located not too far away from Laomei Green Reef is Baisha Bay. If you want to come here directly from Tamshui Station (淡水), just cross the street to the bus stop and board local buses 622 or 623, or long distance 1261, 1262, or 1263. Get off the bus at the Baishawan (白沙灣) stop.
I've actually came to this beach several years ago when I was in Taiwan with my family as it is a very famous and highly recommended beach in the Kenting area. However, the scene I remembered from then was of a deserted white sandy beach with just a handful of locals in sight. This time however, I stumbled into a relatively crowded beach with lots of families enjoying the beautiful calm seas and weather. Despite the increase of popularity of this public beach, the long stretches of white sand are still pristine and it's a pretty romantic place to picnic or chill. As I was there during the low tide, the shore area is very wide with several shallow tide pools and many sand bars. There are some local cafe and stores at the entrance of the beach, where you can shower, buy drinks or rent beach umbrellas and tents.
 For Jay Chou fans, here's an additional tip for you. Walk towards Linshan Cape Recreation Area where there is a large park containing walking trails and a boardwalk bikeway and you'll stumble into the place where some parts of Jay Chou's movie "Untold Secret" (不能說的秘密) was filmed.
Good for these travel personalities : Nature Lovers, Photography Enthusiasts, Families, Couples, Jay Chou Fans, Sunseekers
10. Juming Museum
朱銘美術館
For the artsy types, do not miss checking out the famous Juming Museum. The most convenient way to the museum other than hiring a driver is to take the Crown Northern Coastline Shuttle Bus from the MRT Tamshui Station (淡水). It's NT$160 for a one-day pass. In summer, the shuttle travels between MRT Tamshui Station and Guihou Fishing Harbor, which leaves around every half hour on weekends and every hour on weekdays. If you are already in Jinshan, you can also take the Juming Museum shuttle bus from the Jinshan District Office. It operates on Tue – Fri at 10:30AM and 2PM, and weekends 10:30AM, 12:30PM, and 2PM. For those who are thinking of heading to the museum directly from Taipei City, it's an hour ride on the Royal Bus (皇家客運) from the bus station near Taipei Main Station (which runs hourly) to Jinshan (金山).
Famous Taiwanese artist and sculptor Ju Ming (朱銘) has exhibited his works at museums and prominent landmarks all over the world including the Paris, New York, Tokyo, Hong Kong, Montreal, Beijing and even Singapore. The Juming Museum is the largest outdoor art museum in Taiwan and you can expect to wander in a vast sculpture park that exhibits the works of Ju Ming including more than 600 sculptures! Ju Ming's art movement is prominent in several series: the Nativist (鄉土) Series, Taichi (太極) Series, and Living World (人間) Series. Each series reflects the core values of the master's attitude toward his life and his art.
The sculptures of his Taichi series displayed in the Taichi Plaza are regarded as the best and the most famous of his works but my personal favourite is the sculptures of famous scientists which is part of the Living World Series.
You can also see displays of his woodcarving and pottery as well as art works of other celebrated artists in the indoor museum.
Good for these travel personalities : Art Lovers, Families, Friends, Sunseekers
11. Yangmingshan Tien Lai Resort and Spa
陽明山天籟渡假酒店
Last but definitely not least in today's post is a place to stay for the night in the same area. Yangmingshan Tien Lai Resort and Spa (陽明山天籟渡假酒店) is a 4-star hot springs hotel nestled amongst the mountainous greenery of Yang Ming Shan National Park (陽明山).
Offering a year-round outdoor pool and views of the mountains, the rooms are spacious and clean. There are many room types and the one we stayed in even had a private hot springs tub on the balcony so you can enjoy a warm soak while watching the sunset. Incredibly spacious, both Melva and I each had a queen size bed to ourselves!
If you prefer a more contemporary design, I recommend the Grassy Hill rooms. However, these do not come with a private hot tub in the balcony.
I would love to try out their unique theme rooms the next time I stay here.
These theme rooms are perfect for a family or group of four people.
Of course, you can also choose to spend your time soaking into the many outdoor and indoors hot spring pools. . After all this is the largest hot spring facility in Taiwan! The mix pools are swimwear friendly while the gender specific pools require you to go in naked so there is something for everyone. I didn't take many photos of the pools as there were other guests using them. One of my personal favourite outdoor pools are the cosy couple pools overlooking the surrounding mountainscape.
After a good soak, try dining at the Blue Magpie Restaurant. Both my dinner and breakfast there were delicious!
If traditional hotel rooms are not your cup of tea, you can inquire with the hotel about hiring their outdoor tent accommodations for a unique and romantic experience.
With hotel services and facilities within a snap of a finger, you'll get to enjoy the rustic experience without having to worry about setting up tents or eating burnt food. It'll be so beautiful to camp outdoors in the fall when the landscape is filled with fiery yellow and red colors of the autumn colors.
I really enjoyed my stay here and wished I had another day to just cycle or hike around the surrounding areas. The best part of my stay here was waking up in the morning and taking in the fresh air, greenery and cool breeze at the room's balcony. An additional tip for travelers, if you do happen to come to this hotel in Spring, they have a little park near the outdoor hot springs that has rows of cherry blossom trees and would make a beautiful sakura backdrop for photos.
Good for these travel personalities : Nature Lovers, Photography Enthusiasts, Families, Couples, Solo travelers, Sunseekers and Sakura Aficionados
Thank you for reading and I hope you are inspired to create your own New Taipei City journey or at least venture out of a day trip from Taipei City the next time you go Taiwan. Thank you also for your emails regarding travels to New Taipei City, I can't say I know everything about the places but I'll do my best to answer your questions to the best of my knowledge. As I have been traveling extensively and suffering from jetlag, my email replies are a little slower than usual but I'll slowly try to catch up.
Meanwhile,read my "11 Incredible Things About My EVA Air Experience" to see how you can get to Taiwan in the best way possible. I promise to bring you more exciting places to visit in New Taipei City soon!
Trip was a kindly sponsored prize by EVA Air and New Taipei City but as usual, all opinions are my own.