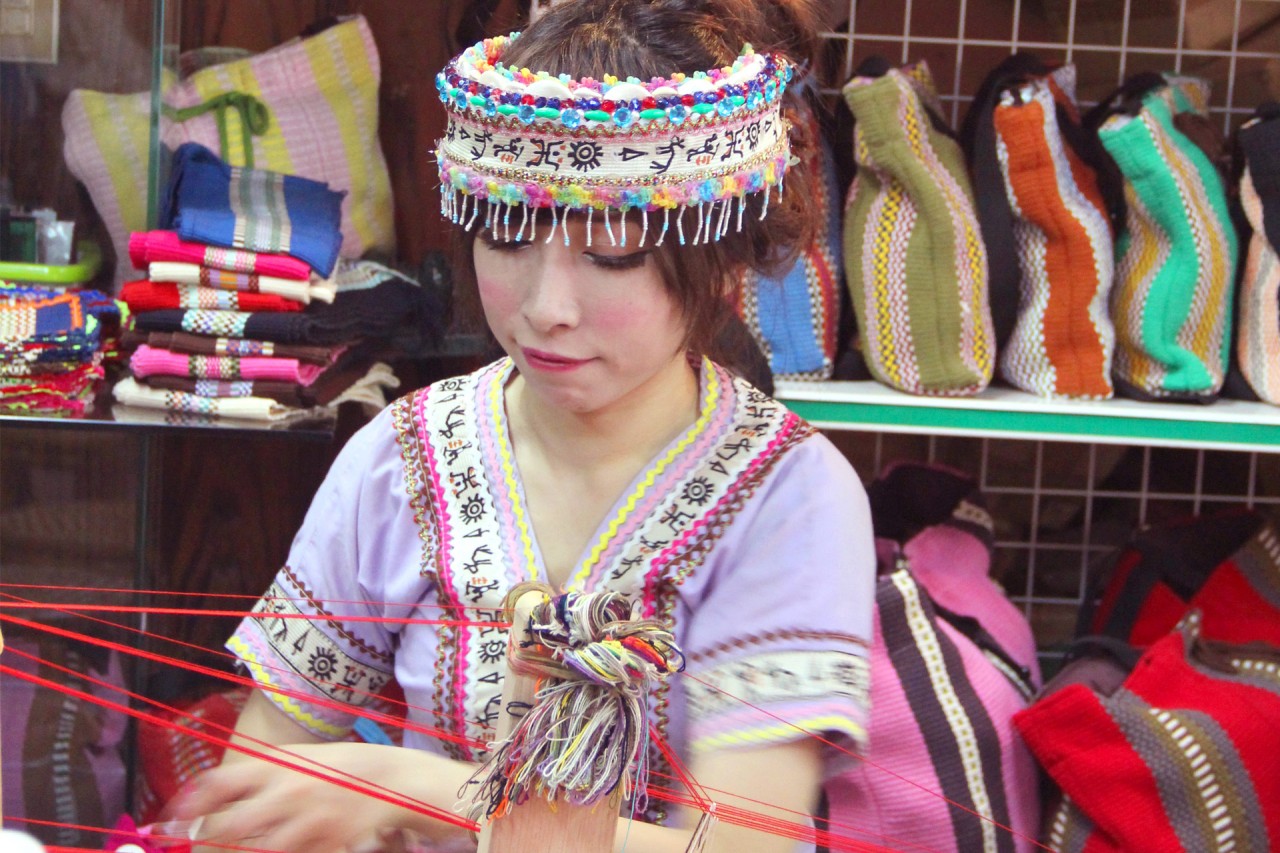 Forget about spending all your time in Taipei whenever you visit Taiwan. I love that city but there is so much more to Taiwan just outside of its capital! Over the next 2 months, I'll try to share with you as much as I can about my exciting New Taipei City Trip. With so many choices of places and activities, there will be places to explore no matter what type of traveler you are. In today's post, I'll share the places and things to see and do in Bitan, Wulai and Yingge as well as the travel personalities it's suited for.
1. BITAN SCENIC AREA 
碧潭風景區
Easily accessible via XinDian MRT Station, the highlight of Bitan is the 200m long suspension bridge. It's a popular place with the locals who come here to take a scenic stroll, cycle or canoe down the TamSui river. There are little cafes on the side of the river banks where you can grab a bubble tea and people watch.
Good for these travel personalities : Nature Lovers, People Watchers, Take-It-Easy Vacationers, Families
2.WULAI 
烏來
Wulai is a mountain village that is famous for their natural, clear and odorless hot springs. Taking a taxi here from Taipei City should cost you about NT$600 each way. If you want to take public transport, you can first take the MRT to XinDian Station (and take a quick look at Bitan) then hop on to bus 849 at the bus stop in front of the station, just behind the Information Counter.
Head to the Wulai old street where there are establishments renting out private hot spring rooms. They pipe the water from the river into your tub and you'll get to shower and wash up after. I went into this local place called "Green Hill Hotel"碧山閣飯店 (near the beginning of the Wulai Old Street) to grab a quick soak as a nice respite from the warm humid afternoon weather.
If you can afford to stay the night, I recommend the lovely Wulai Pause Landis Resort 烏來璞石麗緻溫泉會館 as it is a wonderful place to enjoy hot springs luxuriously. Their public pools are gender segregated and you have to go in completely nude (just like in Japan) but if there's always the choice of soaking in your room's private hot spring tub instead.
At the Wulai Old Street 烏來老街 , you'll get a taste of the famous wild boar meat and sausages.
The local rice wine makes an excellent souvenir and I really enjoyed snacking on caramel sweet potatoes as I wandered down this alley of food.
The many little diners here such as Taiya Po Po Restaurant 泰雅婆婆美食店 that serves local dishes with wild mountain vegetables that have been used as ingredients for centuries by the tribes. If you haven't tried pan fried ferns before, this is your chance! The foodie adventurer can look forward to trying Aboriginal dishes such as Wild Mountain Boar (山豬), Bamboo Tube Rice (竹筒飯) and Wild Mountain Yams (山藥) among others.
If you love history and culture, Wulai is a good place to start. Learn more about the Wulai Atayal Tribe, which is one of Taiwan aboriginal tribes at the museums or at the shops found at the top end of Lover's Trail. You'll learn how being able to sew is essential for every single female in their tribe even in today's modern world where clothes are easily bought; why the elders get such unique tattoos on their faces; and all the other fascinating facts about their beliefs including head hunting practices.
Stroll all the way to the end of the Wulai Old street and you can take a little trip uphill on the Wulai Log Cart Tram 烏來台車 to see a waterfall without having to hike.
Most of the log cart trams are blue in color but we were lucky enough the snag the one and only pink version both ways! Since tickets are purchased separately, you can choose to take the log cart trams one way up and hike down the Lover's Trail.
Near this 80m tall waterfall is a cable car ride. However, we were told by the locals that it's not really worth taking so we decided to grab a drink at the nearby cafe and soak in the atmosphere instead.
Those who want to breath in the fresh mountain air and take in more green scenery can also consider spending the day hiking at the Neidong National Forest 內洞森林遊樂區.
Good for these travel personalities : Nature Lovers, Take-It-Easy Vacationers, Foodies, Hot Spring Connoisseurs, History and Cultural Buffs, Families 
3. YINGGE 
鶯歌
Serious art lovers can pop by to San Ying Special Art district 三鶯之心 which is basically a huge park with many facilities for art classes and demonstrations. Specially invited artist have small little studios where they can work on their own art creations.
Look out for the rainbow pinwheels and a pottery garden with huge larger-than-life pottery tools lying about!
Just a stone's throw away (not really but it takes less than 5 mins by car) is the New Taipei City Yingge Ceramics Museum. I didn't know much about ceramics or why it's so significant to Yingge till I visited this place. Entrance is free so pop by if you have time to spare. The history of ceramics in Yingge began 200 years ago when Wu An (吳鞍) immigrated from Guangzhou to Yingge to become the first potter in the area. Later, Chen Kun (陳昆), a brick maker, moved to the area and the two strived to make Yingge into the centre of Taiwan's ceramics industry. Today, Yingge is the largest center for ceramics production in Taiwan.
With its humble beginnings, ceramics were first used to create utensils and toilet bowls during Taiwan Retrocession. Many statues of Gods and deities as well as glazed tiles were also created from ceramics.
I was very impressed with some of the ancient tea pots that had miniscule chinese writing all over. You wouldn't be able to read them without a magnifying glass. How skilled those ceramic artists must be.
As skills evolved and techniques got more intricate, the modern artists are able to create the most amazing ceramic art pieces and usable ceramic wares.
This series somehow remind me a little of our very own Gardens By The Bay in Singapore.
Address: 200 Wen-hwa Road. Tel: 86772727. Open: 9:30AM-5PM (Tues-Fri), 9:30AM-6PM (Sat-Sun)
Next, I headed to Yingge Old Street 鶯歌老街 at Jianshanpu Road. There are over 100 stores in this area and you can find restaurants, street side food and lots of stores selling ceramic products.
To get here from Taipei City, take the local Taiwan railway train 區間車 from Taipei Main Station south to Yingge station. It shouldn't be too hard to find this Yingge Old Street 三峽老街 once you get out.
When I came across some ceramics stores that also offer hands on workshops, I just couldn't resist!
You get an apron but be prepared to get your hands dirty. I had incredibly long nails with crystal nail art on it at that time and was still able to create something so its not too bad.
The teacher will teach you the basics of how to start and the rest depends a lot on being able to feel the amount of force needed to shape the clay into your desired outcome. Most of the students were attempting to create a bowl or a plate so I tried to make a vase instead.
Once you are satisfied with the shape, you can start drawing or decorating it.
You may then choose the color glaze that you want your ceramic creation to be coated with before they finish the process in the kiln. Unfortunately, it takes 21 days for the drying process before you can put it in the kiln. Many of the locals choose to get their creations mailed to them after it is ready. I wasn't prepared to pay for air freight for such a fragile item and was satisfied with having the experience and memories of creating it.
One of the yummiest pork chop rice I had in Yingge was at this Hou Dao Restaurant 厚道飲食店 which had an extremely retro vibe. The queue is long but moves fast. There's even a take away counter if you are just intending to buy a cup of bubble milk tea.
Good for these travel personalities : Artists, Wannabe Artists, Take-It-Easy Vacationers, Foodies, History and Cultural Buffs, Families, Couples
Thank you for reading and I hope you are inspired to create your own New Taipei City journey or at least venture out of a day trip from Taipei City the next time you go Taiwan. Read my "11 Incredible Things About My EVA Air Experience" to see how you can get to Taiwan in the best way possible. More interesting places to come soon.
Trip was kindly sponsored by EVA Air and New Taipei City but as usual, all opinions are my own.