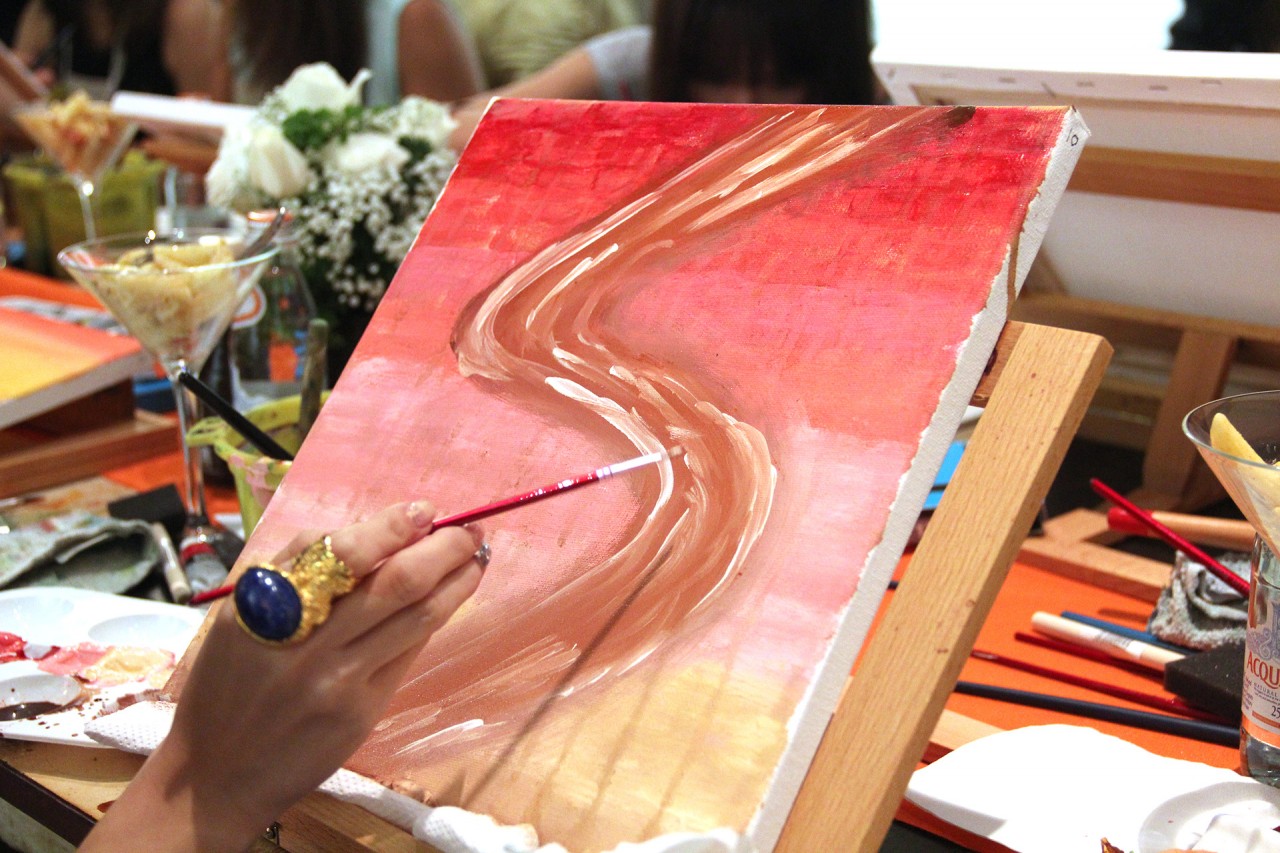 Creator of the world's first instant coffee, Nescafe is a brand that I've grown up with. My grandmother still insists on only buying and drinking Nescafe coffee till this day! Naturally, I was really excited to see what Nescafe has in store as they evolve their product line to cater to the needs of the younger generation.
 I love Nescade Smoovlatte from the first taste! Like the name suggests, the smooth as silk milk coffee is a velvety creamy perfection that is light and refreshing. I was addicted to the taste and drank at least 4-5 bottles that event. I'm not a regular coffee drinker but this milky  aromatic version is so convenient and tasty, I might have to start stocking up my fridge with it.
The event was held at Artistry, so naturally that entailed having an art jamming session. I was a little nervous because I have no aptitude for art and holding a paintbrush feels as strange as holding a power tool to me.
Luckily, there was great live music and an unlimited number of Nescafe Smoovlatte to help sooth my nerves and just relax the evening away.
I was interviewed to share my thoughts about Nescafe Smoovlatte.
Photo taking with the Nescafe Smoovlatte team.
Delicious finger foods to keep our tummies filled as well. Nescafe really knows how to keep their guests happy 🙂
The boss of Nescafe Singapore gave us a warm welcome and shared his excitement about Smoovlatte.

Another bottle of Nescafe Smoovlatte before I start painting! The medium we would be using that day was watercolours and Nescafe coffee. Yup, you read it right. We had to incorporate actual coffee into our painting. The theme given was "Smooth As Silk".
I was stumped for awhile, not knowing what to paint but  (maybe cause I was already overdosing on caffeine) I decided to just go a ahead and see where my paintbrush leads me.

Working with warm colours invoking the feel of a good cup of coffee, I started on my background.
I then layered coffee for more textures and it also made my painting extremely aromatic.
I worked on creating a flowing stream of coffee with an "S" shaped curve to represent Smoothlatte.

I would have loved to have drawn the bottle in as well but I ran out of time. I didn't expect enjoying the art jamming session so much. It was so therapeutic and relaxing that I totally forgot that I was on a clock.
I think everyone did an awesome job on their interpretation of Smoovlatte.
Nescafe Smoovlatte is available in 190ml bottle for a retail price of $1.30 at 7-Eleven stores. You can also find it at other convenience stores, petrol marts, supermarkets, hypermarkets and retail stores nationwide.
For more information and sampling location details, do "Like" Nescafe Singapore Facebook Page.
I shared mine with friends staying at my place and they loved it too! With Smoovlatte, you'll be able to get a lovely premium coffee latte no matter how busy you are.
*****
*****
*****
*****
*****
Outfit of the day
Top and shorts set: Ching
Earrings: Chanel
Ring and Cuff: YSL
Bag and Shoes: Hermes