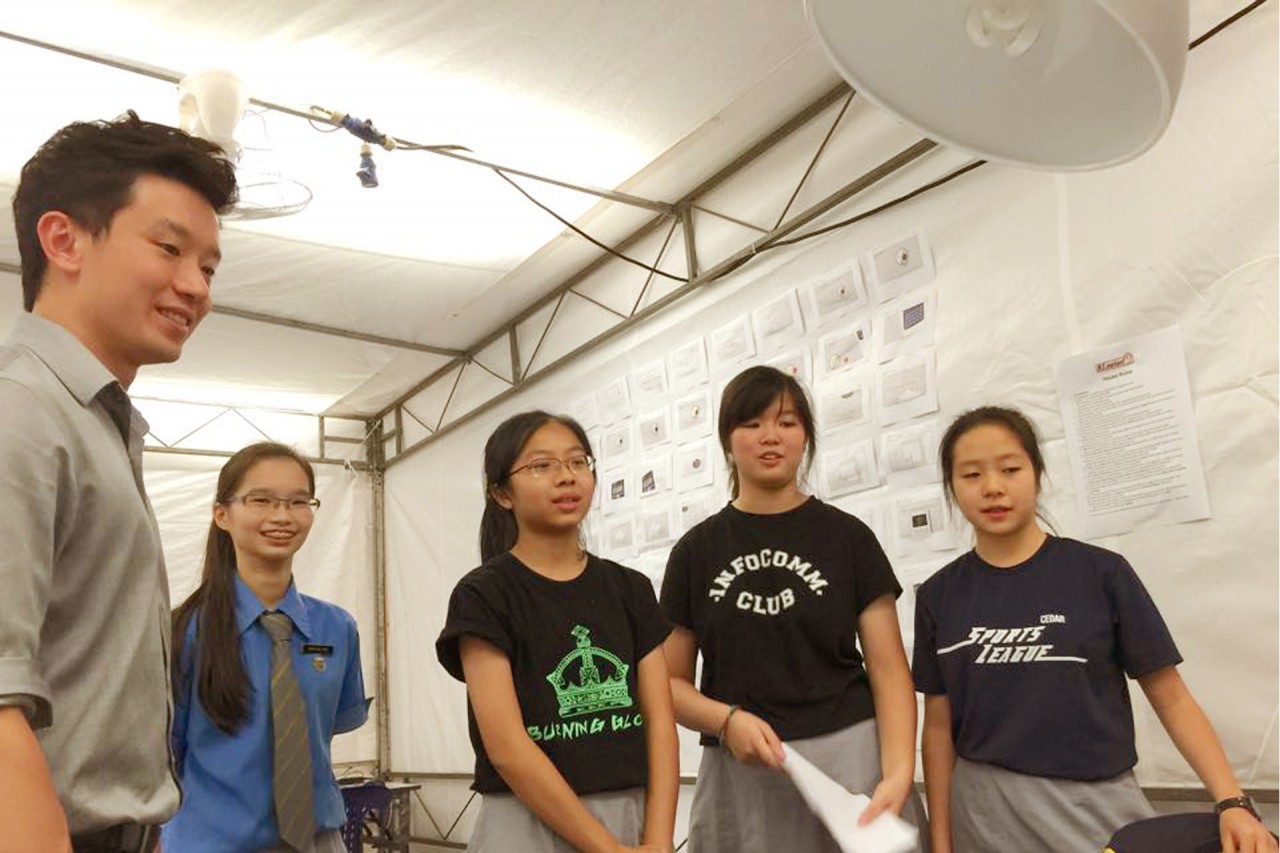 You may have read my last post about my participation in  N.E.mation! 9 this year and my first meeting with Team Chunky Monkeys (#NE9C04) and if you haven't, you really should!
In this post, I'll share with you my encounter with Team Higher Than You(NE9C06) which is made up of 4 girls ( Bella, Kaili, Crystal and Weiting) from Cedar Girls Secondary School and their animation ideas to express this years' N.E.mation! 9 theme  – believing in Singapore and building a secure and cohesive nation, united with determination.
The first thing that caught my attention as I entered their tent was that it was filled with interesting snacks/treats and even an inflatable water pool (obviously it wasn't filled with water).
These bunch of girls from Cedar Girls Secondary School spared no effort in maximising their hospitality from the moment they met me. They warmly opened up the front of their tent (which serves as both home and office for them in the 3 weeks of production) as a way of inviting me to their working zone. I was honoured by their attention as they waited for me at their tent entrance! I had good vibes from Team Higher Than You from the get-go and was keen to understand what and how they intended to animate their ideas. The girls gave me a walkthrough at how their idea came about and all I can say is that it involves Maths and the interesting way they worked in manipulating it.
They actually came up with a math formula to represent Singapore. That's one way to unnerve your opponents!
As both teams progress towards their final stages of the competition, I sincerely wish them both the best! More importantly, the teams all displayed their enthusiasm and team spirit in building good rapport with one another. Next week, Renzze will be back to check out the progress of the teams and update on how they are working towards their goals!
 I had a great experience being part of N.E.mation! 9 and definitely look forward to finding out who won eventually and be able to watch all of the great animation works!
If you would like to support these girls, please like Higher Than You #NE9C06 on the Top 10 N.E.mation Team Facebook Page.
While you are at it, do also support our other team, Chunky Monkeys #NE9C04 on the Top 10 N.E.mation Team Facebook Page too!
Thanks for reading.