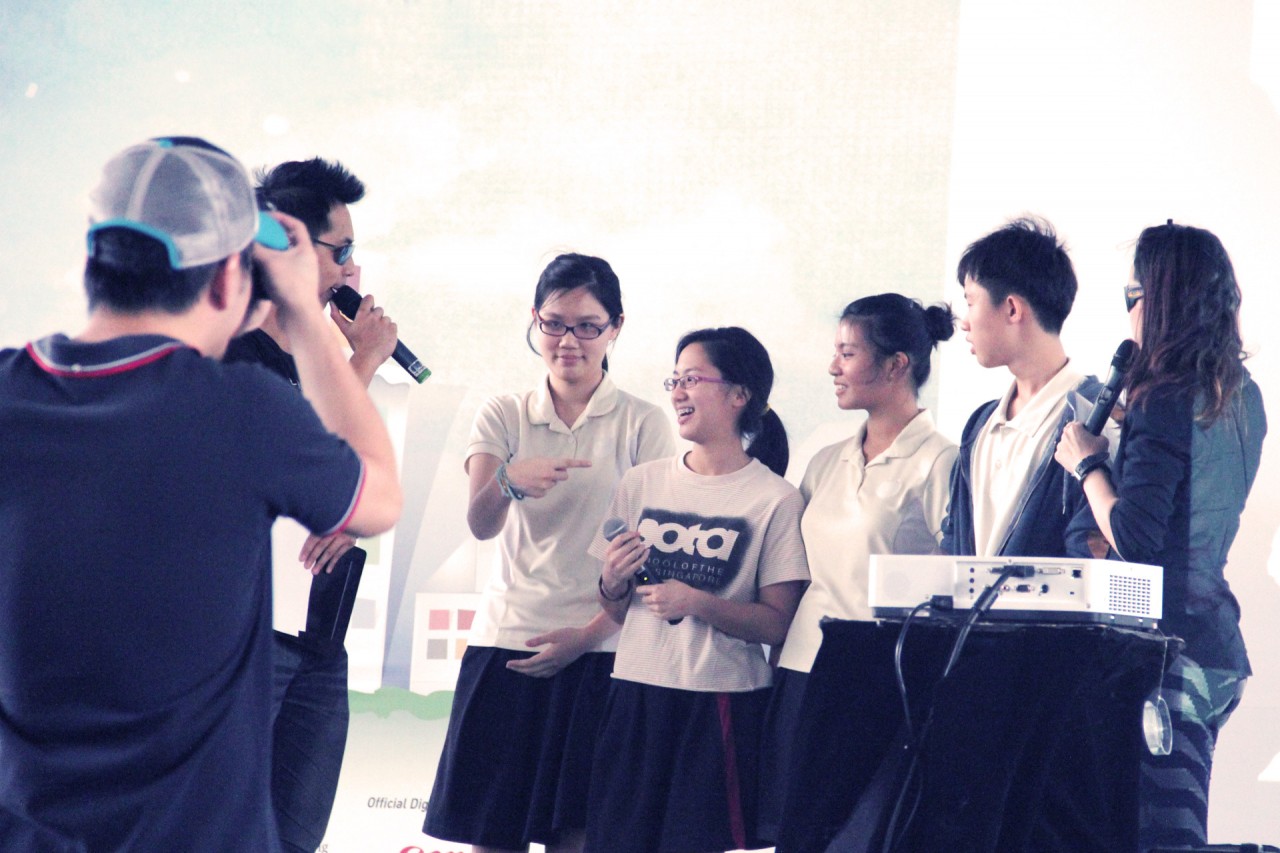 If you have been following my blog, I'm sure you've heard me mention about N.E.mation! 8 and all the behind-the-scenes progress with my two teams, Alpcalypse  (NE8C01) and Partta Kappa (NE8C06). Well, finally their clips are out and I can't wait to share them with you as well as to encourage (and beg) you to please vote for both of my teams. They have put in such hard work and I personally think that their animation clips are awesome.
If you don't believe me, watch them for yourself!
The clip above is "Greater Heights" by Alpcalypse (NE8C01) from St Nicholas Girls School and they wrote that lovely song on their own. How's that for originality!
The 2nd clip is "It takes more…" by Partta Kappa from School Of The Arts and I love the concept of using shadows to represent the silent support that makes Singapore who she is today.
There are 4 methods to votes as show above and each person can vote once in each of the 4 ways. Thus, each person has 4 votes.
1. Website – www.nemation.sg
3. Mobile – m.nemation.sg
3. Facebook  – www.facebook.com/nemation
4. SMS – 76677
Use all 4 methods to vote because as an incentive, you will stand to win attractive prizes for each vote you cast.
It's fantastic that you get to both support our young and bright Singaporean youth as well as possibly take home some awesome prizes. Voting ends 15th February so you still have some time to vote and rally your family members to vote over the Chinese New Year festivities. Hopefully one of you will take home something nice.
To launch the voting period, N.E.mation! 8 had a lovely downtown picnic at National Library.  It was my first time having an urban picnic so I wasn't sure what I was supposed to prepare. Since I was too busy to do anything that Sunday morning, I decided to bring my usual picnic gear.
Sebastian and Xing headed down to the N.E.mation! 8 Downtown Picnic with me to help me give some physical and moral support to both my teams.
We had bread, wine, cheese, vine tomatoes, ham and olives to make some excellent healthy sandwiches for lunch.
For snacks, I also packed seaweed which I bought from Korea, some chips, strawberries with dark chocolate salted caramel for dipping and pineapple tarts.

Good food, beautiful atmosphere and even more wonderful company. Special thanks goes out also to those who couldn't make it that day but still texted me on site to let me know that they've voted in support of the teams.
It was a relaxing and beautiful way to spend the Sunday afternoon. The weather in Singapore these days are absolutely perfect for picnics. We had lovely music from the student band and also got to watch the animation clips from the various teams on the big screen for the very first time.
Both my teams were very busy sharing their clips to the public, rallying for votes and accepting interviews from newspapers and TV.
Other than having a great picnic, most of the public were also busy taking photos and posting them on Instagram because there was a really cool Instagram printing booth on site!
For those who voted that day, they got a lovely goodie bag!
I love the design and it makes a pretty cool reusable book or grocery bag.
It was so nice being able to do some small catchup with my teams again. Tried not to get in their way too much cause I know it was a really busy day for them.
Partta Kappa gave me a gorgeous Iris which was unexpected but an exceptionally sweet gesture.
Just before the event ended, there was a round of prizes to give away and I was picked for "Best Dressed Picnic".
Picnics are a big part of of lifestyle because I have 2 dogs that constantly needs their run and swim at the beach so I think I just got lucky that it was a picnic theme because threw this simple picnic together  about 30 mins before arriving at the event. Special mention goes out to Lishan of myjotterbook who gave me this gorgeous picnic basket for my birthday last year. Now I can't go on a picnic without it!
Thanks N.E.mation! 8 for throwing such a lovely event and to all the Top 10 N.E.mation! 8 teams for working so hard and astonishing us with your creativity. To my dearest friends and readers, please don't forget to help support my teams!
XOXO,
Karen