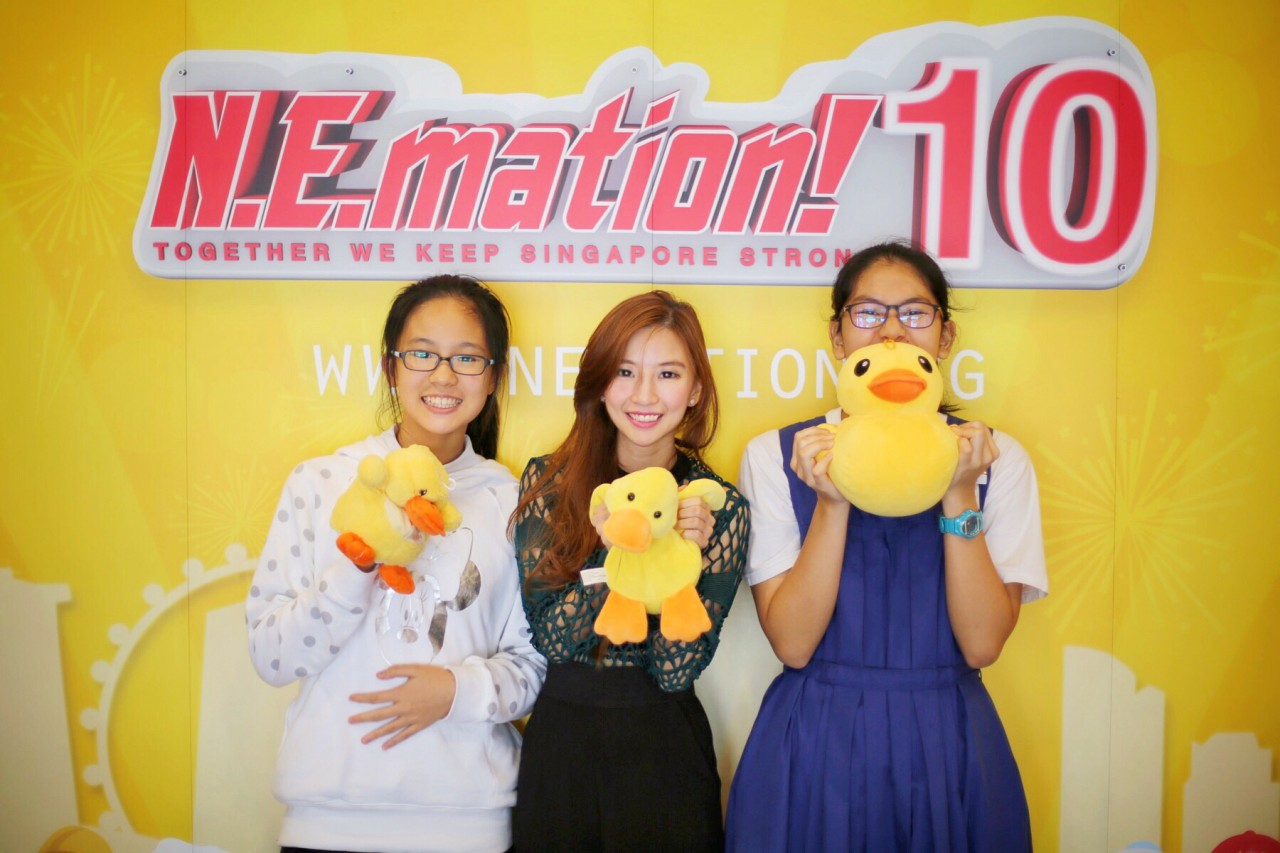 I'll be introducing one of my N.E.mation teams, BAMM, in this post. The four girls from St Nicholas Girls Secondary school are one of the talented top teams that made it through countless of selections. Even though they are always comparing themselves to their seniors and telling me how slow their progress is, they need to be reminded and to see how awesome they are to even be in the top 10 teams who get to fully animate their concepts into a 1 minute video that would be shared to the whole of Singapore (and even on international platforms).
The idea was initially thought of by Marilyn, but all of them brainstormed to improve the concept and to pitch it to dozens of people; fine tuning and supporting each other along the way. Through their tenacity and faith in their message they have now achieved a chance to put their thoughts into concrete action. With no animation background, they are learning every step of the way how hard and also how rewarding animation can be. It helps that the whole team is very cohesive and also mixes well with the rest of the other teams.
To illustrate the kind of bonding the teams have with each other, the duckies you see us holding in the photo was actually "borrowed" from another team because their team mascot are bees and they can't seem to find any bee stuff toy sold commercially. Despite N.E.mation being a competition, a lot of rivalry is very friendly and notes of encouragement and support can be seen throughout the different teams. I'm so filled with pride when I see these young kids not only working their hardest to achieve their dreams but to also have so much sportsmanship that can be missing in some adult competitions. The spirit of "Togetherness" is not just conveyed through their animation works but practiced daily with the people that surrounds them.
I can't tell you much about the actual content of their story (you'll just have to wait till they are done and when the video is ready to be shared to the public) but I can tell you that it's all about superheros. Just like superheroes, they want to share about the goodness of humanity, the spirit of our daily fight and inspire the togetherness that we can achieve . In light of this, I've morphed each of the team members of BAMM into superheroes themselves.
I've given them abilities they wished they had (or what their team mates think they would like to have). Can you guess what type of superheros they are?
While you are figuring out what superhero abilities they have, BAMM is working hard on their animation clip so they can make the world a better place through their efforts. Please encourage these talented (and fun) students by liking their profiles on the Top 10 N.Emation teams FB Page. I'm rooting for  BAMM (#NE10C02) and Rockin Tomato (#NE10C08) from Hua Yi Secondary School.
In my next post, I'll share with you more about Rockin' Tomato. Have a great weekend ahead!
P.S. – Just found out that my N.E.mation! FB link doesn't work on mobile so please try to click it using a desktop.