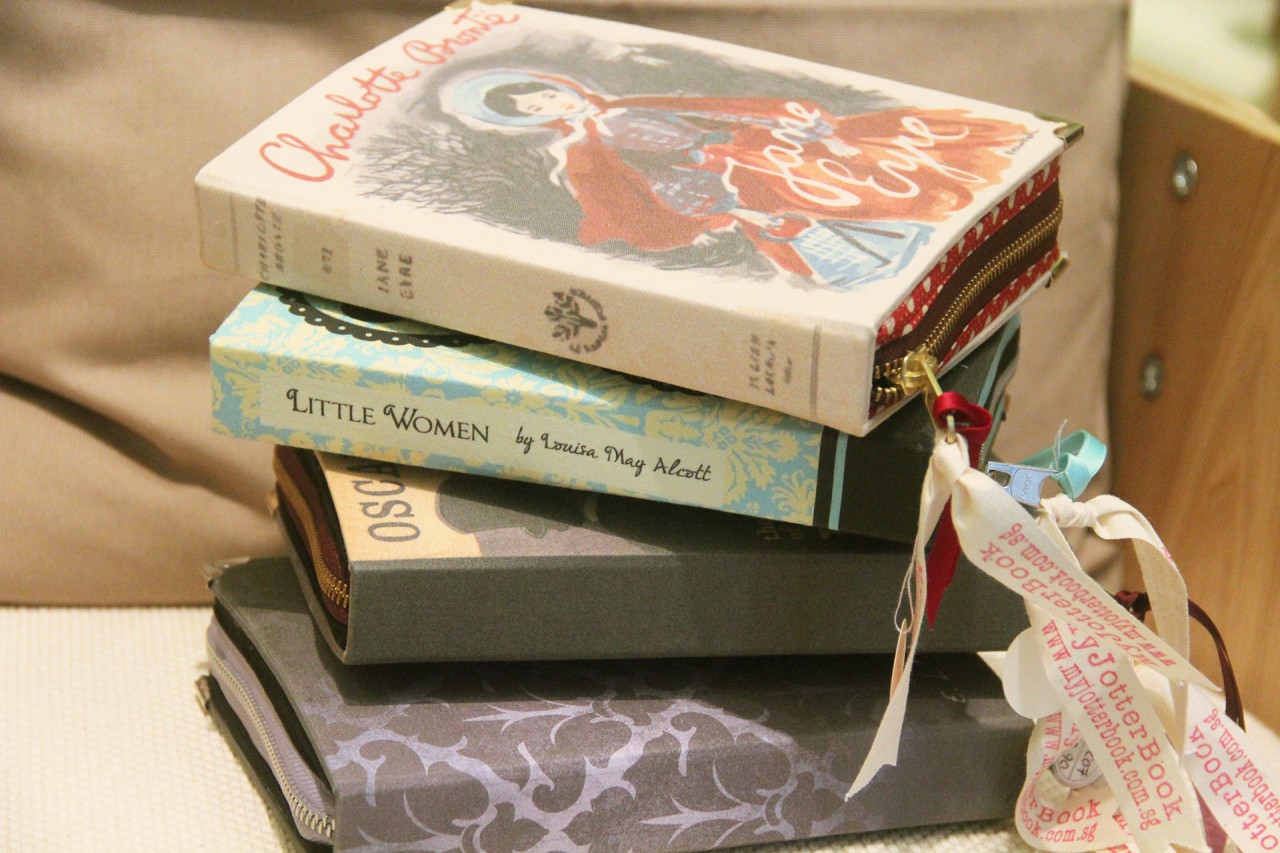 I've been in love with My Jotter Book products especially their book clutches and I've openly shared my excitement and love for them in my blog and my other social media channels for the longest time now. If you haven't read my post on their book clutches, you really should. Finally, My Jotter book has expanded from an online business to a physical store and I couldn't wait to pay them a visit.
Located at Jalan Rumah Tinggi, this little shop is beautifully decorated. It's a labour of love with every furnishing and display carefully selected by the owner, Lishan. She even hand painted her own signboard from a piece of wood she found. I'm impressed by her creativity and it's even better when it supports upcycling.
Most of her book clutch bags, cuff bangles, necklaces and accessories can be bought through their online store but if you have the time, it's always nice to see, touch and browse the items in real life before deciding on your purchases.

I was so tempted to buy a few more book clutches especially since I know that they all come in limited quantity and that some designs have even stopped production already. If you are keen on getting book clutches don't wait because the cost of new batches will most likely be more costly compared to the current batch that they have on hand.
 What took my breath away and sent my pulses racing however, were not only these items but more so because My Jotter Book now carries a gorgeous collection of vintage clothing, bags and accessories. I love vintage clothes and it's no secret that I am an avid collector for many years now. It is an incredible delight to have found yet another treasure trove for me to source new unique outfits and merchandise.
As they are a new vintage shop, they carry a smaller collection than other more established ones but I still manage to find so many stunning outfits that I just couldn't resist purchasing.
I definitely appreciate the finer touches that My Jotter Book has incorporated such as a detailed description on each outfit, the era, sizing and condition. I've seen vintage shops that are very disorganized so it is refreshing to see the effort that Lishan has taken to categorize each piece. You can also ask to take away the descriptive tag together with your purchase if you like.
With such a huge and inviting dressing room, I had a wild afternoon trying dozens of outfits and having a wonderful time in the company of Lishan.
I tried on so many outfits and bought so much but let me share with you just 3 of the 1970s outfits I purchased. If you are wondering, I'm a big fan of outfits from the 1950s, 1960s and 1970s.
The first one is a 1970's Cream Pin Tuck Peasant Dress that was still in excellent condition and even comes with the floral brooch!
This vintage 1970's ecru / cream pin tuck peasant dress is an absolute stunner. Pin-­tuck pleated cotton with a floral lace edged elastic neckline to wear on the shoulders or off , an elasticized waist and a full tier of long lace‐striped skirt.
My Jotter Book understands that with one off unique vintage pieces, sometimes a little work needs to be done to make sure that the dresses are fitted perfectly so they can even make arrangements by appointment for a seamstress to come by and take your measurements for any alterations. This is a convenient service for those who like a one-stop service. Of course, if you already have your own trustworthy tailor or have the talent to do self-alterations, you may also choose just bring the dress home right after purchase.
Next is a 1970's Ivy Rose Dress. I fell in love with the sweet prints and textured swiss dot material.
This vintage 1970's pink floral maxi dress is a mishmash of hippie boho vibes with a rustic prairie twist. Empire Waist with ruffles; it is the perfect outfit for an afternoon tea party! As you can see it's a tad too long for me but I had the length altered and now it's good to go!
The last dress I want to share with you was a perfect fit for me and one of my most unique buys.
The 1970's Navy Toile & Gingham Prairie Dress is a super gorgeous find with incredible prints reminding me of many of the artworks and Delfware ceramics I admired in Holland.
This vintage 1970's dress with the navy and white toile roses & gingham check print combination is almost like a traditional European festival dress. With its' unique lace edged short-­sleeves that puffs up beautifully, a checkered lace bib bodice together with the long maxi skirt expertly finished with a ruffled checker hem that completes the masterpiece.
Shopping at My Jotter Book was an incredible pleasure not only because of my love for vintage dresses but it is also attributed by the relaxing shop space and the attentive cheery company of the owner, Lishan. Her love of the various vintage clothing found at the store is undeniable as each piece was specially handpicked by her to be imported in for sale. Many a times she personally can't bear to put some of the pieces up for sale. It's a luxury for me to be able to spend the afternoon with someone that shares my passion.
If you are heading to My Jotter Book for some treasure hunting of your own, do give Lishan a call at +65 98265008 for good measure. She might even extend her hours for you! As a special for Renzze.com readers, just quote Renzze 10 before payment to get at 10% discount off any vintage clothing purchase! This special is vaild till end of Nov 2013 only.
*****
*****
*****
*****
*****
Outfit of the day
Wore this lace yellow dress for a girly time shopping at My Jotter Book followed by a weekend dinner date with my Mr. Mysterious.
Dress: Ching
Earrings: Chanel
Watch: Patek Philippe
Heels: Korean
Book Clutch: My Jotter Book