Christmas Midnight Mass has always been a family tradition for as long as I can recall. I remember fondly how I used to attend it with my whole extended family when I was very young. Then, I didn't really understand the significance of Christmas except that after mass I would get to open my presents which were very tempting under the huge Christmas tree. Christmas eve would usually consist of lots of yummy food my grandma cooked. And the adults would force me take a nap after dinner so I wouldn't be tired during the midnight mass. Of course I could never get to sleep! The atmosphere was way too exciting and I am pretty sure I wouldn't feel sleepy at all till I've finished unwrapping all the presents and played with every single toy!
It seems that the excitement of Christmas have been dulled through the years we age. But midnight mass is still a highlight for me. Not so much for the presents anymore but for the people we love and cherish and spend Christmas with. Its a time of celebrating and being glad of how lucky we all are.
This year I met up with many familiar faces that I haven't seen in a long time. Managed to meet up Robin with his new haircut! Sat next to Aloysius which was very sweet and snapped pics with Matthew… Melissa and Van at a real pine smelling Christmas tree!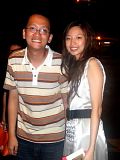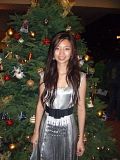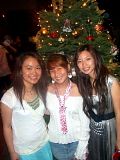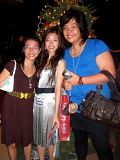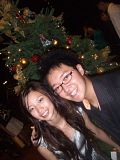 After Christmas mass we headed down to S11 to have supper. Mum and Dad went home first cause they said the night is too late for oldies like them… lol…
The rest of us then adjourned to MacCafe for some chit chat and fooling around session. We told happy stories… scary stories….made lots of funny faces and even did arm wrestling. Not surprisingly I was the weakest of the whole group. My sis is really strong! At least amongst the gals…
Before dawn breaks we left for home… or rather most of us did. Janice and Shannon still had energy to party hop to the next location! Janice took a picture for my what are you wearing today. This time with Audrey too! I wore a silver silk issey miyake dress with a black belt and black heels. Audrey wore a brown cotton dress with a yellow polka dotted brown butterfly belt I lent her. Although I lent her the belt before seeing the actual dress.. I think it goes together perfectly!