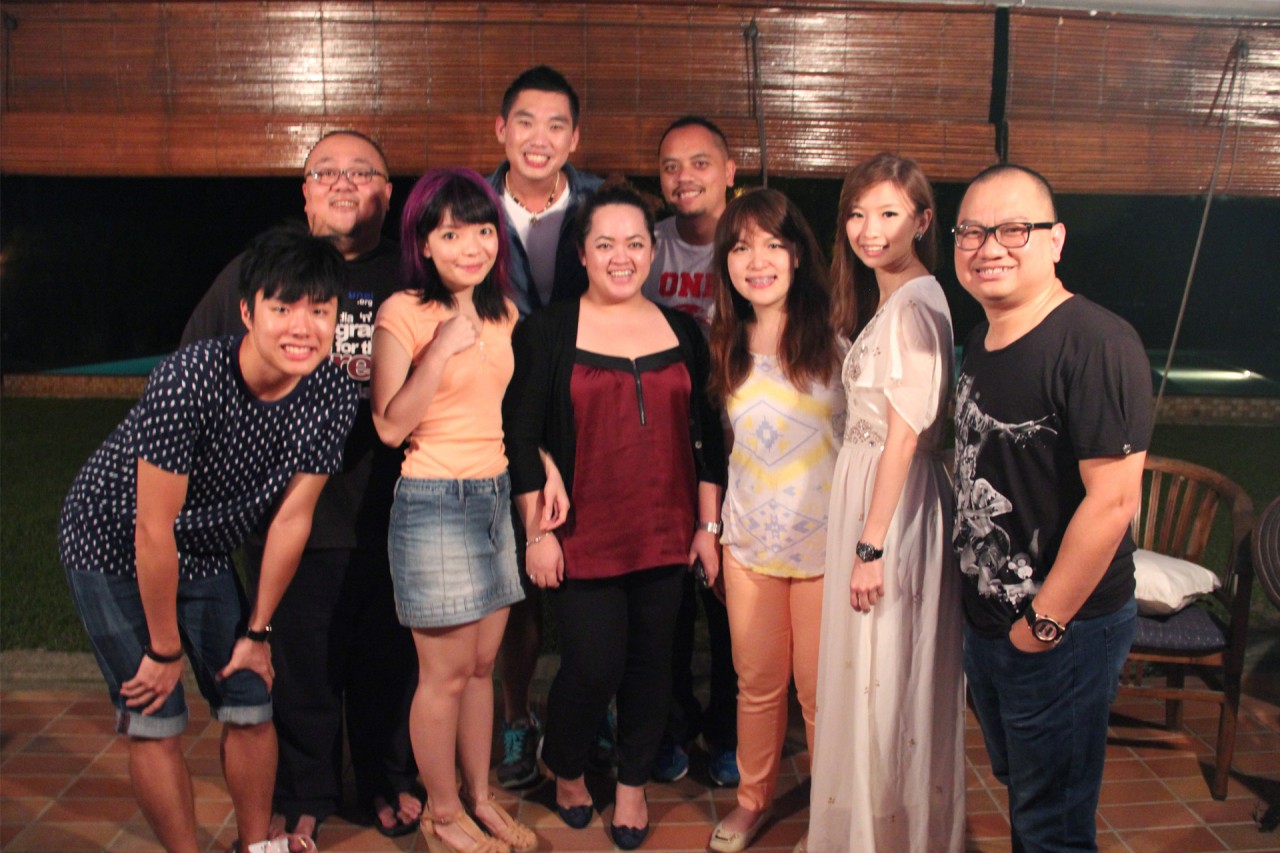 We arrived in the the most prestigious hotel in the whole of Brunei – The Empire Hotel  & Country Club. However, we had rushed here after snorkeling with the fishes and I was slightly embarrass that I had to check in my disheveled state and sea water soaked hair. Luckily I had changed in to a long maxi before arriving instead of remaining in my casual swim sports attire.
Walking into the grand lobby of The Empire Hotel & Country Club, I was immediately impressed. The hotel Atrium soars into the sky to a height of 53.22m from level 1 to the roof. And straight ahead was the dazzling view of the South China Sea and the setting sun.
The service is excellent and delicious signature mocktails were served to welcome us as we got our rooms sorted out. They were so quick and efficient that it took almost no time at all.
The sun rays filtering into the grand lobby and bouncing off the specially imported top grade Italian marble was in itself a spectacle to behold . Later I learnt that all the light fittings in the entire hotel were specially chosen to create the right kind of lighting any time of the day. Many of the chandeliers are made to order with delicate Swarovski crystals.
I would have loved to be able to lounge around in the lobby to soak in the atmosphere and enjoy a cup of complimentary tea (love to try The Empire Blend) but we only had an hour to check-in, take a shower, freshen up and head out for dinner.
We were personally escorted to our individual rooms and it was just as luxurious and impressive as the rest of the hotel.
The room was extremely spacious and there was even a separate wardrobe and luggage section.
Some cakes and a specially hand written card was already laying in wait for me. It's been a long time since I've seen handwritten notes from any establishment and it lent a very warm and personal touch to the whole atmosphere.
The balcony was spacious as well and I stood there for quite awhile lost in the beautiful view of The Empire Hotel & Country Club greenery as well as the setting sun.
I might have totally forgotten that I needed to shower and change if not for the whatsapp messages coming in from the other bloggers checking in on what time we needed to meet back at the lobby.
The bathrooms at the hotel are all clad in 20mm thick marble slabs and at that moment, I felt that I would be happy to stay at The Empire Hotel forever!
Shortly after my quick shower, I receive a phone call from the hotel staff checking to see if I settled into my room comfortably or if there was anything I needed. She also informed me that everything in the minibar and drawers are complimentary and I could ring them anytime should I need a refill! It was the first time I had receive a follow up courtesy check from any hotel moments after I've checked out my room and this has formed a solid positive impression of the excellent service at The Empire. I feel pampered and throughly taken care off.
If you ever go to Brunei, you just have to stay at The Empire Hotel & Country Club. It's undoubtedly the best accommodation that Brunei has to offer and to prove my point, our Singapore President, Dr Tony Tan was also staying at the same hotel as us that night! Incredibly, prices of the superior and deluxe rooms here are cheaper than most 5 star hotels in Singapore! I'll share more about the hotel and show you even more impressive facilites in my next post cause this post is all about meeting the Brunei bloggers as arranged by Royal Brunei Airlines.
The dinner was hosted in Azhani's beautiful residence and the homely atmosphere, home cooked gourmet dishes and gorgeously grilled meats by Azhani's husband lent an incredibly heartwarming experience as we got to know more about Royal Brunei Airlines as well as the Brunei bloggers better. They could have just done the meetup at any restaurant but I'm very grateful for the effort that they have taken to share with us an authentic Brunei hospitality. When I think of Brunei as a country of unexpected treasures, the warmth of the people will be one of them as well.
Maurina : maurina.wordpress.com
Azhani : emmagoodegg.com
 Rano Iskandar : RanoAdidas.com
Reeda Malik : AnakBrunei.org
Kamarul D Ajimain : geekinwhite.com
Top Brunei bloggers @ranoaddidas, @anakbrunei, @marul69, @maurina, @emmagoodegg (Follow them!) were all so friendly and our conversations flowed freely over the sumptuous spread. It was a wonderful opportunity for me to learn more about the Brunei cultures, how the locals think, what they enjoyed, how different Brunei blogging community compared to the Singapore community and more! Most importantly, it showed me that despite my intensive itinerary that covered from city to nature and from the tops of the world to the depths of the ocean, there was so much more Brunei had to offer. Even though it was the first time we were meeting, by the end of the dinner, new friendships were forged and our life experiences have been enhanced.
We were also very fortunate to get a sneak peak into the new collection of sleep masks that are specially designed for Royal Brunei Airlines' new Dreamliner Boeing 787 aircraft campaign in UK.
Before we left, Royal Brunei Airlines even prepared a little gift bag for us to take along.
Back at my awesome hotel room, I ran a lovely warm bubble bath and spent the rest of the night relaxing with a book as I looked forward to what Brunei brings me tomorrow.
Thank you OMY, Brunei Tourism and Royal Brunei Airlines  for making this trip possible.
If you would like to know Brunei better or check out more Royal Brunei Airlines promotions, check out their Facebook page.
PS: I have a couple of photos that I've put up in this post without my usual watermark as these photos are used courtesy of Malcolm Sunny and Rui Long of OMY.