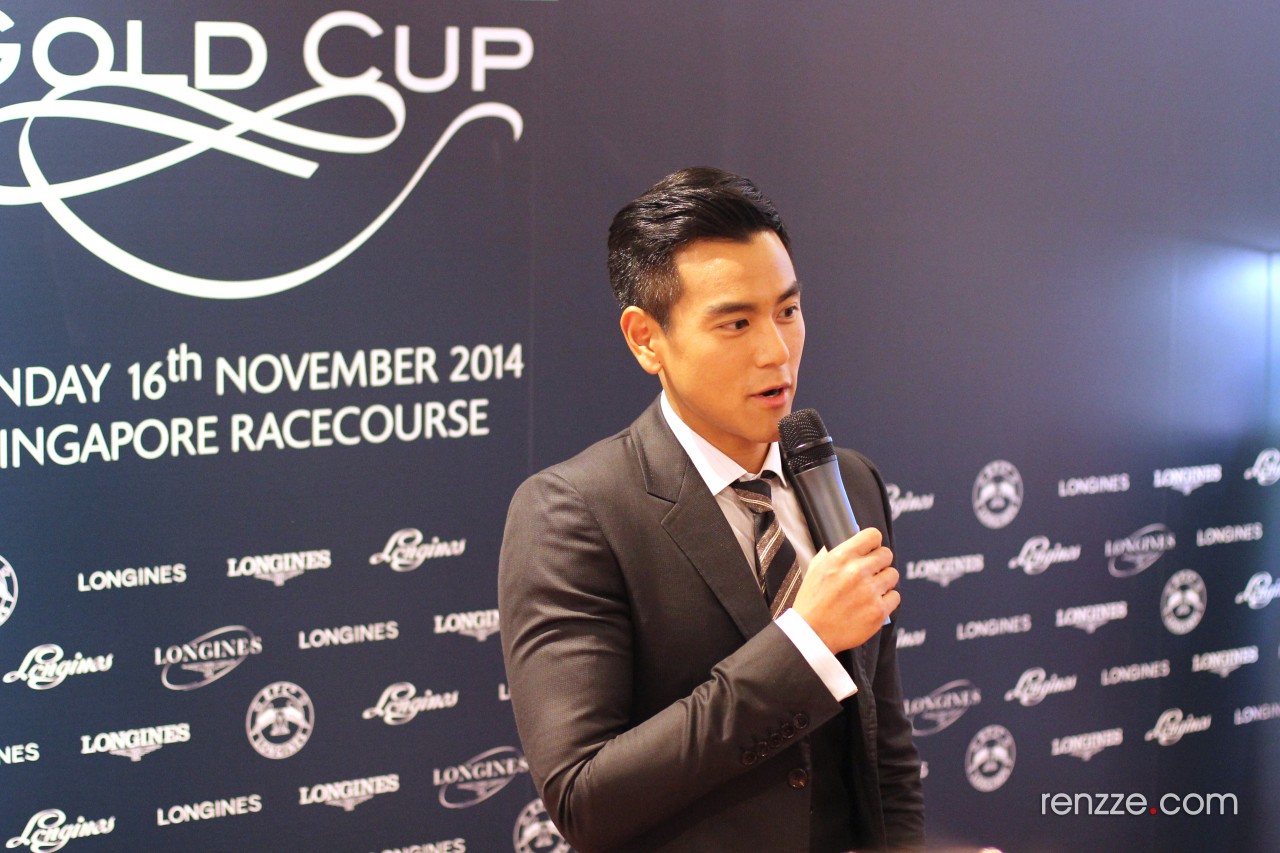 I'm really honored to have attended the Longines Gold Cup 2014 at the Singapore Turf Club this year. The Longines Singapore Gold Cup is the richest race on the Singapore domestic racing calendar with a history dating back to 1924 and it never fails to impress. Having just spent a month in Melbourne during the feverous racing season, I was inspired by the efforts that Australians take to dress up for the Melbourne Cup. Back in Singapore, it's heartening to see that many men and women are putting a lot more effort to dress up for the occasion as well.
Here I am pictured with Hong Peng as well as with Raphael.
It was a glamourous and exciting day as the region's most skilled jockeys and boldest thoroughbreds battle it out for S$1.35 million prize money. It's hard not to get deep into the heat of the competition when there are so many brilliant choices that day.
While we had one eye on the races, we were also enjoying the Longines charity luncheon that was raising funds through an auction for its adopted charity – Rainbow Centre, a social service programme for children and youths with multiple disabilities and autism under the care of Community Chest of Singapore.
There were splendid hats and watches for auction and the funds raised will also be matched $1-to-$1 by the Government under the Care & Share Movement.
Great food, fun entertainment, magic tricks and gorgeous people kept the revelry going on the entire day.
The lovely Ms Jessie Leong gamely put on one of the hats that Raphael and I made! Look out for how to win your fascinator (handmade by us) this at the end of this post.
Of course, no Longines Gold Cup event is ever completed without a couple of stars . Other than spotting David Beckham around, most of the time my attention was captivated by one handsome, Mr Eddie Peng or Yuyan Peng.  This Taiwanese Canadian action hero is the perfect Longines Ambassador of Elegance and was making his rounds at the Longines Gold Cup.
Apparently, I'm not the only one who was mesmerised by his cute dimples and easy charm. There were literally hoards of fans waiting to see him and lend their support. It's not hard to see why he's so attractive but I was surprise to note how warm and sincere he is in person.
Our dear President of the Republic of Singapore, Dr Tony Tan, was there as well to grace the occasion.
Argentinian import Quechua won the Longines Singapore Gold Cup that Sunday evening to give trainer Patrick Shaw his second triumph at the $1.35 million race. Thank you Singapore Turf Club and Longines for the wonderful memories.
I'm privileged to have been spotted and shortlisted as 10 best dressed at Longines Singapore Gold Cup 2014 this year.
I wanted to give off a more old school glamorous feel to pay tribute to Longines heritage and elegance. Other than my ruffled salmon colored dress, I think it was the little touches of accessories such as my white structured Australian fascinator and my vintage cigar box bag from myjotterbook that really showed off my personal style.
And as promised earlier in the post, I'm doing a giveaway for 2 handmade fascinators so you can prep up for the end year festivities or be ready for the next racing event at the Singapore Turf Club.
I shopped for most of the raw materials with Clara when I was in Melbourne and she helped me out with the leather bow but things really came together when I returned to Singapore.
Using the basic black hats that STC provided us, Raphael and I spent our weekday night crafting these two special fascinators just for our readers.
To win either one of these hats, just like any of @renzze photos on Instagram that has the hashtags #SGTurfClub or #LonginesSGGoldCup then send you name, instagram nickname, address and contact using this contact form. Winners will be notified via email on 20th December 2014.
Thanks for reading and good luck!