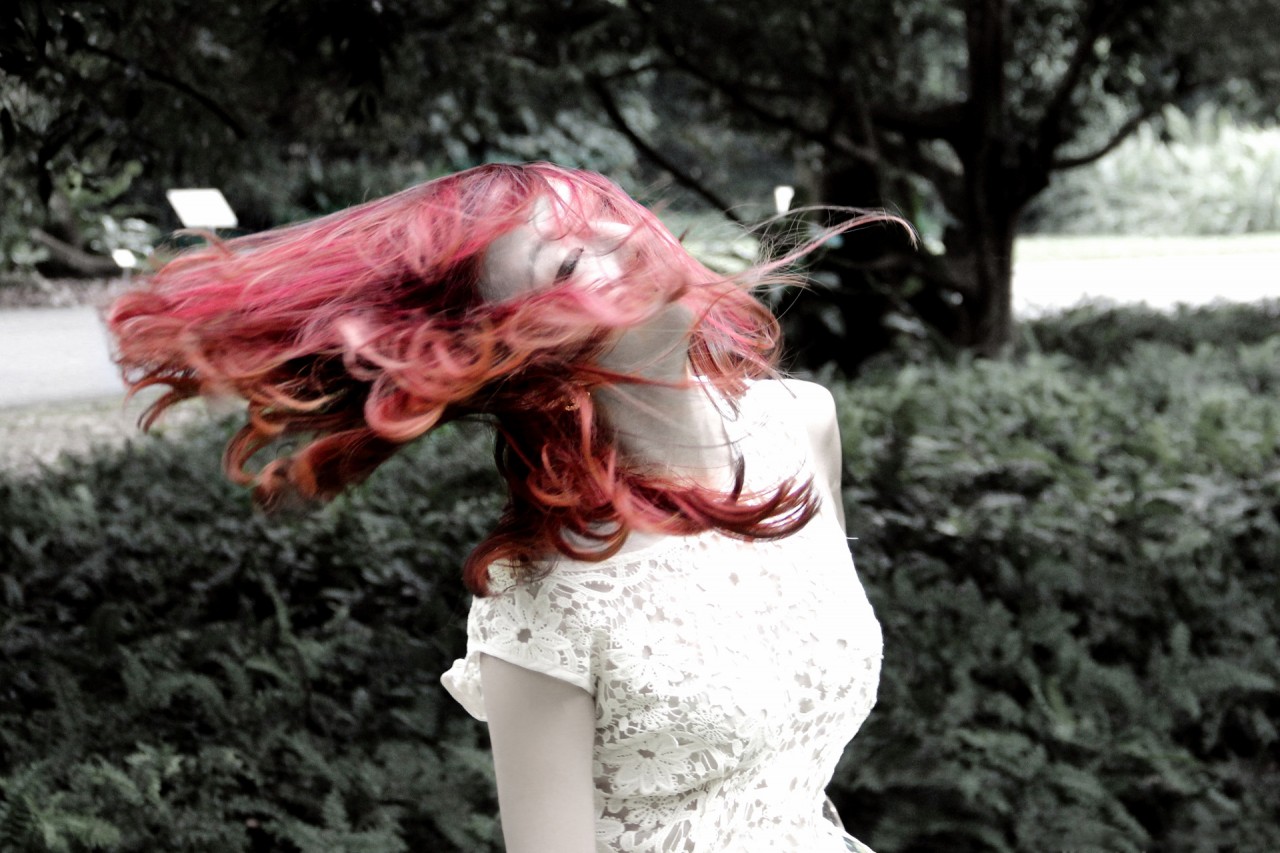 My hair grows incredibly fast which means I need to re-dye my roots pretty often. Since I knew I was going to be away from Singapore for quite awhile, I decided to go to my salon, Naoki Yoshihara by Ash, to get a Liuminogenic Special treatment. This Shiseido hair treatment makes hair colour last longer while repairing any damage to the hair.
The Liuminogenic Special Treatment is a four step treatment that controls light reflection, illuminating the hair with endless lustrous shine. It helps prevent fading so that my hair can maintain the reds and browns of the dyes that were previously done. This treatment will also help to strengthen my hair resistance to damage from daily exposure.
What I love most about the treatment is that it carries a lovely Santa Rose fragrance that features rose oils of the Turkish rose and the Rose de Mai. I was told that this treatment would use a colour hold agent to form an elastic network on the surface of my hair to minimise and control the amount of water my hair absorbs and releases on a regular basis so as to prevent the loss of the dye colours. Additionally, it also prevents the loss of melanin pigments from my hair to ensure a long lasting healthy shine.
While many salons may also offer Shiseido treatments, Naoki Yoshihara by Ash Salon always tries to incorporate the latest technology to let their customers leave with greater assurance. As such, they used a unique Carbonic Acid Bubble Spa treatment during the cleansing of my hair before even beginning the treatment.
Instead of using normal running water to wash my hair, they use a type of spring water containing dissolved carbon dioxide gas. This method has been utilised in medical care in ancient European cities where there were many natural carbonate springs. In recent years, the Japanese found this to not only have positive medical attributes but also extremely good for beauty. Carbonated spring water has a natural anti-aging effect and is 3 times more moisturising compare to usual tap waters. It allows the scalp to recover to its healthy state by promoting blood circulation, improve scalp skin problems and also removes any fats or oils that have harden at the hair root.
If you look at the photo carefully, you'll see the gas bubbles gathering around my hair strands and there are even oily residues surfacing in the water. This is because carbonated spring water is extremely effective in the residual removal of adherent silicons in sebum that is found in our hair root. This silicons can be found in many hair dyes or harmful chemical treatments which we use and could end up getting clogging our hair pores. By neutralising and  eliminating these harmful substances, we can have healthier and shinier hair.
I was told that since Singapore's tap water contains a higher level of calcium ions and magnesium ions compared to Japanese tap water, it is actually even more damaging to our hair and scalp.
I'm glad that I am able to give my hair and scalp a deeper cleanse with this Japanese imported Carbonated Spring Water technology so I can keep my hair stronger while letting the colour last longer.
I'm loving how bright the hair colour became after the treatment so I took a couple more photos more than usual.
Dress: Ching
Watch : Patek Philippe
Earrings: Chanel
Bag and necklace: Hermes
Wedges: Pazzion
For those who would like to visit Naoki Yoshihara by Ash Salon to get their hair done, here are some things you might want to take note.
There are some slight changes to their operation hours on these date:
31st Dec 2013: 10.30am to 6.30pm
1st Jan 2014: Closed
And for the CNY season, there will be surcharges so please book early to avoid!
From 18th Jan 2014 to 28th Jan 2014: 30% surcharge.
From 29th Jan 2014 to 30th Jan 2014: 50% surcharge.
Naoki Yoshihara by Ash
177 River Valley Road
Liang Court  #02-15/16
Singapore 179030
Tel: 63335662