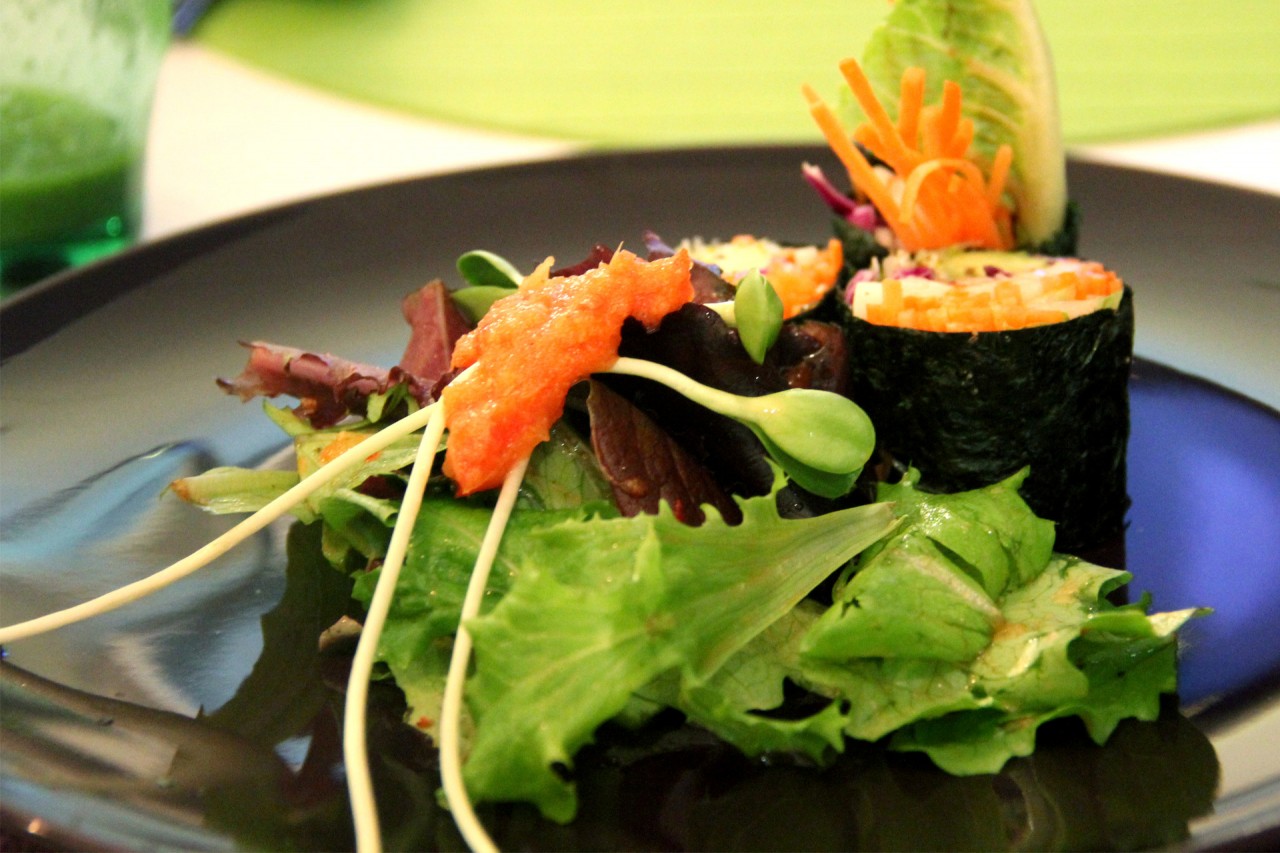 There has been a wave of healthy living and clean eating in Singapore and I was able to understand better when I visited The Healing Concierge to learn more about LINS  Energy Detox Series. The Energy Detox Series is a year long journey with a variety of programmes to choose from, is aimed at "Helping one to Heal through the 7 Senses of Taste, Touch, Sight, Smell, Sound, Mind & Movement, one Activity at a time".
My visit there was coupled with an exclusive Cleanse Luncheon consisting of Living Raw Foods. Adeline Tan is a local social entrepreneur, natural healing therapist and founder of in-house brand "LINS Smoodees®" created by her company "The Healing Concierge".
The LINS Smoodees® brand specialises in blending green smoothies made of locally grown organic greens with organic and toxins-free local and seasonal whole fruits using Kangen alkaline water. These green smoothies are free of milk and sugar.
Adeline Tan and her chef showed how easy it is to prepare raw foods, starting off with her signature Green Smoodee, a THC Salad paired with an in-house special salad dressing, followed by a Green Energy Soup made right before our eyes, in 90 seconds flat!
Accompanied with Nori Sushi and Cucumber Pesto Pasta as the mains. All the ingredients used to prepare the dishes were made with detoxifying raw food, challenging the typical and mainstream idea of cooked food for lunch.
This is the first time I've tried a raw food meal and I never expected raw vegetables to taste so fresh and so delicious.
Lunch ended on a sweet note with sample shots of her unique "Master Cleanse, Purify and Nutrify" range from LINS Liquid Cleanse menu. My personal favourite is definitely the nut-milk.
LINS Energy Detox Series aim to show how easy it is to launch into a healthier happier lifestyle with its smorgasboard of detox programmes to choose from. LINS Smoodees® has 3 green smoodee packages to suit everyone from newbies to Green connoisseurs. These evergreen packages are Greenhorn, Popeye and Peterpan. The Greenhorn package is suitable for newbies, as they get their feet wet into green smoothies as it has the least amount of greens (single dose & variety of greens), the Popeye package has moderate amount ofgreens (double dose & variety of greens) and the Peter Pan package is for the connoisseurs and has the highest amount of greens (triple dose & variety of greens) with added superfoods such asvirgin coconut oil, chia seeds and spirulina over the course of a package. All packages are planned such that you will get 7 colours of the rainbow in your diet over the minimum commitment of 10 weekdays.
While I haven't tried a juice cleanse before, LINS have given me a taste of what it would be like and I'm delighted to learn that while I may not be ready to commit to a full cleanse, I can always pick up a yummy green smoothie and feel better about myself.
To learn more locate them at China Square Central, Marsh and Mclennan Centre, #B1-02 (next to Cold Storage and across from True Fitness) or  at Valley Point, 491 River Valley Road, #01-13 (next to NTUC Finest). Call them at 64382 123  / 90078 233 or email myjourney@linssmoodees.com.
Thanks for reading and have a great weekend!