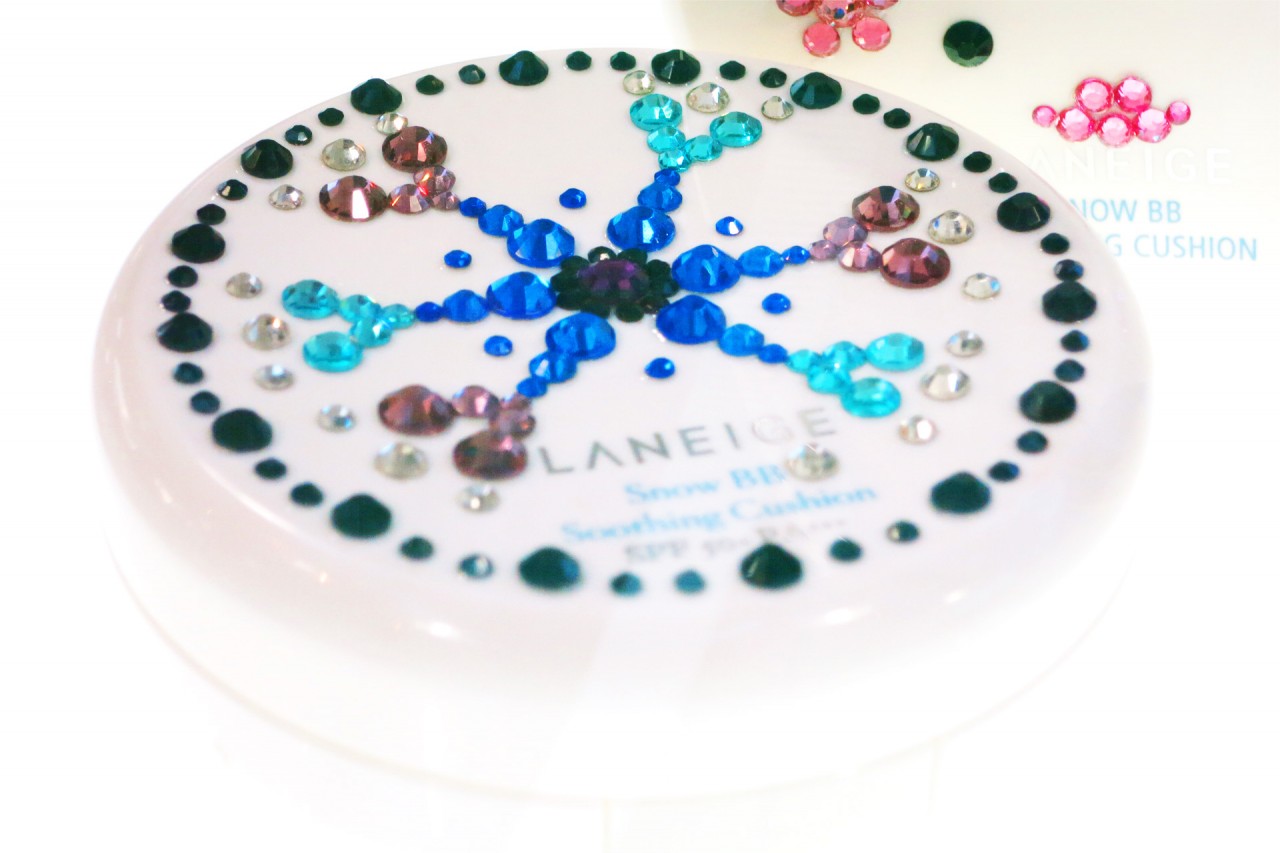 Awhile back, I was invited to Laneige BB Cushion Party and it was one of the more memorable beauty events that I've attended recently. Before I proceed, I'll like to thank Regina for some of the photos (those without my renzze.com watermark) that you see in this post 🙂 It's really nice to attend events with a good friend because that way you can just share photos instead of taking the same photo twice!
Held on a Thursday evening, we were invite to let loose, have food fun and learn more about Laneige BB cushion! I'm no stranger to the Laneige Snow BB Cushion as I've done a Korean makeover with this star product previously. I love how this product evens the skin tone and looks natural without irritating the skin. It's a much better alternative to foundation which tends to look very heavy especially in our humid climate.
There are a couple of new interesting updates on this Snow BB Soothing Cushion since the last time I reviewed it. Firstly, it's now available in five shades –  13True Beige, 21 Natural Beige (this is the color I use), 23 Sand Beige, 31 Brown Beige and 33 Coffee. They have for catered darker shades which they didn't before and it shows how the product has evolved as it gains popularity outside of Korea. The next interesting update is that you can now decorate your BB cushion casing with gorgeous crystals! This limited edition crystal kit can be purchased at any Sephora store so you can customize your Laneige Snow BB Soothing Cushion casing to your liking.
We were treated to a live demonstration of a Korean style makeover using Laneige latest colors! I love the duo color waterproof eyeliners!
The above photo shows the model before any makeup.
With just a few simple steps, the model looks positively radiant and very Korean looking! Korean makeup is all about looking dewy and radiant without the feeling of any heavy makeup layers.
The 2nd half of the event was extremely hands-on as we were each asked to express ourselves on canvas what Beauty and the BB Cushion meant to us. I'm not a very 'arty' person so having to be suddenly entrusted to put my thoughts into a painting was quite intimidating.
With a little bit of encouragement from the friendly peeps at Laneige and the art teacher for the day, Regina and I decided to just go for it. Thankfully, they had plastic smocks for us so we can keep our pretty dresses paint free.
Figuring out how to start was a little tough. However, once we started, we almost surrendered our souls over and became really engrossed and serious about expanding our limitations through art.
It was surprisingly really fun and a wonderful de-stressing activity to embark on after a long workday. Thank you Laneige for giving us the opportunity to push our creative limits.
I decided to go with a type of beauty I am familiar with and myself be inspired by the colors and makeup that Laniege had showcased that day. Since the Laneige BB cushion was all about brightening and making you shine, I added lots of colors and crystals. The eye was chosen as the focal point as I wanted the show both inner and outer beauty that can be see through soulful eyes. I actually didn't finish the artwork I had in mind due to time constraints but I surprised myself that day and the time passed so quickly as I was having fun.
The artwork above belongs to Regina and I love how boldly abstract she went as well as the different brush strokes she used.
The other girls all did such a beautiful job of expressing themselves through art. I was very impressed with the winning artwork.
Amazing work especially considering that this whole art project was a surprise and we were given limited time. We all got to take back our art canvas as well! What a unique gift.
One last photo of Regina and I at the event. We both came in Blue and White (Laneige colors) by pure coincidence! I brought back a couple of new makeup items from Laneige and have only recently began to try them so I'll do a separate review on the products soon! If you are a big fan of BB creams, give the Laneige BB cushion (S$59) with the customize bling kit a try at any Sephora stores and once you do, you'll realize why this is one of Laneige  star products.
*****
*****
*****
*****
*****
Outfit of the day
Top and Matching Skorts : Liz Lisa
Earrings: Chanel
Watch: Cartier
Bag: Hermes
Wedges: Pazzion