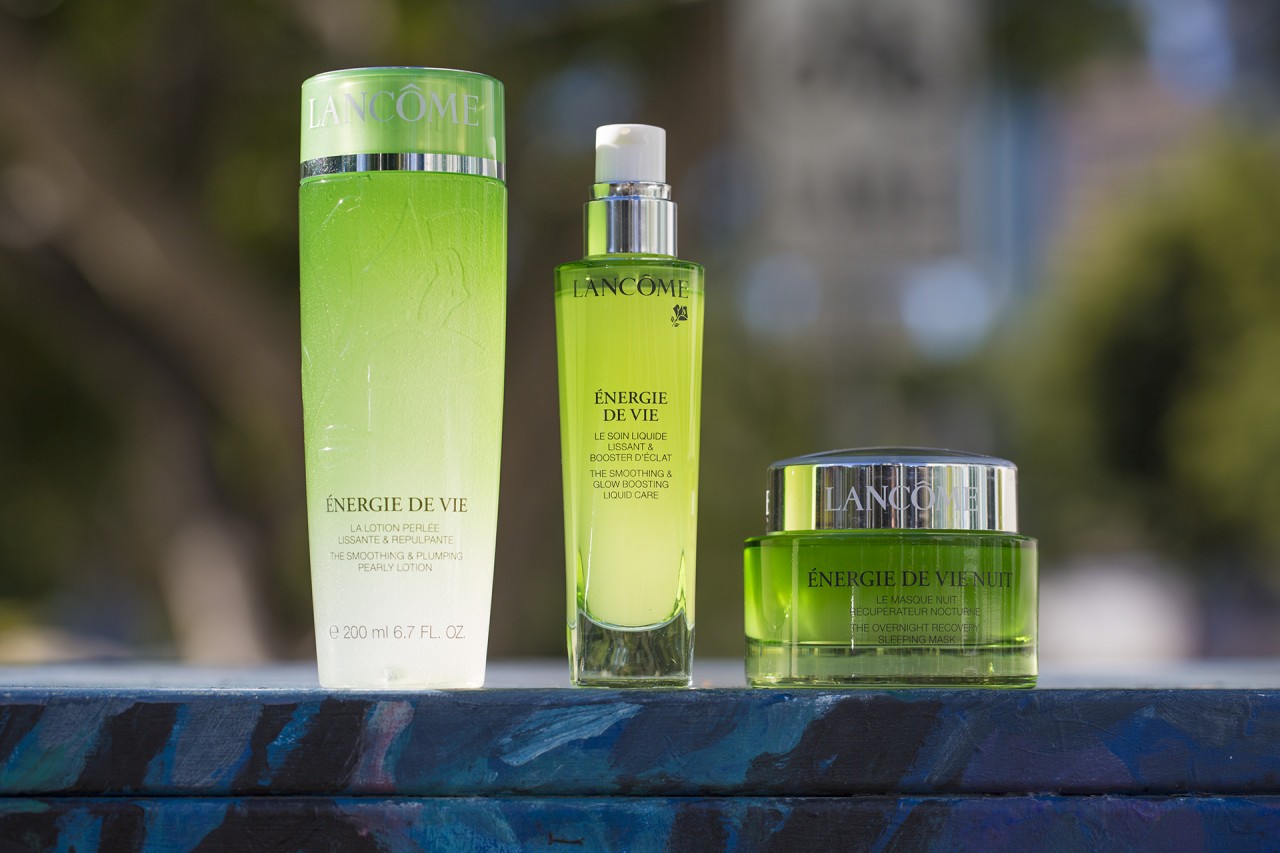 I've been traveling quite a bit recently. Between that and running my own cafe business, I need all the energy I can get. It's an exciting age where women can truly choose to have it all. Travel, career, family, business and many more abundant choices of lifestyle. 
With so much on my plate, I need to make smarter choices to improve my life without reinventing the wheel. Which is why I still continue to do reviews on my blog from time to time. I make my purchases after reading others' experiences and it's my way of contributing back when I collaborate with companies to test and write about their latest products.
Recently, I traveled around with the Lancôme ÉNERGIE DE VIE line. Made for the modern urbanites of today and those of us who likes to be unstoppable, they understand why our generation is so intense and fast moving.
Women these days want to accomplish everything and we won't be stopped because there is a world of infinite knowledge and experiences now easily available at our fingertips. However, without a good healthy lifestyle and products to keep the balance in check, we can get overwhelmed, be subjected to stress, fatigue and the other negative effects of urbanization.
Énergie de Vie captures the combination of 2 plant extracts – Goji Berry & Lemon Balm, leaving your skin feeling energized with a smoother looking texture, healthier look, fresher feel and bouncier skin.
There are 6 products in this line but these are the 3 that seamlessly integrated into my daily lifestyle in the last month especially when I went to Korea for a meeting and had to take red-eye flights both ways so it would fit in my tight schedule. My personal favourite is the glow boosting liquid care.
LIQUID CARE
I check into my flights with no makeup so I can sleep and recover before I arrive. At 50ml, it is flight approved to bring onboard and is able to be give me the skincare effects of a lotion, serum and cream all-in-one. It is the ultimate skin superfood and I go bare face, prep it once before I board the flight and another time just before I land.
The flight cabin is always so dry but with this, I was able to maintain a smooth and hydrated complexion throughout. In fact, if I was going for a short trip with only a cabin bag, I'll just pack a cleanser and this all in one solution.
OVERNIGHT RECOVERY SLEEPING MASK
Being in the office all morning and in the cafe all afternoon and evening means that my skin is constantly in a drying air-conditioned environment. If my skin was dry before, it has gotten drier ever since I started this arrangement. Thankfully,Lancôme ÉNERGIE DE VIE Overnight Recovery Sleeping Mask was able to help combat my dry and haggard complexion. Using it after the Lancome Liquid Care,  it neutralizes skin-damaging free radicals for overnight recovery. Just slap a light layer on and leave it overnight to reduce early signs of aging due to lack of sleep, high stress, pollution and daily life excesses! When I was overseas, I used this as a 10 mins hydration mask whenever I feel my skin needed some pick-me-up after being exposed to the harsh environmental factors.
PEARLY LOTION
I've only started to use the Lancôme ÉNERGIE DE VIE Pearly Lotion more often and found that it is able to instantly revive the skin for a healthy looking glow the next day when I pull all nighters! Coupled with my other skincare products, this acts like a "moisture magnet" to lock-in hydration. I usually blend a small amount between hands and press onto clean skin before I put on my usual sunblock so my face looks re-energized!
I hope that all the tips will help you be an unstoppable force in your life too! If you'll like to try out Lancôme ÉNERGIE DE VIE line, sign up for the complimentary Energise Boost Skin Rejuvenation Service here.