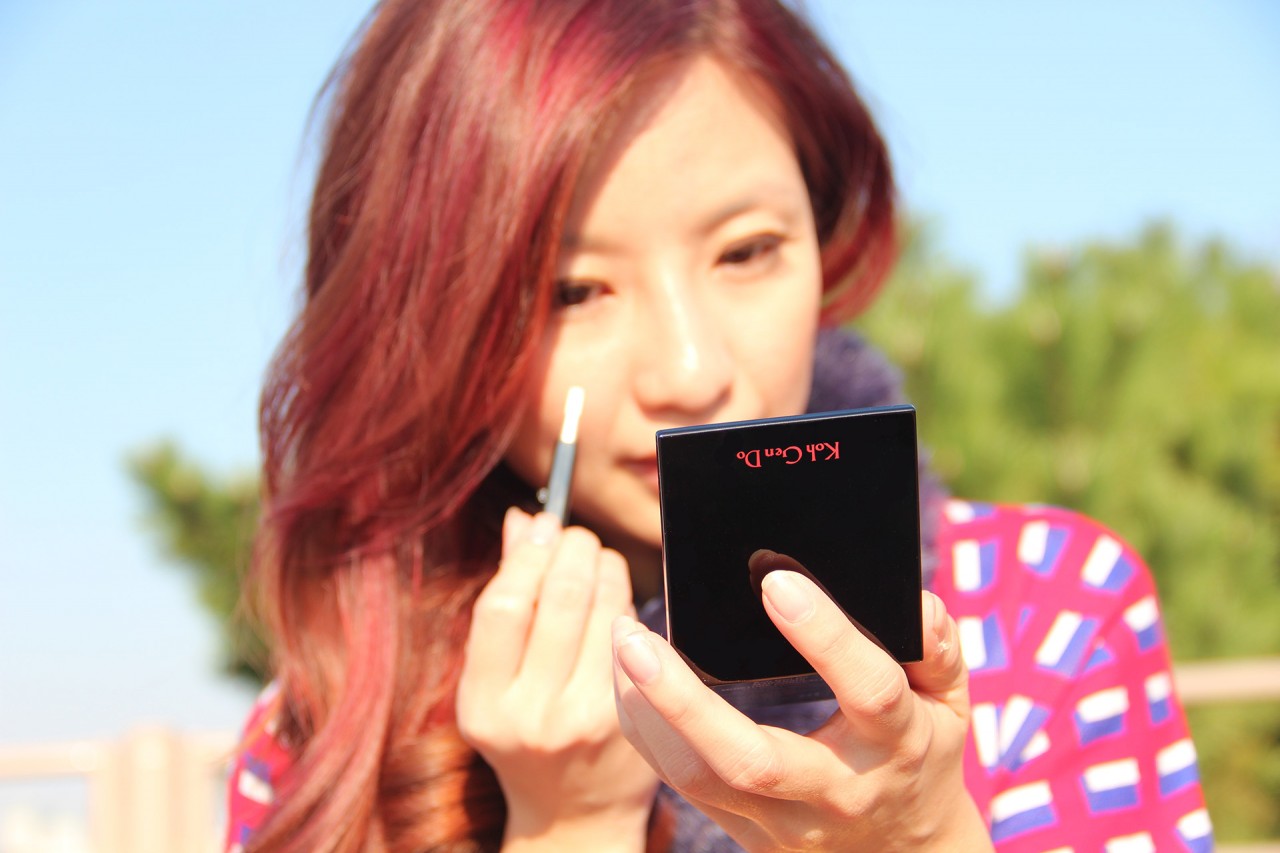 Created by Japanese actress Ai Saotome 25 years ago, Koh Gen Do began as a skincare collection based on traditional Asian botanicals and homeopathy. The results and responses were so positive that she decided to integrate this innovative concept into a glamorous, eco-friendly makeup line. It's pretty popular internationally and has finally reached our sunny shores in Singapore. You can find these selling on the 2nd floor of Takashimaya.
In a strange turn of events, even though I got these Japanese products in Singapore, I had taken them along to my recent trip to Tokyo to test them out. Don't be fooled by the Statue of Liberty because I'm not in New York or anywhere near USA. These photos were taken at Odaiba (お台場) which is a popular shopping and entertainment district on a man made island in Tokyo Bay.

Although Koh Gen Do started with a search for natural skin protection, it blossomed into an innovative skincare line that eventually became a collection of high-performance makeup. The products, created specifically for hi-def cameras, have been used backstage for hundreds of productions (including major Hollywood films) and are cherished by actresses and makeup artists worldwide.
I tried the Koh Gen Do Aqua Foundation shade 113. One of my girlfriend who is a big fan of Koh Gen Do told me that it was the foundation used for the actors and actresses of the Hollywood movie, Footloose. After trying this out, I can totally understand why Koh Gen Do Aqua Foundation chosen. The foundation is really light and pretty sheer but it survives through heat, humidity and perspiration without melting down. Reapplication was also easy because it was light and you'll never feel like you have a thick cake-like layer on.
The first time I used this foundation, I was pretty worried I would get a breakout that usually happens whenever I test out foundation. However, since this is formulated without parabens, sulfates, synthetic fragrances, synthetic dyes, phthalates, GMOs (genetically modified organisms) or Triclosan, it did not irritate my super sensitive skin at all! I think I might have just found my holy grail for foundations.
I have pretty good skin most of the time and this sheer formula was perfect to even out my skin tone. However, I realised that if I had any prominent red spots or dark sports to cover I could simply apply a 2nd layer over the first layer and the sheer formulation starts giving me a medium coverage. My skin looks wonderfully perfect with this foundation especially when I use a primer before putting on the foundation.  It helps soften my lines without any "cakiness". The finish is pretty dewy but you can always put on a light layer of loose powder if you want a matte finish. As long as you are not looking for a full coverage this foundation would probably do the trick.
The smooth, soft texture applies evenly, allowing sheer layering that applies perfectly onto skin with long-wearing results. Koh Gen Do uses cutting edge technology to create products for achieving high-definition looks, making it a cinch to apply base makeup like a pro. There's a full range of shades that work with different undertones and if you head to their counter at Takashimaya Ngee Ann City, I'm sure you can get the SA to help you to choose correctly.
The also have another type of foundation called the Moisture Foundation but I haven't personally tried this so I can't compare.
I also tested out the Koh Gen Do Moisture Concealer. To be honest, I hardly (if ever) use a concealer so I wasn't sure what to expect. Moisture Concealer is an advanced concealer, with skincare benefits, that covers discolouration, dark circles, and primes your eyelids, all in one easy palette. It contains gentle moisturising botanical ingredients to take care of areas prone to dryness, such as under the eyes, where concealers are usually most needed.
It comes in 3 shades -light, medium and dark and you can blend it to the right tone you need. I hardly used any of this as the Koh Gen Do foundation was good enough to make my skin flawless without needing to use concealer. Like all of their products, this is also formulated without parabens, sulfates, synthetic fragrances, synthetic dyes, phthalates, GMOs (genetically modified organisms) or Triclosan.
My favourite item that I've tried so far from Koh Gen Do has to be their Cleansing Spa Water. It is no wonder that Cleansing Spa Water is Koh Gen Do's bestselling skincare product because it is easy and gentle to use for all skin types. Made with mineral-rich hot spring water, it is infused with six essential herbs (rosemary leaf, sage leaf, lavender, artemsia princeps leaf, perilla ocymoides, and ginger root) to protect and nurture skin. White birch sap, harvested only three weeks each spring, adds minerals and Xylitol as it removes makeup, oils, and residue. Rich in nutrients, it replenishes and rejuvenates as it cleanses
.
I love that it is gentle enough to be used around the eye area but is completely effective. It removes all makeup and there is no residue or oiliness. It feels exactly like water and your skin feels baby soft after using this. Even when I've accidentally gotten some of it in my eyes while cleaning my eyeliner, it doesn't sting or irritate my eyes. I was given the sample size to try out but I'm now a convert and will be purchasing the full size soon.
Koh Gen Do may be a little on the pricey side but it's worth every cent because it works. If you are like me and have extremely sensitive skin, this is the brand you can count on.
Now that you've been introduced to yet another awesome make up brand, let me share with you the lovely environment I enjoyed while working on the photos for this review. The weather was a perfect 16C and kid where happily running, playing or enjoying an outdoor lunch while having the view of the rainbow bridge and central Tokyo.
*****
*****
*****
*****
*****
Outfit of the day
 Top: Chanel
Shorts: Ching
Jacket: Laguna Moon
Earrings: Chanel
Bracelet : Hermes
Bag: Longchamp
Suspenders: GWP from ViVi Magazine
Boots: Chanel
Navy Faux-Fur Scarf (not pictured): Review Australia