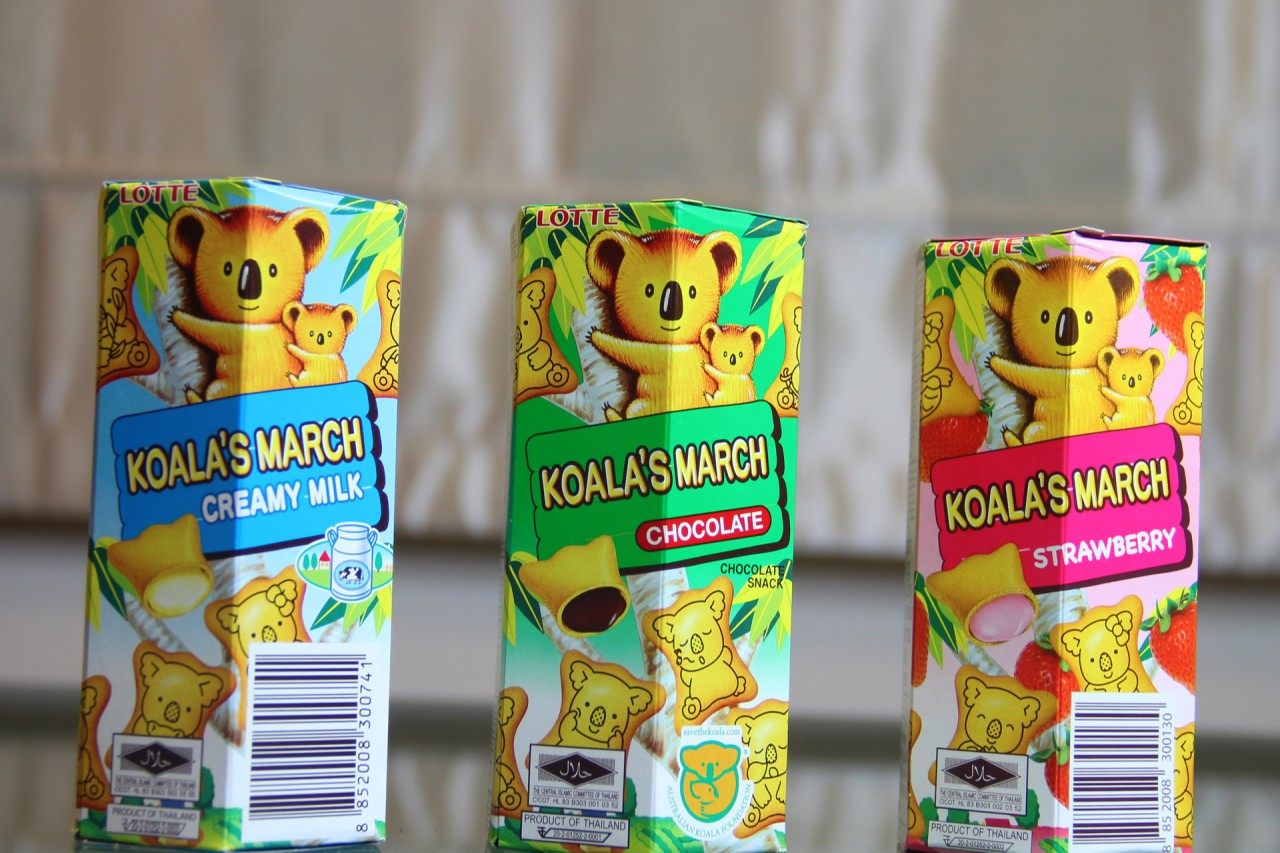 I've loved biscuits with fillings from as far back as I can remember so it's natural that I fell in love with Lotte Koala's March (コアラのマーチ) when I first tried it as a kid. It's been my favorite snack for years and I'm glad that it's still just as popular today. I'm sure most of you have probably eaten Koala March before or at least came across them at the local supermarket. For those who have no clue at all, Lotte Koala's March is a bite-sized crunchy biscuit with rich, premium quality cream filling. Each biscuit is imprinted with a koala character on its surface and there are a total of 365 Koala characters thus far!
In my last trip to Japan, I bought boxes of various flavored Koala March snacks because they have a lot more varieties of fillings such as banana crepe, cheese cake, coffee and even unique seasonal ones like Halloween Koala March. Although in Singapore we don't get as many flavors, I'm still happy that we at least get our Lotte Koala March imported from Japan or Thailand in the basic 3 yummy flavors of Chocolate, Strawberry and Creamy Milk.
Recently, in Japan, Thailand and Taiwan, people have been turning their Koala March cookies into choco balls! I'm sure a quick google search will yield you an immediate flooding of youtube videos about it. Here's my version of it after taking some creative liberties.
Step 1: Decide what flavor you want your Koala's March Choco ball to be. The hot favorite seems to be the original chocolate flavor but I much rather use the Strawberry Koala March because a pink choco ball just looks cuter.
Step 2: Send your army of Koala's March cookies into the box for sacrifice. Alternatively, you could just buy a brand new box of Koala's March with all the cookies nicely sealed and waiting in the box. (Don't open up the packaging at all for best results.)
Step 3: Start shaking the box in all directions vigorously for about 40 mins. Initially it'll sound pretty noisy with the cookie pieces scattering in all directions. But as you continue to shake, you can start hearing the choco ball building up and it sounds heavier. You can sort of tell when it's turned into a ball just from the sounds.
Step 4: Open up the packaging and retrive your freshly made Lotte Koala's March choco ball!
I was actually pretty surprise that it was so easy and it worked so well. I was already thinking of adding sprinkles all over the ball and putting it on an ice-cream cone for a unique dessert. Maybe next time!
Playing with the Koala's March cookies made me feel like a kid again. It's strange coming from an adult but I really do look forward to seeing which Koala character I pull out each time I munch on these cookies. When you think about it, it's amazing how this simple Koala character drawn on a cookie is able to bring back lot of happy childhood memories for many of us.
If you are feeling like a kid again or actually have kids to entertain, this is a simple fun experiment. You could shake even longer if you want the cookies to mix even better but I kinda like it lumpy like that so I can still have a little crunchiness.
Go fight it out, experiment and have fun! It's a good way to force some arm exercise as well. I'm now wondering what it'll be like if I tried to make a huge choco ball with the family pack version instead.