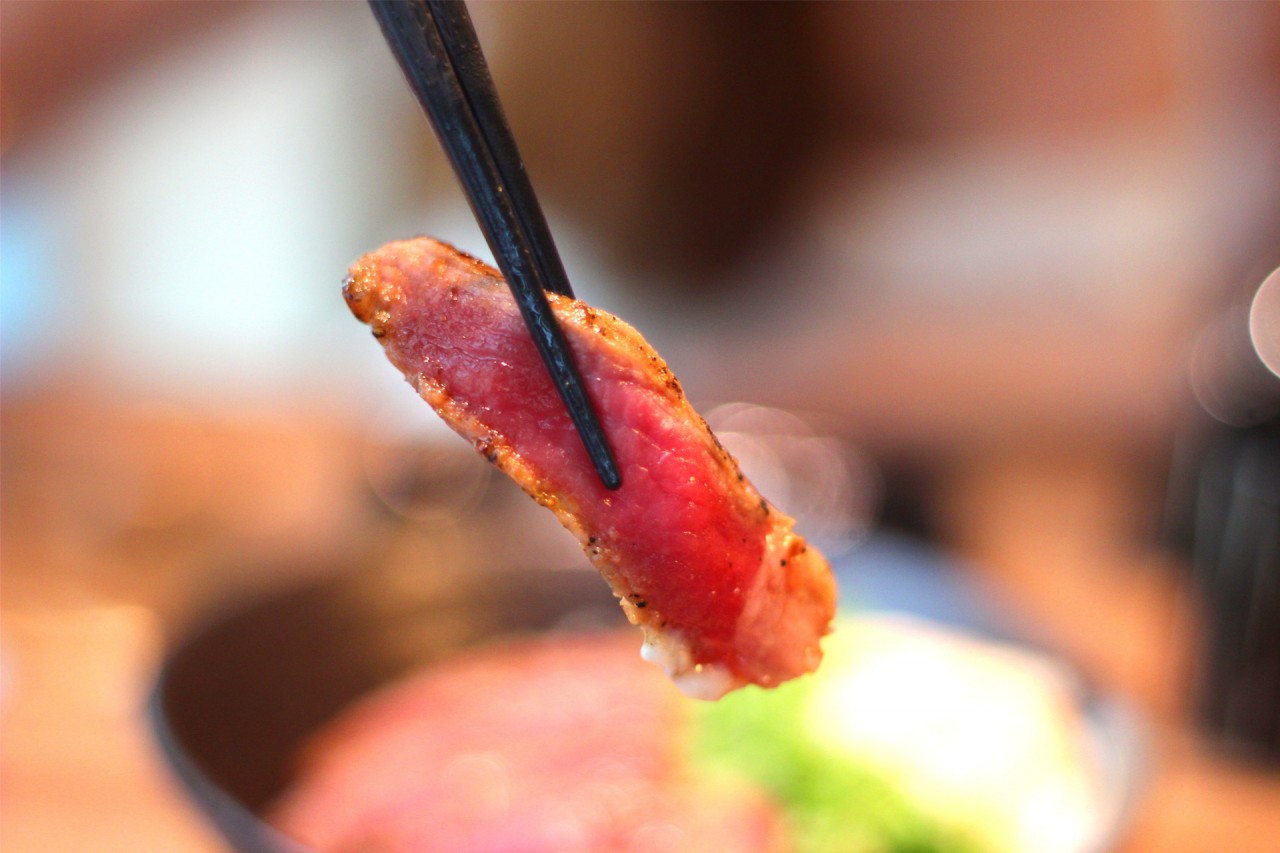 Singaporeans love food and one of our favorite cuisine is Japanese food. There are countless of Japanese restaurants in Singapore with different specialties and price ranges so how does Kinsa Sushi differentiate themselves?  Kinsa Sushi is born from the idea of bringing Japanese fine dining in a affordable way to the heartlands. Situated in Ang Mo Kio, Jubilee Square, they aim to develop their restaurant so that everyone can enjoy an authentic Japanese dining experience.
Upon walking into the restaurant, you can see that Kinsa Sushi has segregated their dining areas into different types. There is the sushi bar counters where you can interact with the chefs and make your orders directly or the "bird cage" area for a more formal dining feel.
If you prefer a little more privacy, then hop into one of the cosy booths.
And if it is a special event with a couple of friends, you can also book the VIP rooms that have beautiful gold shimmering wall papers. It has a minimum spending amount of S$150 to book this room but since it can seat up to 6 pax, that amount is quite easily achievable.
Even though it is Japanese styled, you don't have to worry about kneeling throughout your meal because you can sit normally with you legs hidden in the hole under the table. They even provide back rests for you so it's pretty comfy.
One of the most important elements in a good Japanese restaurant is the freshness  of their seafood. One of the owners of the restaurant, Shannon, explained to me that although they don't have fish tanks for live fishes, they bring in the freshest unfrozen seafood that they ice on display at the counter so that everyone can see what are their selection for the day.
If you have any special seafood or food requests (eg. Alaskan King Crab), just ring them up a week in advance and they can arrange it for you. Their menu is perfectly customizable.
I couldn't wait to start my 8 Course お任せ omakase meal as well as 2 additional ala carte dishes. Omakase means "I'll leave it to you" and it's a common Japanese dinner option at many Japanese fine dining restaurant. You basically set aside an amount per person and entrust the chef to come up with innovative dishes to surprise your tastes buds. The dishes offered in omakase is not available on the menu and the chef will use what he thinks are the best and freshest catch of the day to impress you by offering a value worth more than what you've forked out.
I had informed the chef that I'm allergic to shellfish but my dining partner isn't so the chef said he would serve less shellfish items and focus on fishes and meat dishes that I can consume. While waiting for the chef to prepare my meal, I explored their vast sake choices and learnt that other then bringing in brands, they also make their own plum liquor from plums imported from Japan. Their home brewed plum wine is so popular that there was hardly any left in their last barrel but they are waiting for this year's plum festival before they import the next batch of plums for brewing.
Soon, our zensai (appetizer) arrived.
In small tasting portions, we each had
– Yaki edamame
– Nikogori (Fish Jelly)
– Umaki ( Japanese omelette with eel)
 The Umaki was really tasty and I found the Nikogori to be most unique. It was like having fish soup in a solid form.
Next, we were served a bowl of beautiful and well plated sashimi.
I love the shake harasu and really couldn't get enough. The greens and flowers that were artfully placed around the sashimi were not all just decoration either. The waitress explained that they could be used to enhance the taste of our soy sauce for dipping the sashimi.
Using selected ingredients found in the sashimi platter, a sweet and very fresh tasting dipping sauce was created for my various sashimi slices.
Akami (Tuna)
Shake harasu (Salmon belly)
Tai (Sea bream)
Amaebi (Sweet shrimp)
Akagai (Ark shell)
Next were the soups.
The Osuimono (Clear soup) was part of the omakase meal and noting my ability to accept fish in my diet, the chef prepared Shiromi suimono (white fish in clear soup).
We tried another a la carte soup dish as well which was the Foie Gras Mizore Mushi ( Foie gras soup). The taste of foie gras is distinct and this was my first time trying it in a soup form.
 For our Yakimono (Grilled dish) course, the chef prepared Nasu Dengaku (Egg plant with minced pork).
The mince pork was gorgeously flavored and went really well with the tender egg plant.
At first I thought it was served with gingko nuts but upon eating it, I realized that they were actually garlic. They were cooked really well with spices that made the garlic taste pleasant and not overpowering.
Next up is the Nimono (Slimmer dish) and for this we had the Ushio Nikomi (Stewed oxtail with miso paste) . The meat were extremely tender and slid off the bones with hardly any resistance. Alluringly plated, even the carrot came in the form of a cherry blossom.
Showcasing the chef's array of skills, we were now served an  Agemono (Deep fried dish).
The Houbou Rikyu Age (Deep fried Blue Fin Robin with sesame) was  the only dish where I had differing opinions about the tasting. It was a hit with me but not so much for my dining partner. I loved the strong sesame fragrance and crispy texture while my dining partner wasn't a fan of the sesame.
With a restaurant name like Kinsa Sushi, we couldn't walk away without trying out their sushi.
Elegantly plated, I was excited when I saw the yummy Shake Harasu which I fell in love with in the sashimi platter making a reappearance. It was the first one to disappear into my tummy.
The sushi served were
– Akami (Tuna)
– Shake harasu (Salmon belly)
– Tai (Sea bream)
– Amaebi (Sweet shrimp)
– Tsubuga (Whelk)
By about this time, I was pretty stuffed already but Shannon recommended that we must try the a la carte Gyu Don (Pan fried beef on rice) and we gamely agreed.
This is the Soo Gyu Don that is made with Soho Gyu (Grade 4, Wagyu beef) which is specially imported from Kagoshima, Japan.
Even though we were stuffed, the beef was tasty enough to encourage us to finish it up.
Our last course was naturally, desserts. Chef specially formulated these homemade cheese ice cream to accompany the ever popular Mochi (Seseme/green tea and red bean) balls.
Thank you Shannon for the invite and for bringing fine dining to experience to heartlanders. (Of course, you can also just choose to dine in casually and order direct from their menu. *wink*)
If you want a taste of Japanese fine dining you should visit Kinsa Sushi soon and a good time to do so is this weekend. Kinsa Sushi is celebrating their 1st Anniversary on the 25th May 2013 and you can be a part of their celebrations too.
Do make a reservation with them as they are expecting higher traffic on that day.
There will be 3 dinner slots:
– 5.00pm to 6.30pm
– 6.30pm to 8.00pm
– 8.00pm to close