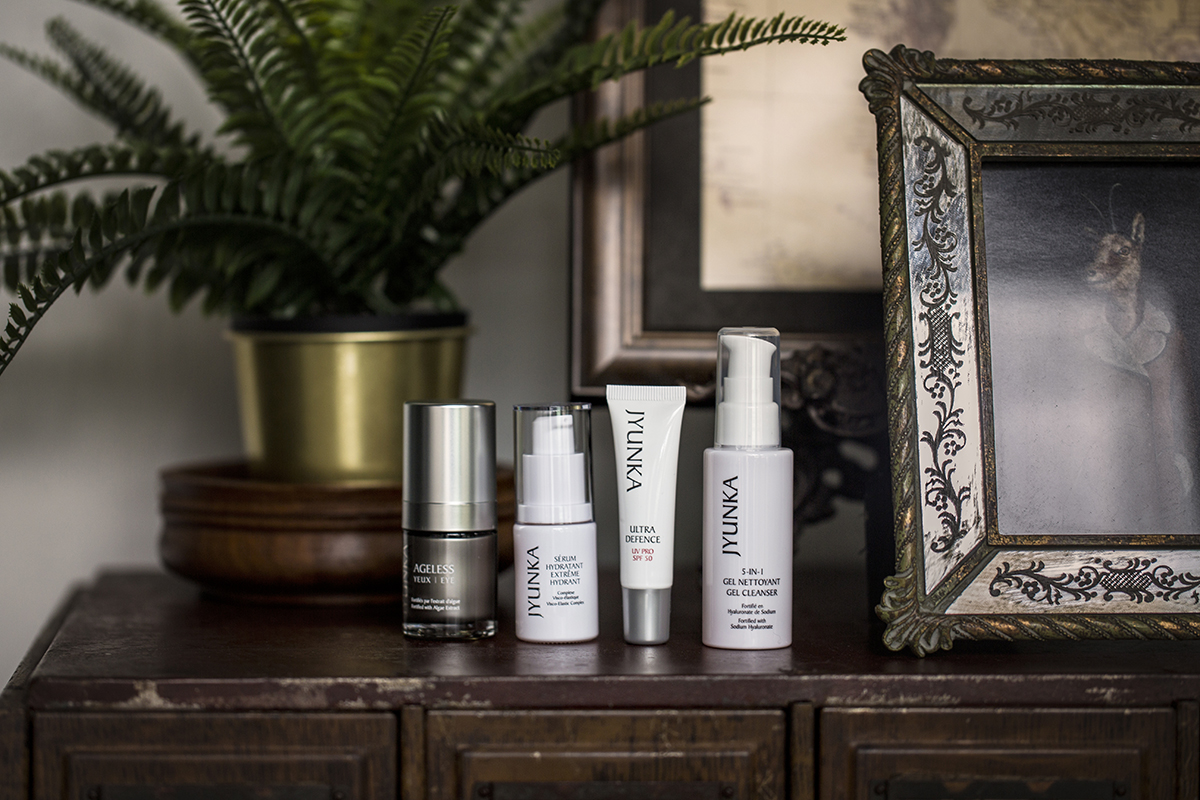 Although Jyunka is a homegrown beauty brand worthy of its cult status among anti-ageing fanatics, this is my first time trying out Jyunka and her products. Jyunka is a brand that spends a lot of time in research and development. A lot of thought goes into making a product that is simple and shows immediate results.
Here are the products I tried and my thoughts on them.
Jyunka 5-in-1 Gel Cleanser
I love products that can multi-task, and this one works as a PH balancer, make-up remover, deep face cleanser, skin moisturiser and helps condition sensitive skin. Jyunka 5-in-1 Gel Cleanser is a very gentle and hydrating gel cleanser which I adore. I tested it by using it as my travel after I have removed any waterproof makeup. It works best on dry skin so remember to work the product in well into the skin before adding a little water to emulsify then massaging again. Finally, rinse. The lack of foam needs a little getting used to, but I do like how soft my skin feels after cleansing.
Jyunka Extreme Hydrant Serum
What I need most in my skincare routine is hydration. I can never get enough especially when I'm travelling. The Extreme Hydrant Serum excels in what it claims to do. Hydrate. Skin is immediately calm, softened and refreshed. I was told that some people see a substantial plumping effect on their cheeks. I didn't see any dramatic results in mine, but I do feel that my skin is firmer.
Jyunka Ageless Eye
I'll admit that I'm not the most consistent person in applying my eye care products. However, I also acknowledge that given the age bracket I'm in now, I should make more of an effort. What is interesting about Jyunka Ageless Eye is that other than promising to soften fine lines and wrinkles, reduce puffy eyes and dark eye circles, it has a secret formula that gives what other eye creams don't. Longer, fuller eyelashes. It contains special nourishment that also targets the growth and density of eyelashes. The light texture is quickly absorbed, so I don't have waste much additional time when I add this to my routine.
Jyunka Ultra Defence UV Pro SPF 50
Sun protection is one of the cornerstones of anti-ageing regimes. We need sun protection for our skin every day even on the days we are cooped up in the office. UVA and UVB rays can penetrate glass windows and cause skin damage. A little of this goes a long way. One tiny bit, massage it out in your palms then dab throughout your face including your hairline and neck. There is a slight tint to Jyunka Ultra Defence UV Pro SPF50, so it works well to even the skin tones on days where you want to go make-up free. The formulation is not as light and oil-free as a lot of face sunblocks in the market, but a very thin layer is all you need.
I also gave the brand's V Ultimate Treatment facial a go at their newly opened concept center in Pacific Plaza. It was luxurious, and every care is made to help your skin jumpstart the rejuvenation process. I love how my pores look tighter right after the treatment! It was also hard not to fall in love with the comfort mask that they used to calm down my sensitive skin. The therapist advised me to try the M+ Fluid which contains Vitamin C that helps with the tightening of pores. I'm pretty tempted to give it a go.
Thanks for reading and if you want to seek a consultation to see which products will work best for your skin, give them a call at 6835 7503.