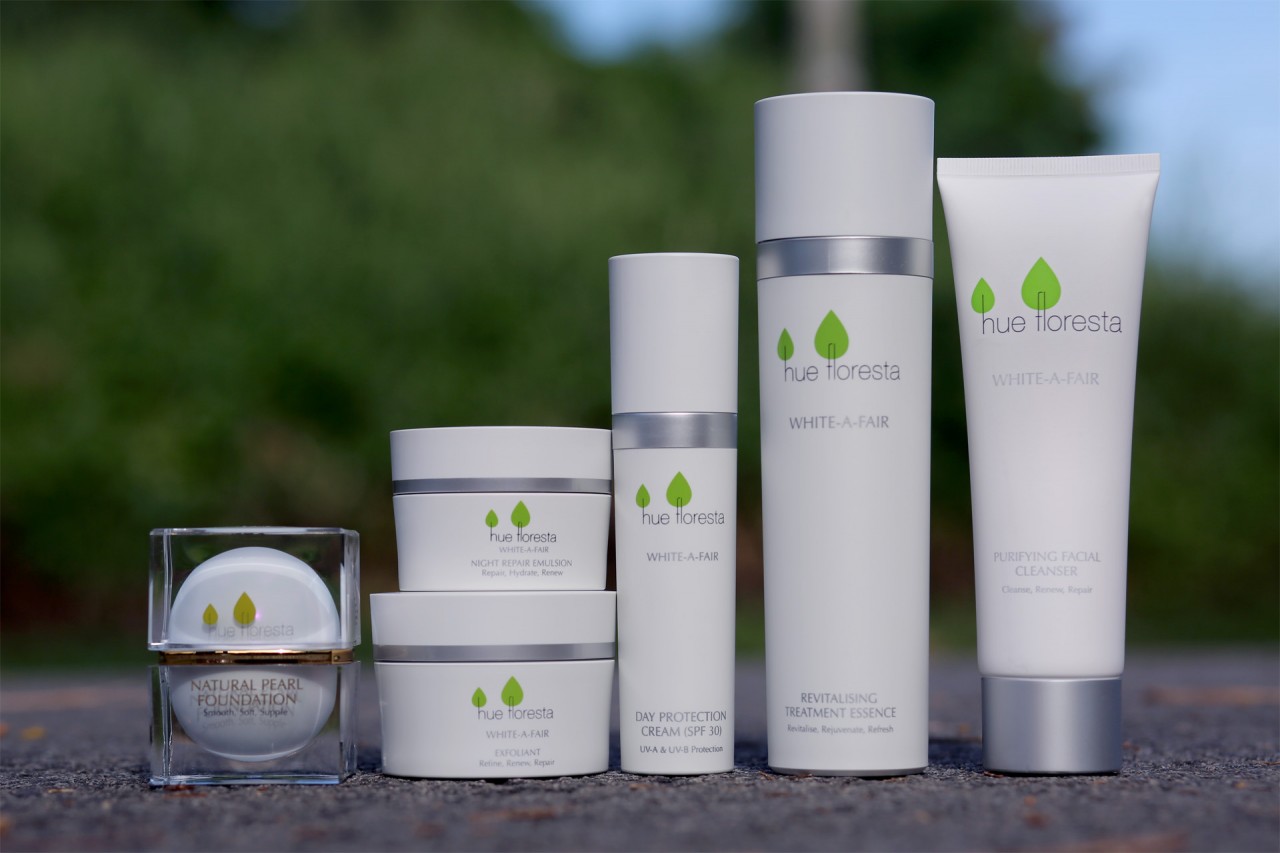 Not too long ago, I was chatting with an ex-schoolmate who moved to California, USA, as her husband was dispatched there for work. She was settling into her new home, enjoying the cool weather and telling me how much she missed all the local foods back in Singapore. One of the topic we got into chatting about was beauty. She told me that fitness and health is the trend for Californian girls yet these same girls would wear bronzers to hot yoga classes only to have them melt off by the end of the session. In contrast, many girls in Singapore would invest in whitening products and stay as much in the shade as possible. It's no doubt that fair skin is highly sought after in Asia and a lot of research has been dedicated to find ways and means to give you that light luminous complexion.
I was brought to attention skincare company Hue Floresta who happens to be a proud sponsor for the annual fund-raising event KDF Millennium Ride 2016 which had just passed recently in Jan.
In an attempt to combine the best of eastern and western beauty ingredients in a modern and technologically advanced way, Hue Floresta has release a whole range of beauty products that uses the signature ingredient, soy yogurt filtrate, to induce micro-bio whitening. Soy Yogurt Filtrate is a derivative from soy fermentation, it is rich in amino acid, vitamin B complex, L-latic acid and antibacterials. It works as a natural brightener that inhibits melanin production, promotes collagen and elastin.
Here is the clinical assessment on Hue Floresta's soy yogurt filtrate:
– 30% more collagen production with 5% Soy Yogurt Filtrate skincare
– 40% more Melanin deduction with 20% Soy Yogurt Filtrate skincare
– 100% more hydration after 4 hours compared with others* (others brand without Soy Yogurt Filtrate)
– Promote new skin cells – 50% more cell growth in 24 hrs after applying skincare with 5% Soy Yogurt Filtrate
– Promote long term hydration, 50% more hydration than other skincare after 8 hrs
– Anti-Bacterial, reduces 90% more bacteria on skin with the application of 40% of Soy Yogurt Skincare in 3 days
Other key ingredients that the range uses are hydrolysed pearl powder and sodium hyaluronate. Pearl powder has traditionally been used for centuries by the royal courts of China to reduce the formation of melanin and promote cell renewal while having natural UV ray shielding. Sodium hyaluronate is a gel matrix with the biological function of a lubricant in the dermis. It is an ingredient that can hold up to 1000 times of its weight and helps keep the skin soft, smooth and elastic.
Hue Floresta contains no alcohol, no artificial colorings, no bleaching agents, is ISO certified and manufactured under class 10,000 dust free environment.
To achieve a fair and translucent complexion, skin must be constantly renewed, repaired and protected from the elements. Let me introduce this 7 piece White-A-Fair range that aims to do just that.
1. Purifying Facial Cleanser
Never miss washing your face or removing your makeup at the end of your day no matter how tired you are. Sleeping with makeup and clogged pores will just lead to the build up of more pimples! This mild and pH-balanced formula is gentle even on sensitive skin. It thoroughly removes impurities and light make-up while naturally renewing and repairing damaged skin cells with active whitening agents, giving you a fresh, dewy and youthful glow. If you wear waterproof makeup, I would suggest first using a dedicated eyes and lips makeup remover before double cleansing with this purifying facial cleanser. Just lather on palm with water and gently massage in a circular motion with fingertips, rinse thoroughly and feel refreshed with cleaner and fairer skin.
2. Exfoliant
Your skin renews itself every 28 days. Using tiny round microbeads in this exfoliant to gently smooth away dead skin cells will help you to smoothen your skin texture and prep the skin for cell renewal. Antioxidant properties and jojoba extract add to the goodness of hydrolysed pearl powder to dissolve oil deposits as the skin surface is strengthened. Just apply evenly on the face and leave on for 5 minutes (if you have extremely sensitive skin you can reduce the time) before you gently massage your face with wet fingertips in a circular motion. Risen off completely. The instructions recommended for this to be used 2 – 3 times a week but as I have very sensitive skin, I only use this once a week.
3. Revitalizing Treatment Essence
One of the key steps to skin brightening in this series as it is essential for balancing your skin to receive optimum and complete nutrient absorption after each wash. Pack with Rosewater, Aloe Vera and sodium hyaluronate, it is the ultimate pick-me-up to revitalize and rejuvenate tired or dull skin. I use a cotton pad to apply onto cleansed face and neck after washing in an upward sweeping motion. You will feel the skin slightly tightening upon absorption.
4. Intensive Whitening Treatment Mask
Twice a week, after using the Revitalizing Treatment Essence, you can use this mask which helps to whiten and firm your skin from within. The unique formula derived using yogurt filtrate, a highly concentrated probiotic, works deep into the skin layers to achieve ultimate whitening and hydrating results by inhibiting the production and transfer or melanin. This intensive whitening face mask is also enhanced with Polysaccharides and Vitamin B Complex to regenerate new skin cells and collagen for firmer, youthful skin and a flawless, crystal-clear complexion. Apply onto cleansed face, pressing down well on the edges, relax for 15 minutes. Remove the mask and do not rinse your face. instead, pat dry your skin with fingertips.
5. Day Protection Cream SPF30
With any whitening range, sun protection is one of the most crucial factors. If you use a lot of whitening products and do not apply sun block, you might get darker than before! With Hue Floresta Day Protection Cream moisturizer, you'll get the full spectrum of skin care and protection in one step. With its micro-fine particle technology, the advanced photo-protection feature both absorbs and reflects harmful UVA and UVB rays, providing effective protection from the sun. This cream is also rich in soy peptide and potent botanical antioxidants that simultaneously moisturize and protect skin cells from free radical damage. Use this every morning on your cleansed and prepped face.
6. Night Repair Emulsion
In the evenings, instead of using the Day Protection Cream SPF30 as a moisturiser, you can use the Night Repair Emulsion instead. It is slightly heavier which is good if you sleep in air-conditioned rooms. This emulsion repairs, hydrates and renews your skin as you sleep. It also blocks enzymes reaction that creates pigmentation while activating fibroblast cells to generate collagen, elastin and cell renewal. You will wake up with a more hydrated and supple skin.
7. Natural Pearl Foundation
I love the pretty packaging of this foundation. It doesn't give a lot of coverage but if you are looking for a light and fuss-free foundation that gives you perfect smooth looks, Hue Floresta's Natural Pearl Foundation works pretty well. Made with our humid climate in mind, it is non-greasy and non-clogging. This foundation is made from lustrous Pearl Powder to help renew skin cells while boosting its natural whitening process to give you that sheer, natural glow. There is only one shade and it is specially formulated to blend well with most skin types unless your base skin color is very tanned. If you find that you need coverage, you can use this a base makeup and touch up any imperfections with a touch of concealer. The foundation leaves no sticky feeling and yet allows your skin to breathe. You can use your hand or a brush to blend this evenly on your face.
Exclusively for my readers, simply quote my blogger promo code 
"HFKAREN"
 and enjoy a 
20% discount for all White-A-Fair products.
 For those who buy a 
full set of the White-A-Fair products, you will get a 30% discount!!!
 (Promotion only valid for call-in direct to Hue Floresta's office at 6745 6548 or email to 
sales@huefloresta.com
)
Price for the products are as below. (All orders using my promo code will be entitled to FREE DELIVERY)
1.       Purifying facial Cleanser – $40.00 (before 20%)
2.       Exfoliant – $55.00 (before 20%)
3.       Revitalising Treatment Essence – $67.00 (before 20%)
4.       Day Protection Cream – $60.00 (before 20%)
5.       Night Repair Emulsion – $60.00 (before 20%)
6.       Intensive Whitening Mask – $68.00 (before 20%)
7.       Natural Pearl Foundation – $98.00 (before 20%)
8.       Full Set – $448 (before 30%)
For more information about the products you can visit their website at www.huefloresta.com 
Currently, they are running a contest on their Facebook Page and 2 winners will stand to win a full set of Hue Floresta's White-A-Fair products (Worth S$676) at . Contest ends on 13 March 2016.
Remember that other than a good skin care routine, drinking lots of water and eating colourful fruits and veggies packed with tons of antioxidants will help you keep early signs of ageing at bay. Thanks for reading and hope the tips help you to achieve a clear and radiant complexion that looks flawless on its own.