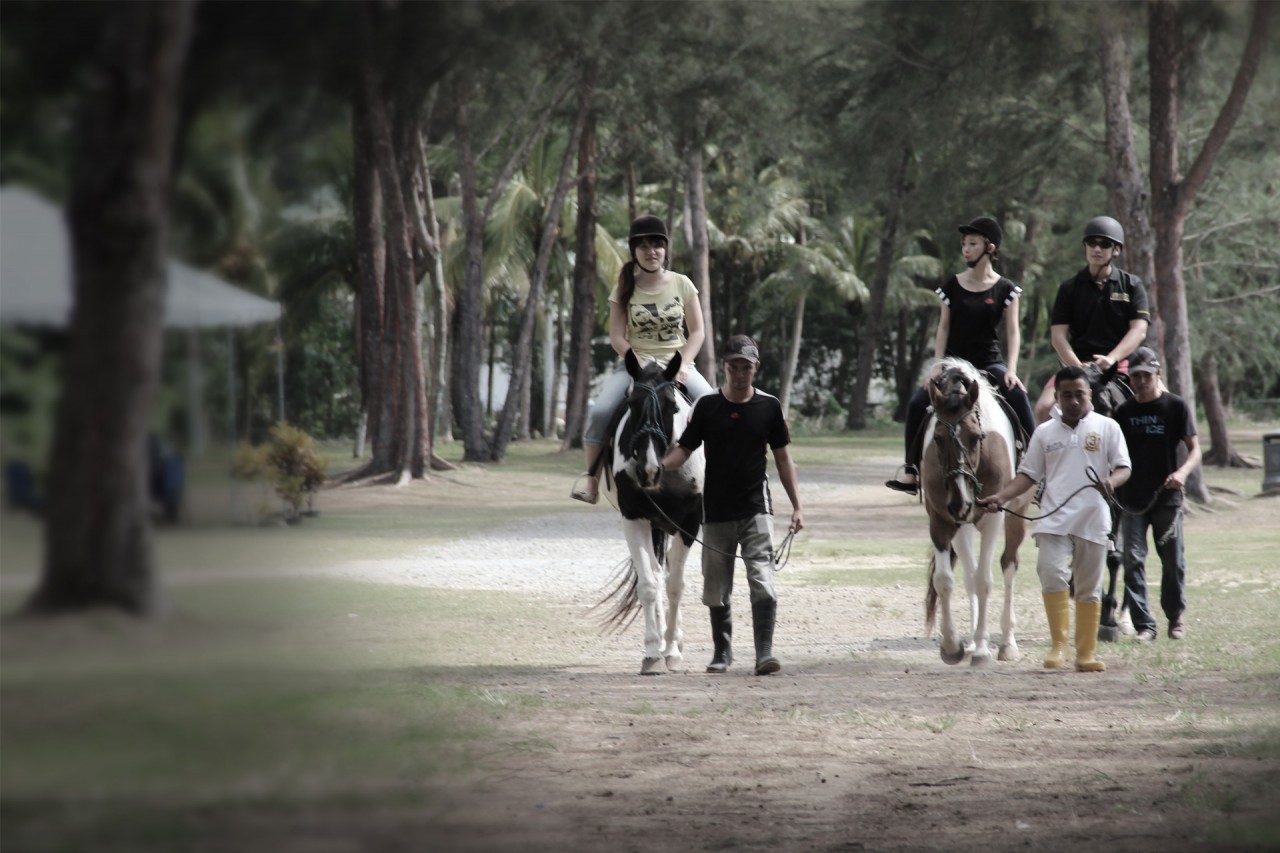 I've always love horses. I learnt riding in Australia and I took lessons at the Singapore Turf Club. On my vacations to US, Europe, and parts of Asia, I've always taken the chance to ride whenever I can.  You can imagine my excitement when I found out that there was horse riding available in Brunei.
The horses at the Trijaya Jerudong Equestrian Park were well-groomed,mild mannered and sure footed. They are a lot less feisty and much easier to handle compared to the ex-race horses I'm used to riding at the Singapore Turf Club. It was a perfect day, gorgeous sunlight filtered through the trees as we took turns to ride on horseback through a lovely short shady trail.
Since this was only a lead ride, it's suitable for riders of all levels. You don't even need to do anything, just sit back and enjoy the scenery. Deenise said she felt like she was a royal princess, enjoying the day riding lazily on a beautiful horse.
Horseback riding has always been seen as a lifestyle for the rich and the famous. And while it might cost quite a fair bit to ride often or maintain a horse in Singapore, in Brunei, I was surprised that it was really affordable. A leisurely ride led by the handlers costs a mere $5 for a 10 to 15 mins experience! And if you are keen on taking lessons, it's only $140 for 4 lessons which works out to be $35 a lesson. This is incredibly inexpensive compared to $90 to $100 a lesson if you do it in Singapore. 
One of the reasons I stopped taking advance riding lessons in Singapore was because the places and spaces in which you could ride your horse is very limited. However, in Brunei, they have a lot more land to spare. The trails runs next to the beautiful South China Sea and you can choose to ride along the beach or even enter the waters with your horse.
If you are a fan of horse riding, I highly recommend you to do an intensive course in Brunei as it would only be a fraction of the cost you would pay if you were in Singapore. The scenery is breathtaking and the air is so much cleaner and refreshing for both the rider and the horses.
The main instructor that was assigned to us that day was actually a Singaporean who is working in Brunei to help run the Equestrian Center. He used to work with The Singapore Turf Club and even knows most of my instructors there. I really wished I had more time. I would have loved to stay another couple of days to do an intensive 4 lessons to brush up my riding skills as well as take the horses splashing into the South China Sea.
The horse riding activity also marked the end of our wonderful time in Brunei and we returned back to The Empire Hotel to pack our luggages, buy some delicious cakes and pastries from Zest Cafe and head to the airport.
It was a bittersweet ending to our day and each one of us left Brunei with incredible experiences and everlasting memories.  I hope you enjoyed my posts on my adventures in Brunei. If you have missed out on any post earlier or want to read my Brunei experiences again, here is a recap.
 1. Visiting the last sovereign Malay Sultanate in the World
5. The Journey into the Pristine Rainforest of Brunei
6. Finding peace in the heart of a rainforest
7. Peering above the Rainforest
8. Venice of the East – Kampong Ayer
10. Meeting with Brunei Bloggers
11. The Empire Hotel & Country Club in Brunei
And this post,
12. Horse Riding and a sweet farewell
Thank you OMY, Brunei Tourism and Royal Brunei Airlines  for making this trip possible.
If you would like to know Brunei better or check out more Royal Brunei Airlines promotions, check out their Facebook page.