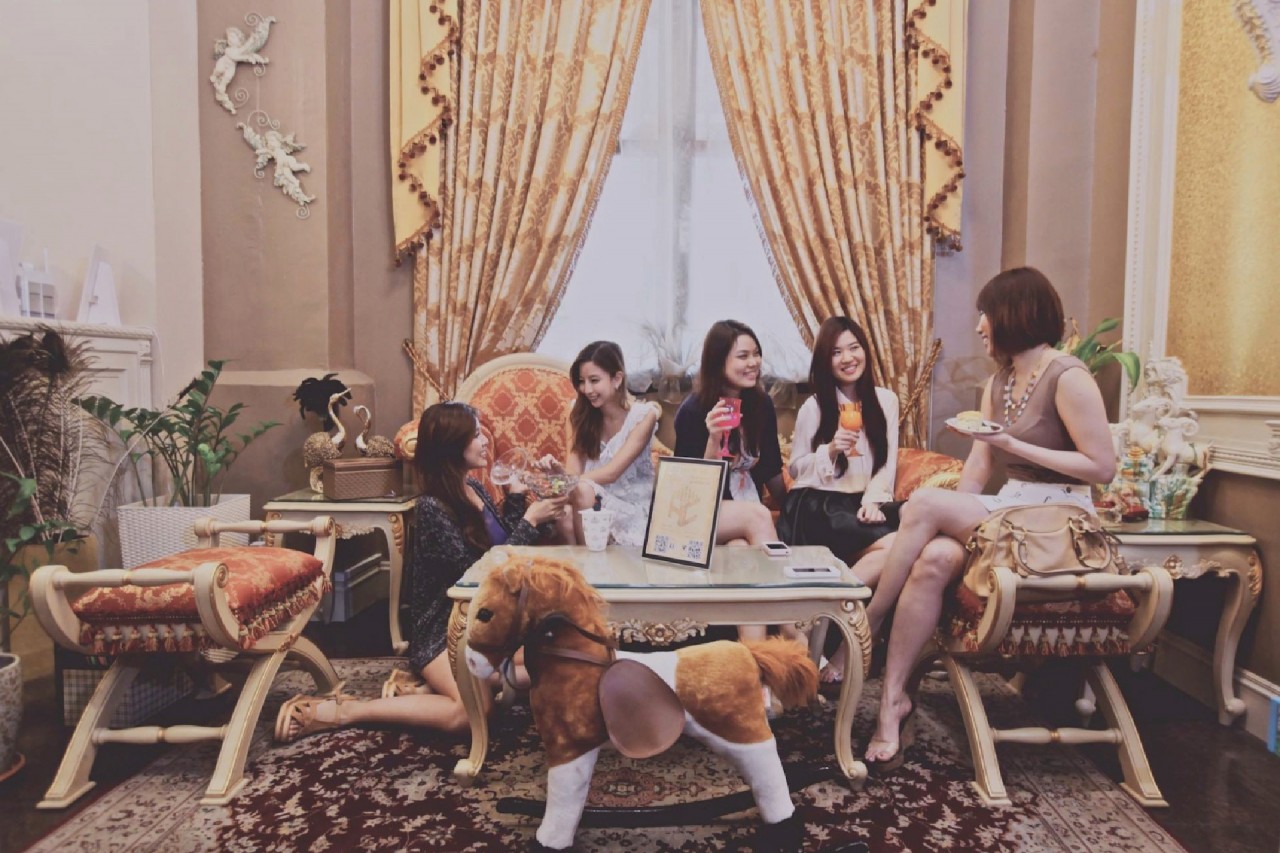 Awhile ago, I was invited to attend an afternoon of pampering with Honeyz Cube X HKC Plaza at Nail's Divine. This gorgeous little nails,facial and makeover boutique is located at Dempsey and I simply loved their decor! It's the perfect little hideout for a wonderful girly time!
HKC Plaza introduced us to Korean cosmetics brand, LJH, which is the first company in Korea to propose the concept of cosmeceuticals ( a combination of cosmetics and pharmaceuticals) for a better enhancement to skincare. LJH is not yet widely known in Singapore even though they are wildly popular in Korea. The LJH Skin Clinic is the first specialized dermatology clinic established in Korea.
Each of us got to try out the various beauty products while Della explained how each product worked and the effects of the ingredients. LJH Clinics have researched and patented many of the technologies used in the LJH products.
There were just too many products so I'll just pick a couple that made a deep impression on me. Do note that these reviews that I'll be giving below is based on the samples I tried and I didn't use them for an extended period of time to truly try out the full effects.
The Oxygen Bubble Brightening Pack ($76) is a cleansing mask that uses oxygen to draw out all the dirt and dead skin while pumping the outer layer of your skin with oxygen so that it looks more radiant. Using this regularly will help to even out your skin tone and helps the absorption of any essence you put on after. When you first apply it, it's like a gel but bubbles slowly start forming on its' own. Once it has fully bubbled up, just massage the face with the bubbles and wash of with water.
For those with acne or blemish prone skin, you can try the Tea Tree 90 Essence. It's a concentrated serum that u apply after cleansing to your skin. It comes with a dropper which makes it really easy to dispense and hygienic. The essence absorbs almost immediately and can help with the healing of blemishes. This essence is one of LJH's top sellers.
You might have seen me instagram (@renzze) about Cellabel M.C. Eyelash Queen previously. I didn't get to try this one personally but I saw the before and after photos of one of the HKC organizers on his handphone which showed the day by day dramatical improvement of his eyelashes over the course of 2 weeks and I was really impressed. This eyelash serum applies like a mascara and helps to keep lashes healthy and hydrated. It's recommended to help prevent lashes from falling out, to allow the lashes to grow thicker and longer and to maintain the strength of the lashes.
Next we were divided into 2 groups to either get a manicure or try out the face slimming treatment. Since the nails slot were all taken up, I decided to try out the LJH Doctor's Care Derma Face Lifting Treatment.
This treatment uses Iontophoresis to deliver the treatment effectively into the skin. I lay down on the treatment bed to get my makeup removed as well as get a deep cleansing of my skin. From here till the end of this post, all my photos are taken bare face though thankfully, they let us keep our eye makeup on because we had an impromptu mini-photo shoot after the facial.
This is my before face. Most people have told me I've got a really small face so I wasn't expecting to see much of a difference but I was surprised. Read on to find out!
They applied the Doctor's Care products and used the machine to massage our faces. It was really relaxing and I happily dozed off for most of the session. When I woke up, they had finished the treatment and I was informed that I could take an after photo to compare!
On the left is my before and on the right you can see the after!
To be fair, the 'after picture' on the right was taken a little further so my face looks smaller. Also my hairstyle is different because my hair always looks flat after it's been tied back for a facial session. Just ignore those differences. Instead, focus on my jaw line! Can you see that it's distinctively sharper and more V shaped? I didn't even noticed the difference until I compared the photos. It's amazing to see the effect after just one session.
Dress: Liz Lisa
Earrings and Watch: Chanel
Wedges: Korean

After my treatment facial, I was treated to super delicious muffins and a mini personal photo shoot. I was surprised the photos turned out so nice because I didn't have makeup on and was feeling a tad self-conscious next to the other gorgeous looking gals at the party. All credits goes to the photographer!
Thank you so much to Honeyz Cube, HKC Plaza and Nails Divine for the lovely pampering girly time! If you would like to purchase any of the LJH products you can find it at a special price on the Cube Store. For services at Nails Divine, please get more information on the HKC Plaza website.