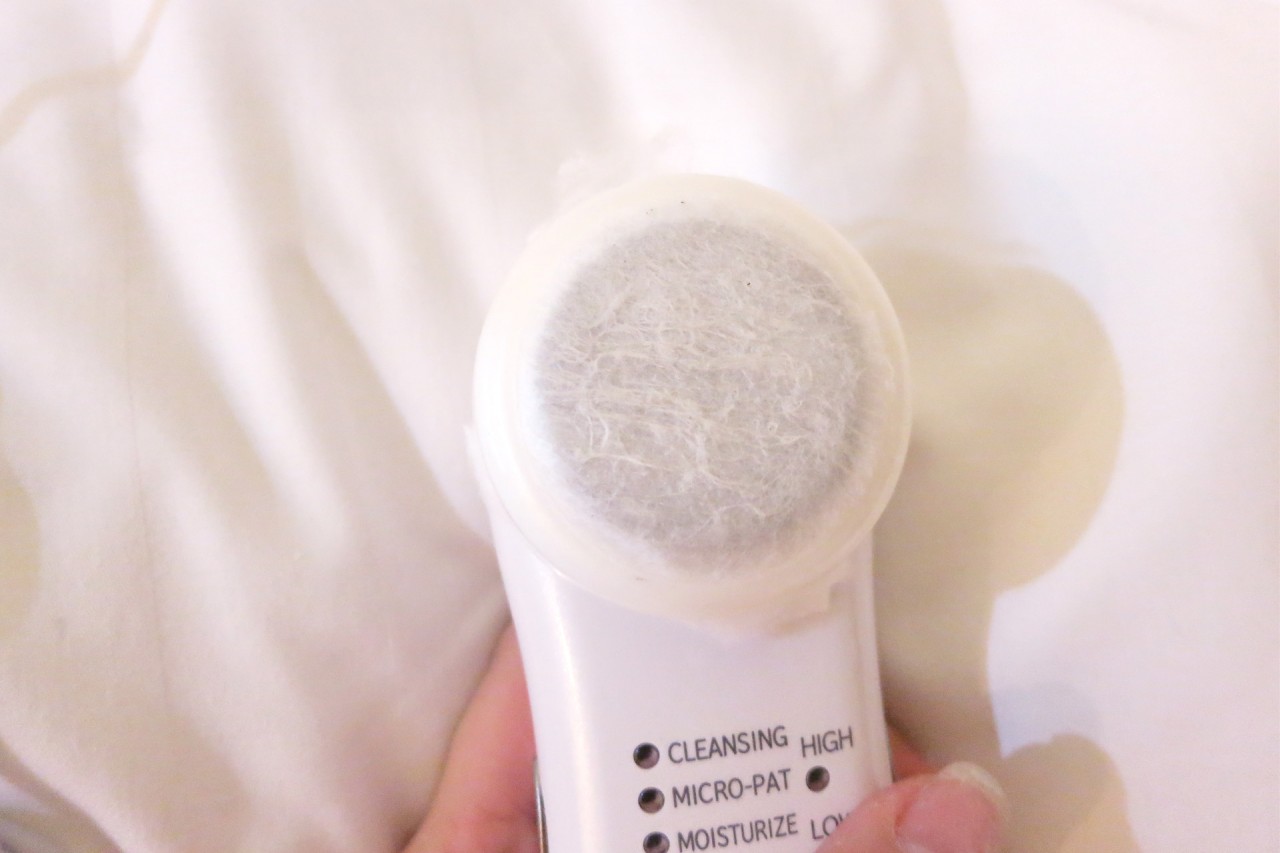 This post was written by me on 17th April 2013 and am simply reposting it here on my blog.
I love beauty products and gadgets. Other than buying them for myself, beauty companies also send new products for me to try and review. Recently, I realized that Hitachi Hada Crie Cool is an awesome device at helping me determine which water based cleansing lotion or toner works best.
Normally after my usual cleansing routine, if I use a cotton pad with a toner or cleansing water, I don't see any marks or stains on the cotton pad. But because Hada Crie Cool deep cleanses, pulling dirt from your pores using it's ion power, you are able to remove dirt that normal manual washing just can't get rid off and your cotton pad gets visibly dirty. But does the type of cleanser you use make a difference? I decided to put it to the test.
To make things more obvious, I wanted to test using Hitachi Hada Crie Cool only on days that I have foundation or BB cream on. Since I rarely put any BB cream or foundation on my face, in the last 3 weeks, I only managed to test  5 different cleansing lotions/toners. For each of the 5 tests, I first removed my makeup with a makeup remover and cleansed my face with my usual foaming cleanser before attempting the Hada Crie Cool. All conditions of the 5 tests were the same with the only difference being the type of cleansing lotion/toner that I used with the device. The device is set to cleansing mode at low intensity and lasts for 5 mins.
With all conditions kept the same, the results of the cotton pads show vast differences.
Arranging from most effective cleanser to least effective (left to right), Eucerin Dermato Clean 3 in 1 Cleansing liquid, Clinique clarifying lotion, Panna Pompa Cleansing Water, Hada Lobo SHA Hydrating Lotion and Organic Rose Skin Conditioner. The bottom row of cotton pads acts as the control color.
I'm crazily excited about being able to use Hitachi Hada Crie Cool to test out the effectiveness of my cleansing waters/toners. It allows me to review new products on the market with better objectivity and also allows me to better sort out the strengths and weaknesses of each product. I'll use the more effective ones together with the device for better cleansing and those that are not as effective (such as the Organic Rose Skin Conditioner) for the Micro-pat or Moisturizing step of the Hada Crie Cool routine.
Eucerin DermoClean 3 in 1 Cleansing Fluid did exceptionally well with the device and I use this with the cleansing mode whenever I feel my skin needs a good thorough deep cleaning!
Clinique Clarifying lotion was a very close second. I suppose this works well because this toner is supposed to have exfoliating properties as well. It's great to be able to draw out the dirt hidden in your pores with the Hitachi Hada Crie Cool while gently removing dead skin cells that are on the surface. This one gives a tingle when you run it through your face.
Panna Pompa Cleasing Water works quite well but I feel its a little more drying than Eucerine or Clinique so I make sure I run the micropat and moisturize mode whenever I use this as the cleanser to make sure that my skin stays hydrated and balanced.
When I first got the Hitachi Hada Crie, the Hada Lobo SHA Hydrating Lotion was the first cleanser I started with. It might not be the best cleanser but I love how hydrating it is. Even when I'm pressed for time and can only afford 5 mins to use the Hada Crie Cool Cleansing mode and not combine it with the other modes, my skin doesn't feel dry or flakey after cleansing with this. It gets special mention for those who want to skip all the other steps.
Last but not least is the Organic Rose Skin Conditioner. I love the smell of this one but it doesn't cleanse very well. You can tell that there are some dirt and black spots that have been pulled out from my pores using the device's awesome ion power but if I use this on my face without the Hitachi Hada Crie Cool, you don't see any spots or dirt at all! It's actually testament to the effectiveness of the ion power really. But after this test, I much prefer to use this in the mirco pat mode where I can condition my skin ready to fully absorb moisture when I use my moisturizer in the device's Moist-up mode.
There you have it, my little experiment. The possibilities are  endless since this device allows you to combine and use with any other brands. You can choose what suits you best and be sure to have nice clean pores all the time, any time. With Hitachi Hada Crie Cool, you even know if your $100 power cleanser is worth its' cost or if your $10 one works just as well. And even if you are the super sensitive sort who can only use the mildest non abrasive cleanser (like the Organic Rose one), you'll know that Hada Crie Cool still does it's job of pulling out cleaning out the clogged pores. I've had so much fun using Hitachi Hada Crie Cool and have learnt so much about it. Will tell you more in another post about the other different things I learnt when using Hitachi Hada Crie Cool.