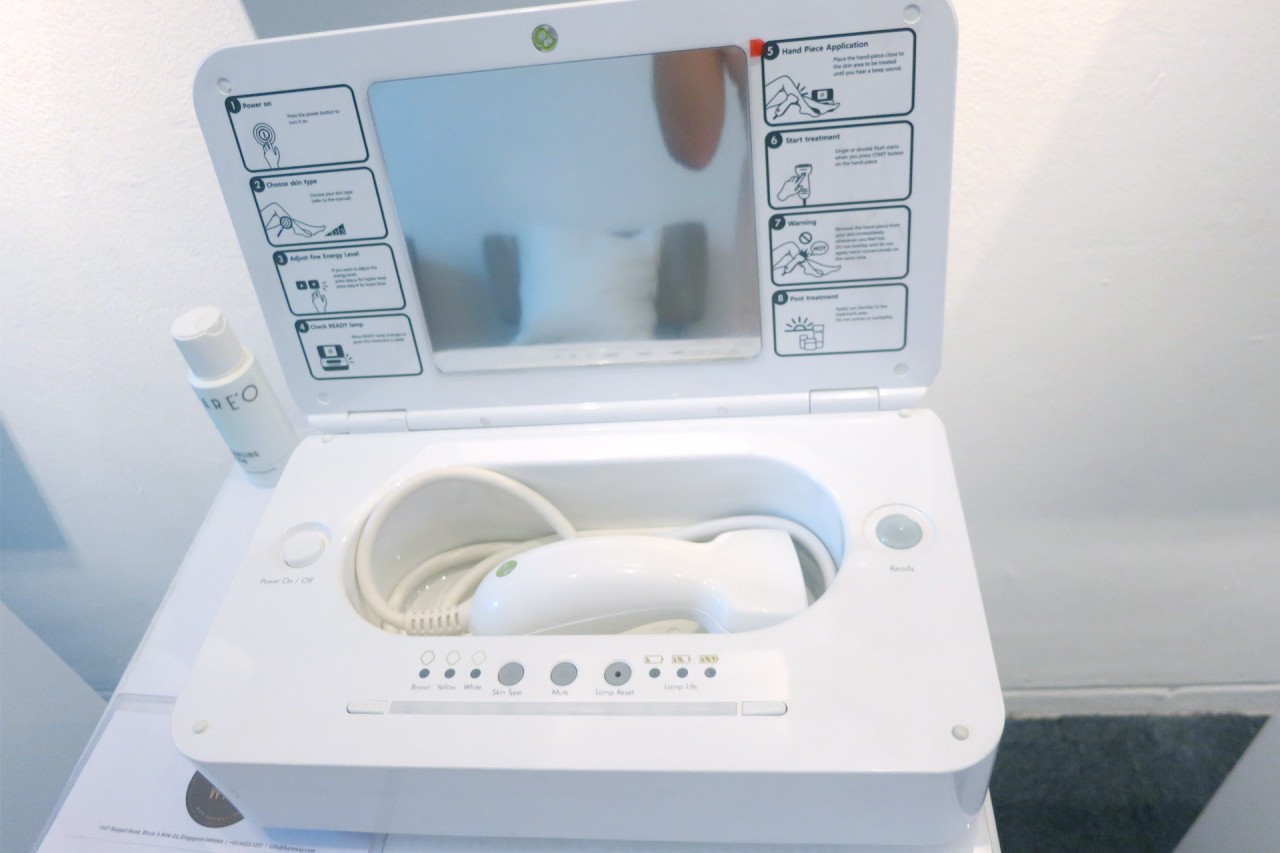 Unwanted hair is something that all girls (and some boys) deal with all the time. IPL (Intense Pulse Light) as a means of hair removal has thus been quite the rage in the last 10 years or so. Unfortunately, while it is one of the best ways for permanent hair reduction, it is also usually pretty costly for a series of treatments plus maintenance. Even when I was sponsored to do a full course of IPL several years ago, I never went past the 3rd session because I was too busy and couldn't make time to head down to the beauty joint to complete my course. Which is why I think Hareway's home IPL system is brillant.
With your own IPL kit, you can do your own IPL anytime you want! Even if the only free time is 1am in the morning. It's also a lot more cost effective because you don't have to sign up for expensive treatments to do regular maintenance. When I was introduced to this system, I immediately thought of my girlfriends living overseas as IPL can be crazily expensive in a lot of developed countries (due to cost of labour). They will be thrilled to learn that now there's a cheap and effective way to DIY.
Let me show you the 3 different machines that Hareway offers.
The first one is ESPIL which is the one I'm personally eyeing to get out of the three. You can use ESPIL for any unwanted hair on your body (except for eye area). Be it for your armpit, face or for a brazilian , this machine works just as well.
Product specifications
Name: Espil BSL-10 IPL Home Hair Removal System
Technology: Intense Pulse Light (IPL)
Wavelength: 475 – 1200 nm
Max Energy Level: 25 j
Spot Size: 20 x 30 mm
Size and weight: 20 x 15 x 10 cm, 2 kg
Next in the range of portable IPL systems, we have the LUMINIC. This machine works well for all body parts except the face and brazilian.
Product Specifications
Name: Luminic SIPL-00 IPL Home Hair Removal
System Technology: Intense Pulse Light (IPL)
Wavelength: 470 – 1100 nm
Max Energy Level: 11 j
Spot Size: 15 x 30 mm
Size and weight: 305.8mm(W) x 181.7mm(D) x 88.7mm(H), 2 kg
Disposable lamp cartridge lifespan: 6000 shots
Last of the series is XEMOS which is a hand held IPL wand. This is suitable for small areas such as upper lip hair removal. I think it'll be great as well for those who have already done a full IPL session at a beauty salon and would like to keep XEMOS handy for DIY maintenance.
Product specifications
Model: Xemos Laser Hair Removal W-808 Dimensions: 180mm (W) x 55mm (L) x 50mm (H) Weight: 140g
Colour: silver and purple
Power: 9V 1200mAh
Output wavelength: 808nm
Regardless of which machine you decide to purchase, you'll get a set of Hare'O products so you can get started with your machine immediately. Another thing that sets Hareway apart from competitors is that they don't just sell you the machine, they give a free product training as well so you know exactly what to do and how to do it.
I've tried using the ESPIL machine on myself and I can reassure you it's super EASY and PAINLESS!
All you need the the cleansing lotion, aloe vera gel, clean tissue, shaver, spatula, cotton pads, the IPL machine and the eye protector that comes with it. Please wear those dark glasses at all times when using the machine to protect your eyes from the bright light.
Now for some unsightly photos of my hairy armpit. LOL.
As you can tell, it's a little dark due to many years of shaving 🙁 But prolong use of IPL treatment not only permanently reduces the hair, it will lighten the skin too!
1
Wipe area with Hare'O Cleansing Lotion to thoroughly cleanse area
2
Apply a thin layer of Hare'O Aloe Vera Gel over desired treated area.
3
Shave gently according to hair direction. The Hare'O Aloe Vera Gel will keep
your skin moisturised.
4
Wipe off any remaining gel with spatula/tissue
5
Apply a layer of Hare'O Aloe Vera Gel over shaven area
6
Select desired mode level according to skin tone (1-5) (Recommended level 2 for first to second treatment for all skin types)
7
Firmly place the applicator on the area and press the Pulse Button to emit
the IPL flash
8
Remember to move applicator away from skin (and let it face outwards) after emitting every pulse to allow handpiece to cool
9
Repeat Step 7-8 over the entire area after BEEP sound
10
After completing, wipe off gel with spatula/tissue
11
Apply Hare'O Cleansing lotion to soothe area
12
Apply Hare'O Soothing Cream / Hare'O Soothing Serum
That's it! It took me just 15 minutes and it was easy easy easy!
I love how I'll be able to do this anytime at home without having to make a trip down to the salon. Less trouble, no appointments, no traffic, no parking fees/erp charges, no crowds, no costly therapist… Gosh, the list is endless. The best part is that since Hareway is giving an additional lamp Cartridge for the ESPIL and LUMINIC, you can even share the machine with family or friends. You only need to do once about every 4-6 weeks in the starting phase anyway.
When you think about it, it's just way cheaper with no packages to complete or top up. In fact, you can use one machine to remove unwanted hair from multiple body parts instead of having to buy a package for armpits and they paying for another series to do brazilian.
Of course you can't see much results from my armpit now cause that was only my first session but over time it's supposed to be like the photo below.
Thanks to Evelyn for patiently explaining everything to me. She's a wonderful teacher and super passionate about her customers achieving hairless results!
Hareway wanted to make sure that their customers had the right products to attain the best results from their IPL machines so HARE'O was born. I brought home some of HARE'O body products and it's really good.
After each treatment, it's good to apply HARE'O soothing serum everyday for a week to keep the skin moisturized. This is important for people like me with sensitive skin.
  The dots in the blue gel are vitamin E that bursts open when you rub it on your skin.
You can exfoliate with Hare'O Whitening Scrub three days after treatment. But in general, you are recommended to scrub twice a week, every 3-4 days to get nice smooth skin. I'll usually finish up my pampering session with Hare'O Vit E body butter to quench my parched skin.
If you want to learn more about Hareway and their products, their
website
is super informative. I also believe that they current have a promotion for their IPL machines.