I did a review on Happy Feet which got deleted as well… so here goes…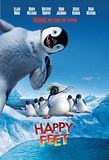 I caught Happy Feet recently and it got a thumbs up from me. I give it an A+ so if you haven't watched it go book a ticket now! It'll definitely but a smile on your face… laughter in your belly and a song in your heart.
Despite it's serious undertones and solid social messages it sends out in regards to wildlife and conservation, it still manages to be entertainingly funny and cute. The music is well selected, catchy and vibrant. Brittany Murphy, Hugh Jackman, Nicole Kidman and even Robin Williams do the voice over and singing for their respective characters. I'm not surprised but Nicole Kidman's (Norma Jean) strong vocals as she has proven to be quite a songstress in previous movies such as Moulin Rouge. However, I had no idea Brittany Murphy (Gloria) could sing so well! Robin Willams was the voice of both Ramone and Loveless which were one of the cheekiest and funniest characters! I'm definitely getting the soundtrack!
In fact, I've got Happy Feet as my wallpaper now and if you wanna have a copy just click the thumbnail below to open and save!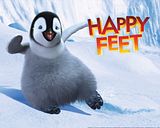 [rate 4.5]