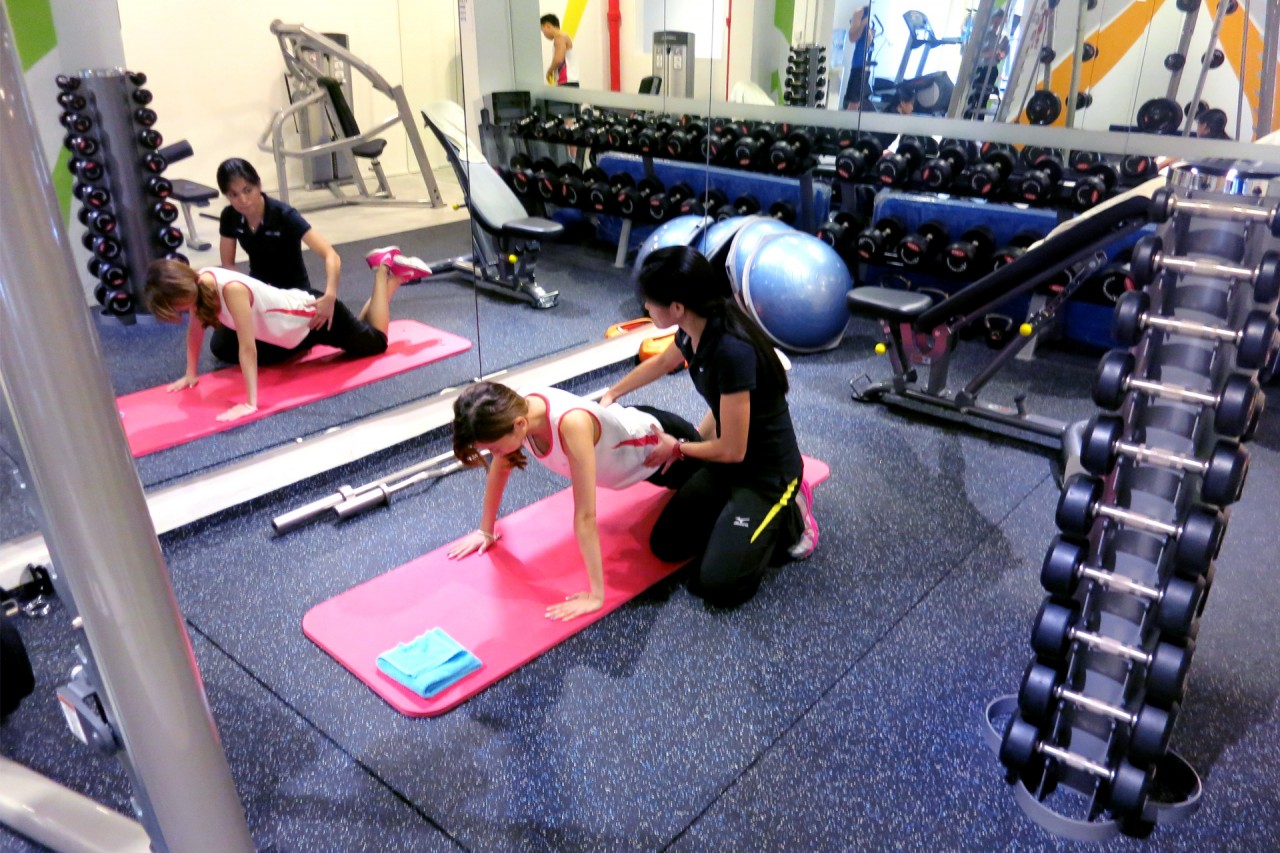 Singaporeans are very much into fitness. There are more gyms, sports clubs and marathon events sprouting all over Singapore in the recent years. That is a great phenomenal but with a profusion of choices, how do you decide which gym is suitable for you?
I have to admit that its been a long while since I hit any gym or exercise classes regularly. About 8 years to be exact. Over the last 5-6 years, I did have my own gym memberships and tried out classes in between but I never stuck to anything on a regular basis. This is mainly because I travelled a lot and didn't have a fixed routine to upkeep. But now that I'm in my early 30s and my belly, buttocks and thighs are bulging, it's probably not a good enough excuse to avoid exercise anymore.
I'm on a quest to find out more about anything fitness and to eventually find something that clicks so well with me that I am excited to incorporate it in my daily routine.
One of the things I'm deciding right now is about choosing the right gym and in this post, I'll be featuring one of the newest gyms in town that I've checked out – Gym n Tonic.
Picking a gym is a major decision when it comes to trying to bring fitness into your regime. You'll be spending a lot of time there, commuting there and learning more about fitness from the staff there as well. I've joined gyms before that were just wrong for me and it just turned out to be a big expensive mistake for me because I just stopped going.
One of the attractive things for me about Gym and Tonic is the location. It's at Tanjong Katong which is in the East side and is definitely nearer for me to get there than to head into town every time I want the hit the gym. Of course, there are many exercises I can do at home without even worrying about commuting but I personally cannot work out at home. There are just too many distractions in my home and my two furkids tend to surround me when I start doing anything out of the ordinary because they want to participate as well. Going to a gym for me is taking time out for "me time". No distractions, no emails buzzing in, no chores, no temptations. Just a way for me to focus on conditioning my body.
Gym n Tonic opens 7 days from 6.30am to 10pm which works great for me. The coolest thing is that every member gets a fingerprint access to the gym so you don't have to worry about remembering to bring membership cards. This is a huge relief for me because I have so many cards (from too much shopping) that I've just stopped bringing all sorts of membership cards out. I love systems that don't require a physical card.
My previous gym memberships were always with big name franchise gyms that have gyms globally. I used to travel very frequently and I got attracted to the global membership where I'm able to access their gyms in different countries. But even then, I realised that I don't actually seek out the gyms once I'm out of Singapore. The one main downside to large franchise gyms is that their staff is usually rather inexperienced as staff turnover rate is quite high in places like that. These gyms are also a lot less warm and personable with fitness junkies dominating parts of the gym and checking out newcomers who don't make the cut.
Gym  n Tonic is what I'll categorize as a locally owned community gym. Membership is kept small to prevent overcrowding and because there is less members, chances are that you'll keep seeing the same one or two familiar faces which makes this place a lot friendlier. The amenities are not as good as a big health club (no lounge area, no dvd selection, no sauna, no childcare, etc) but if you don't need the frills, it's a much nicer place to hang out.
The equipment in this place is new, clean, sophisticated, well thought out and most importantly, there is never a queue to use any of the machines! Gym n Tonic has a vision of keeping the gym small and cozy with a bonding community spirit amongst the members. Thus, the staff you spot here is usually the owner or someone close to the owner so they are much more helpful and knowledgeable than the staff you find in large franchise gyms.
I started my orientation of the gym by first filling out my current physical status *sweat* and the goals I hope to accomplish. The assessment is very thorough and covers everything you could possibly think of that will help you to achieve your fitness goals. Filling this form gave me a clear vision of where I am currently at fitness-wise and it wasn't good. LOL.
My lovely trainer checked my blood pressure, my weight, fat, muscles, BMI, diet, heart rate and even did full body measurements the way a tailor would. All these records would help me to see clearly if I have progressed at all after 3 months of exercising and changing my lifestyle. I was told that it's always important to measure and record because only when we see that there is progress would we know if we are on the right track. Keeping tabs also serves as a motivation for you to carry on training.
My physical assessment was all about pushing the limits to gauge what my current physical standing is. It's a whole lot of work but I delighted in understanding where my strength and weakness lie.
I really love how clean the whole place is as well. They provide towels, water cooler and shower facilities with soap, shampoo and even facial wash. Very convenient.
One of more interesting concepts of Gym n Tonic is that they also have a separate studio for classes and you can choose to join the gym without any classes, both the gym and the studio for classes or just the classes. It's entirely flexible and you only pay for the components that you need. This way, your membership is customized so that you don't pay more anything more that you wouldn't use.
Gym and Tonic offers Yoga, Pilates, Zumba, K-pop, kick fit and body conditioning classes. I have been wanting to try out their classes but I fell ill shortly after returning to Singapore from Boracay so I didn't head down. I'll definitely be checking out the classes this month. Here's a sneak peek of how the studio looks like.
There is no admin fee or any initial gym fees, you just have to pay the direct monthly fee to start. There is a whole range of different fee structures you can pick and mix depending on what facilities you want to use. I think that the $23.50 a week for an unlimited number of classes is great if you want to do all sorts of different activities. You can top up $6.50 a week to use the gym as well. Most of the classes are quite small and if you go for the early morning classes, you might even get a one-to-one for yoga or pilates. The evening classes are generally more popular.
If you are not keen on classes at all, you can just opt out and pay for only the gym. Find out all about Gym n Tonic and what promotions they currently have at www.gymntonic.com.sg . If you are looking for a gym that is less intimidating and commercialised compared to the usual big brand names or you want your gym to be somewhere in the east side of Singapore, it's worth checking them out.
Gym n Tonic
Ph: +65 63-464-818
Email: info@gymntonic.com.sg
Strength, Cardio, Personal Training Studio
188-9 Tanjong Katong Road
Singapore 436990