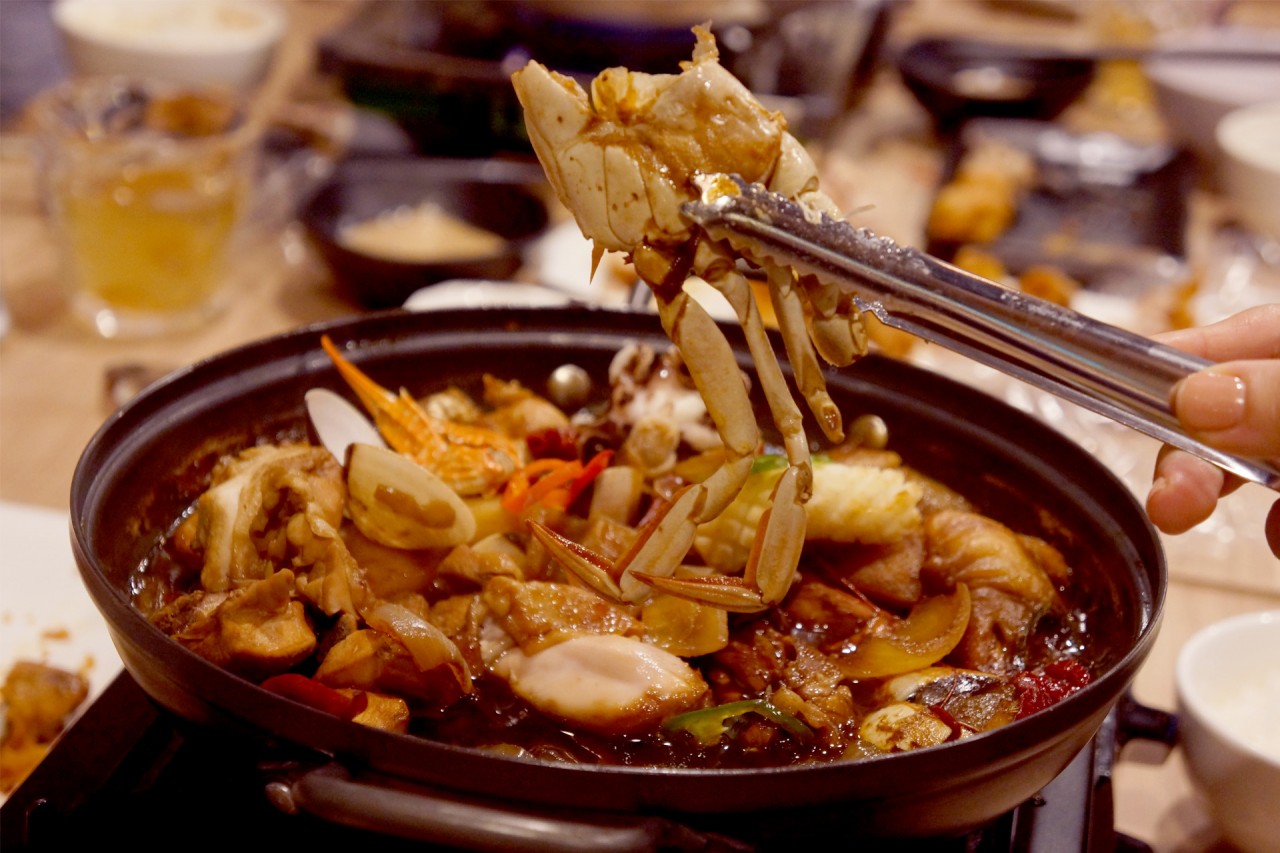 by Daryl Fong
I consider myself lucky to have a friend like Karen. People who are trustworthy and dependable are few and far between in today's world and, moreover, Karen brings with her the rare added perk of inviting her buddies to either join her in or cover her events. When she asked for my assistance to review a Korean restaurant, there was no way I could turn her down. So on April 28th, my wife and I had dinner with a few other bloggers at Guksu restaurant in Suntec City.
Guksu has only been in Singapore for about a year, and during this short period it has already reinvented itself a number a times. "Guksu" is actually the collective term for noodle dishes in Korean, so it should come as no surprise that it began as a specialty home-made noodle restaurant aptly named Guksu Noodle House.
Mr Park Junho, general manager of Guksu, is a young and overall quite humorous dude. He told my wife and I that during the short time they've been in Singapore, how the owners noticed that customers here are no longer just satisfied with eateries specialising in one thing. Eager to please and improve, they decided to diversify and evolve.
Although they still serve their fan-favourite variety of noodles, that night all of us were treated to some of their newer dishes, namely their chicken wings and jeongol. Their chicken wings are deep fried and come in plates of three drumsticks. These are the original, spicy, and soy sauce flavours.
Each piece is big, about the size of my wife's open palm. The skins are fried a delicately nice orangey-brown and are extremely crispy and flaky. Every bite of it is a real crunch, which I absolutely love. The meat itself is juicy and flavourful. I'll admit I prefer the original and spicy drums better, as the soy sauce one was a tad too salty for my liking. The chilli found in the spicy drumstick is more of the Thai sweet chilli variety than the uber hot and spicy kind.
Our main course for the night was the jeongol. I suppose you could call it the Korean version of a mookata, which is basically a hotpot with an added grill in the middle of it. Guksu is the first restaurant to introduce hankook jeongol in Singapore, hankook meaning "Korean". Traditionally a dish made for only the upper class and royalty in ancient Korea, it was interestingly also a make-do favourite of soldiers in war-time who would cook jenogol in iron helmets. There are 10 different stews on the menu currently, and you can customise your soup base if you prefer.
Mr Park and his staff served us three kinds of hotpots that night – seafood, pork, and beef. Each was enough to feed two to four pax, so I guess it was a lucky thing they invited me along for dinner. All of us reviewers got to eat plentifully from each pot. The seafood jeongol is of course different in soup base to the other two meat hotpots, having a brown gravy which is honestly quite spicy with a generous amount of dried chilli thrown in. In it you will find crabs cut in half, prawns, mussels, clams, scallops, squids, and chicken, all very succulent and fresh.
The beef and pork jeongols had their own hearty broths respectively. The hotpots are designed such that there really isn't that much soup that can fit around the moat of the pot, I assume it's so as to give as much room as possible to the grilling area in the center. This isn't really a problem though, because you will spend most of your time grilling the meat and only using the soup portion to cook the many different types of mushrooms, vegetables, and the vermicelli already in the pot. The meats are marinated well and my wife and I both thought the beef was especially good with a nice texture. You can literally see the juices from the meats flowing down the grill and into the soup. Just remember not to leave the meats on the grill for too long or you are going to have the all too common burnt problem.
Aside from the chicken drumsticks and jeongol, we were also treated to other dishes like kimchi, and desert in the form of chocolate lava cake. I liked the kimchi a fair bit, it had the right balance of spiciness and sourness which you don't find in many other places.
The lava cake was well done too with a good amount of melted chocolate on the inside and a fluffy texture on the outside, although to be truthful I was somewhat disappointed that we did not get to try a traditional Korean dessert.
The highlight for me were the alcoholic beverages Mr Park presented us with. They were Crusier vodkas from Korea stylishly inverted over and into fruit flavoured sodas.
These are usually served in glasses to customers, but he poured them in jugs for us and subsequently into shot glasses.
The colours of the four cocktails were very pleasing on the eye, and consisted of peach, passion fruit, raspberry, and blueberry. My personal favourite was probably the blueberry. Although not very strong in alcoholic content, the drinks did still manage to make a couple of our group red faced.
By the end of dinner, all of us were stuffed. Mr Park and his crew were helpful, informative, and polite. If you like Korean food, make sure to give Guksu and their new jeongol a try. It is not the common Korean barbeque you can find everywhere else. Even if you don't like Korean food in particular but have a knack for hotpots, give jenogol a shot, I believe you won't be disappointed.
Guksu Restaurant
Suntec City Mall
3 Temasek Boulevard
#02-385
Tel: 6334 7950