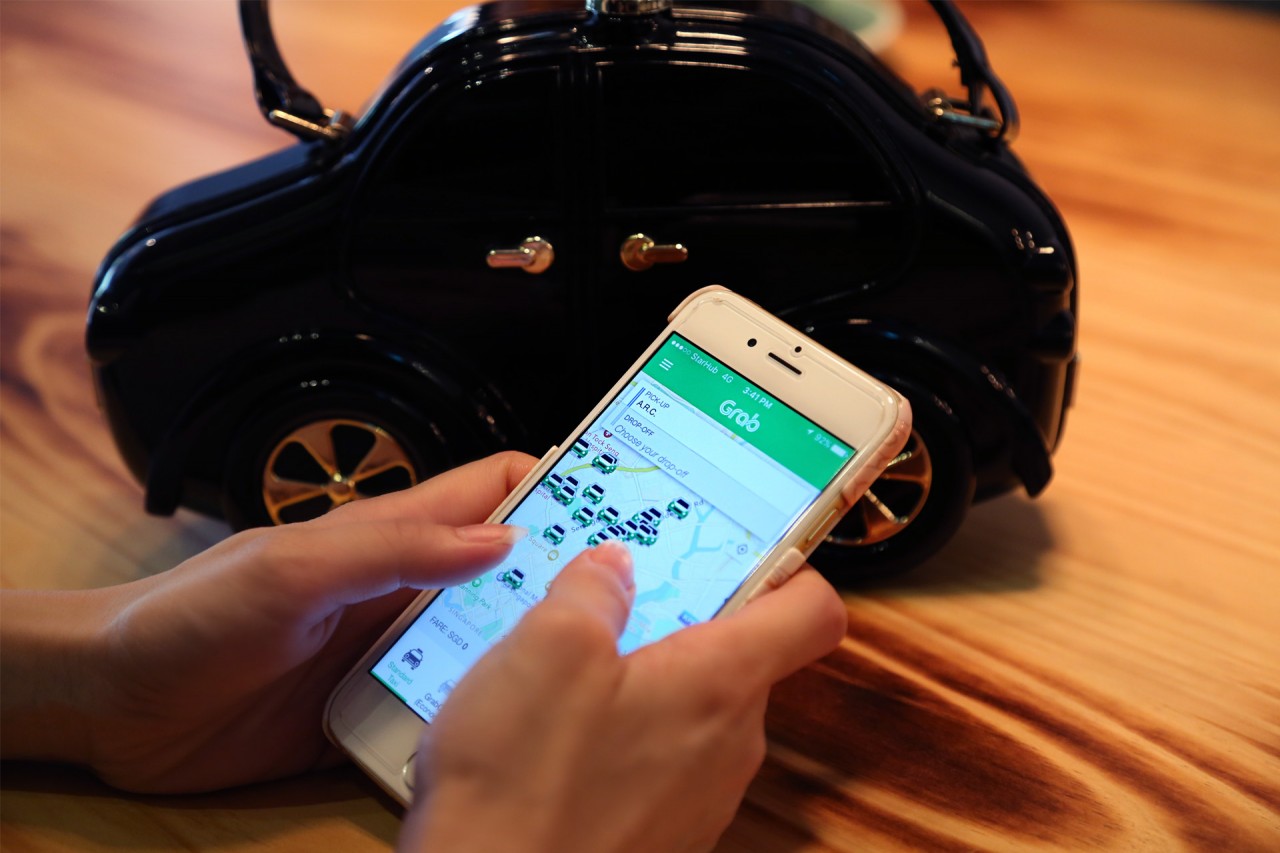 GrabTaxi is a pretty well known ride-hailing platform in South East Asia and they have just rebranded themselves to GRAB. The new Grab emcompasses all the company's services of on-demand taxis, private car services, motorcycle taxis, social carpooling and last mile delivery. I love the sleekness of their new logo that uses dual lines inspired by roadways to represent endless road of possibilities. With my car's COE expiring in less than 2 years, companies like Grab are giving me many valid reasons why I should grab a ride instead of driving.
Being the most expensive country to own a car, driving is a luxury in Singapore. However, these days with longer work weeks, I'm finding it more and more of a hassle to drive around. Finding parking can be tough (especially during lunchtime in hot spots) and navigating peak hour traffic is annoying. I much rather sit back and take a nap or reply to my emails while having a comfortable ride.
After attending the exciting media showcase at The White Rabbit, I gave the Grab app a go. Here's my thoughts about it.
1. There are several choices of on-demand transportation services to suit your needs for the the right time, place and price. Grab is available in 28 countries. In Singapore, the main focus would be GrabTaxi, Grabcar and GrabHitch. I'll try to give you an overview of these services.
With GrabTaxi, you can book a budget or premium taxi from a large network of drivers.
With GrabCar, you can ride in comfort in a private car and pay a pre-agreed flat fare.
With GrabHitch, you can hitch a ride by tapping on a carpooling community.
2. It was very easy to use their new two click booking experience. Pick-up and drop-off points will be pre-filled based on my favourite places. My preferred locations will be ranked by the day, time and physical location. This enables me to book a ride in just two clicks.
3. The "auto-retry" feature minimises repeated booking attempts if I do not get a vehicle within the first attempt, without having to manually go through the booking process again.
4. One of my favourite things about the app is that I can watch the Grab vehicle make its way to me, with real-time driver tracking on the map. This helps me to better estimate the arrival time of their driver, and when I should head to the pick-up location. I can even sneak in a couple of OOTD shots while waiting for my ride!
5. I'm currently using an iphone but Android users currently has a slight advantage as they can sign up more quickly for Grab. The app will automatically confirm the user's identity and mobile phone number, with most users not needing to key in anything – just click to confirm. This will be rolled out to iOS in the near future.
6. Can't decide if you should call for a taxi or a private car? With the touch of just the one button, Flash searches all of the closest taxis and GrabCars to find the best vehicle for users across both services – meaning passengers will get where they need to go with less waiting. Flash is available in Singapore, Philippines and Vietnam, and will be rolled out in Malaysia on 30 January and Thailand in February.
7. I'm usually pretty cashless these days, relying more on my cards as I hate queuing at the ATM for withdrawals.  GrabPay enables passengers to go cashless by using a credit card payment, making the entire commuting experience seamless. Great when you are running late and need to zip out of a taxi or GrabCar once arriving at the destination. Of course, you still retain the freedom to choose between cash or cashless option as and when they like. For peace of mind, you will receive fare confirmations via the app and an email receipt. You will also be able to use multiple credit cards and easily toggle to choose which to use. GrabPay is available in Singapore, Indonesia, Philippines and Malaysia, and multiple credit card support will be available in Singapore starting 28 January and Indonesia, Philippines and Malaysia in February. GrabPay will be rolled out in Thailand and Vietnam in the first half of 2016.
8. If you are using Grab to travel around for work, you can now expense your business rides separately. Business professionals who use Grab for meetings will be thrilled to know that they can now tag their business rides on the go. Other new in-app features include the expense code and trip detail fields for tracking and expense claims purposes. Passengers can login online to Grab Passenger Hub to download their consolidated business or personal statements for claims submission purposes. With multiple credit card support, users can add a corporate card and easily toggle between personal and corporate payment options. GrabWork is available in Singapore, Indonesia, Philippines, Malaysia, Thailand and Vietnam starting 28 January. Companies who wish to register for a corporate account with Grab may do so at www.grab.co/business.
Transportation challenges are a serious matter in many countries and I can't be more supportive of companies that are pioneering new commuting alternatives for both drivers and passengers. You can give Grab a try the next time you need a ride somewhere. Here's my invitation to you so you can try Grab with $8 off your first ride – https://invite.grab.co/karen55586.
Thanks for reading and have a wonderful week. I'm looking forward to the long weekend and Chinese New Year reunions.