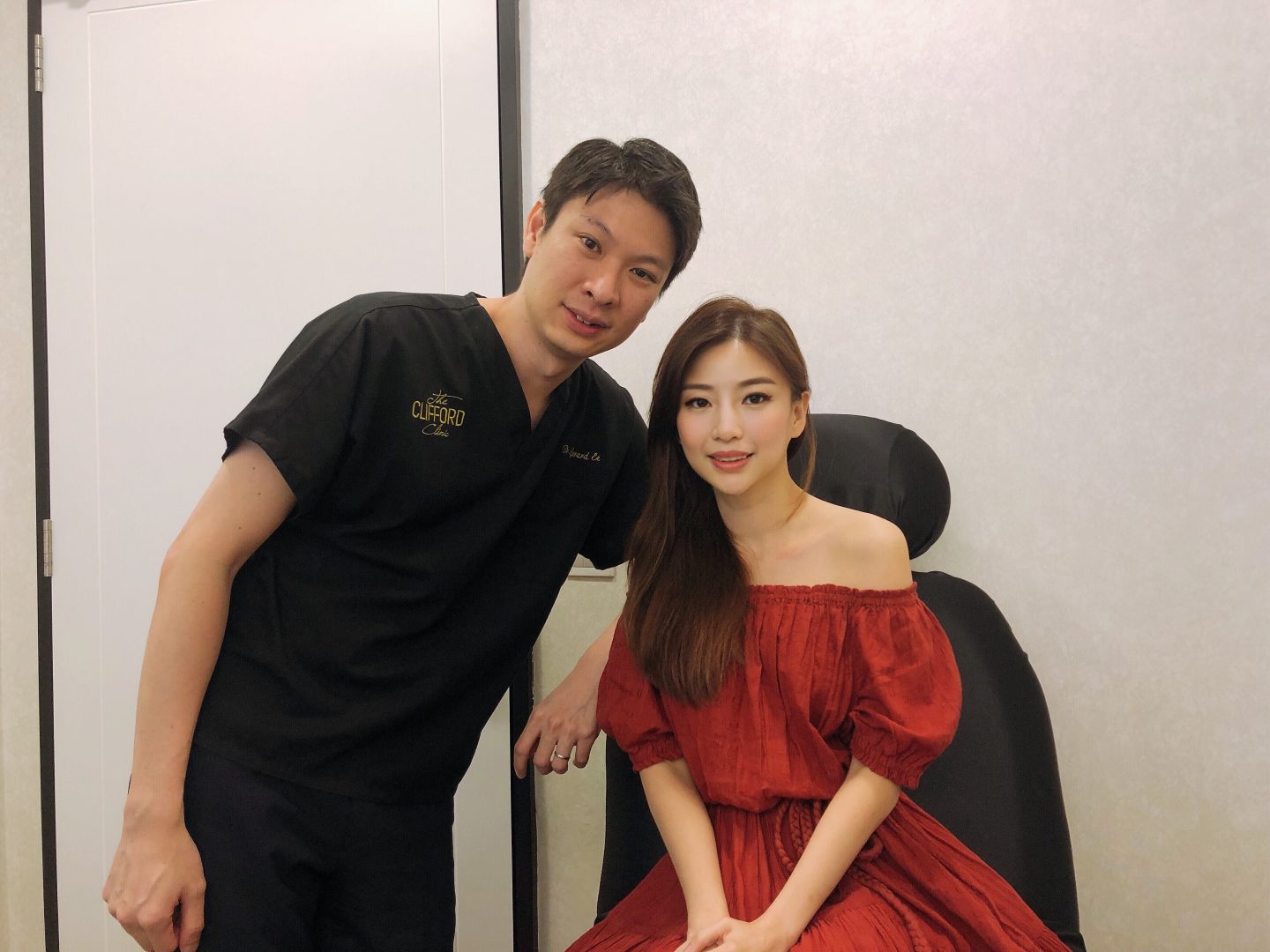 I believe a woman should take care of herself. Be it skin care, make-up, exercise or wellness routines, taking that effort for self-care leaves you feeling better, healthier and more confident to take care of your work or family better. Despite the vast array of active ingredients that work wonders on our faces these days, I still don't believe there is one magic serum or cream that can turn back the clock ten years or change our facial features. I'm thankful to be born in an era of technological advancements in beauty where there is no need to go to extreme measures of going under the blade to get a beautifully defined jawline. In Asia, that means having that elusive V shape that many popular Korean celebrities have. All I need is an excellent aesthetic clinic and doctor I can trust so I can couple a good skin care routine with professional help for precise results.
The Doctor
I'm also grateful to have been introduced to Dr Gerard Ee of The Clifford Clinic. I cannot stress often enough how important, the right doctor with the correct perception of aesthetics is crucial. There is never one answer for everyone. While injectables these days are a common thing, it is in the hands of a good doctor where you can derive the best results to enhance your natural features. Don't just go to a doctor that follows protocol. Go to one that has a good eye and can use various techniques and approaches to adapt to your face. Dr Ee is friendly and very knowledgeable. I felt comfortable discussing my concerns even at my very first consultation and was able to get a proper diagnostic of my issues. I liked that he looked at my whole face and not only at the areas I had concerns with.
The Issues and Solutions
My main concerns for most of my life is the deep lines on my forehead ( see 1 in photo), my uneven jawline and my (lack of) chin ( see 3 in photo). After Dr Ee asked me to raise my brows to see all the farrows, he agreed that I was the perfect candidate for Botox. Botulinum toxin is a neuromodulator (neuro or neurology – brain, and modulator -change) so what it does is changes what your mind does to a muscle. So that reduces muscle movement and reduces damage to the skin to stop wrinkling.
As I have an overbite and a small face, my chin needs a boost to attain a better forward projection. While my bone structure is delicate, the lower jawline appears to be uneven when viewed from ear to chin. This lack of fullness is due to genetics and not ageing. He recommended that I do chin fillers to give more definition as well as some botox at my masseters (see 3 in photo) to reduce my overdeveloped muscles.
A dermal filler works by increasing the volume of parts of the face where you have lost volume or where you want to create symmetry, or you want to create a change or improvement. Both fillers and botox will also provide quick results. All these work together to help create that V shape face. Everyone has a different face so Dr Ee will tailor the treatments to the individual to create a bespoke solution.
The Treatment
I was treated the same day as the consultation. I had gone to see the doctor with a bare face, so the nurse didn't have to help me cleanse my face. She put on numbing cream. Shortly after, Dr Ee came in to start the treatment. I don't have high pain tolerance, but it wasn't very painful to me. You feel a tiny pinprick at the points of entry but nothing more then that as Dr Ee works very quickly.
The experience Dr Ee has helped to make the whole process such a breeze while the nurse uses a little vibration device as a distraction to lure my anxiousness away. The brain is trick into thinking that there are only vibrations and no pain because the nerve fibres for vibration and pain travels on the same lines. Once all the injections were made, Dr Ee handed me the mirror. We marvelled at how much fuller and even my face had become.
The Result
Results are immediate and look natural. Here's is a photo of me sans makeup, taken immediately after leaving the clinic.
My face looks fuller and has better symmetry. While my forehead and frown lines have lessened, they have not disappeared. There is still a movement which is good as I do not want to look frozen. Movement is natural, and it's the static wrinkles that truly concern me — not the dynamic ones. My jawline shows better structure. The little indentations that sink in before my chin are gone, and I have a natural V shape jawline without it looking too pointy or artificial. I can't be more pleased with the results. The botox on my masseters took a little longer to show results, but it's been a month since my treatment, and I can tell that those muscles weakened and reduced in size, so my lower face is not as broad.
Here's another photo of me with Dr Ee at the clinic, three weeks after my treatment.
Before and After Photos to see the V Shape Effect.
Any downtime?
There is no downtime at all. You might want to skip foundation for a few days is advice because those tiny pinprick holes (although not very visible) are still considered wounds. I didn't change any of my skincare routines, and for me, the needle holes were not even visible a few hours after the procedure.
How long does it last?
It depends on the individual and the brand of product but as far as I know, botox kicks in between 24 hours to 3 days and the final results can be seen after seven days. It lasts between 2 months to 6 months. Personally, it lasts around three months for my forehead area. For dermal fillers, it also depends on the product and where it is used. Where there is a lot of movement in the area it is used, it tends to dissolve faster. At maximum volume, it can last between 6 months to 18 months, but they don't wholly disappear for years as it gradually dissipates. You do always have the option of heading back to the doctor to get it dissolved at any time. While these are my understanding of the products, I highly recommend you asking the doctor directly for better and more accurate answers.
If you want to make a consult at The Clifford Clinic, here's the contact.
24 Raffles Place
#01-03 Clifford Centre
Singapore 048621
(Exit A from Raffles MRT)
Mon to Fri: 10 am to 8 pm
Sat: 10 am to 5 pm
Sun: Closed
Closed on Sundays and Public Holidays
Call: (65) 6532 2400
Whatsapp: (65) 8318 6332