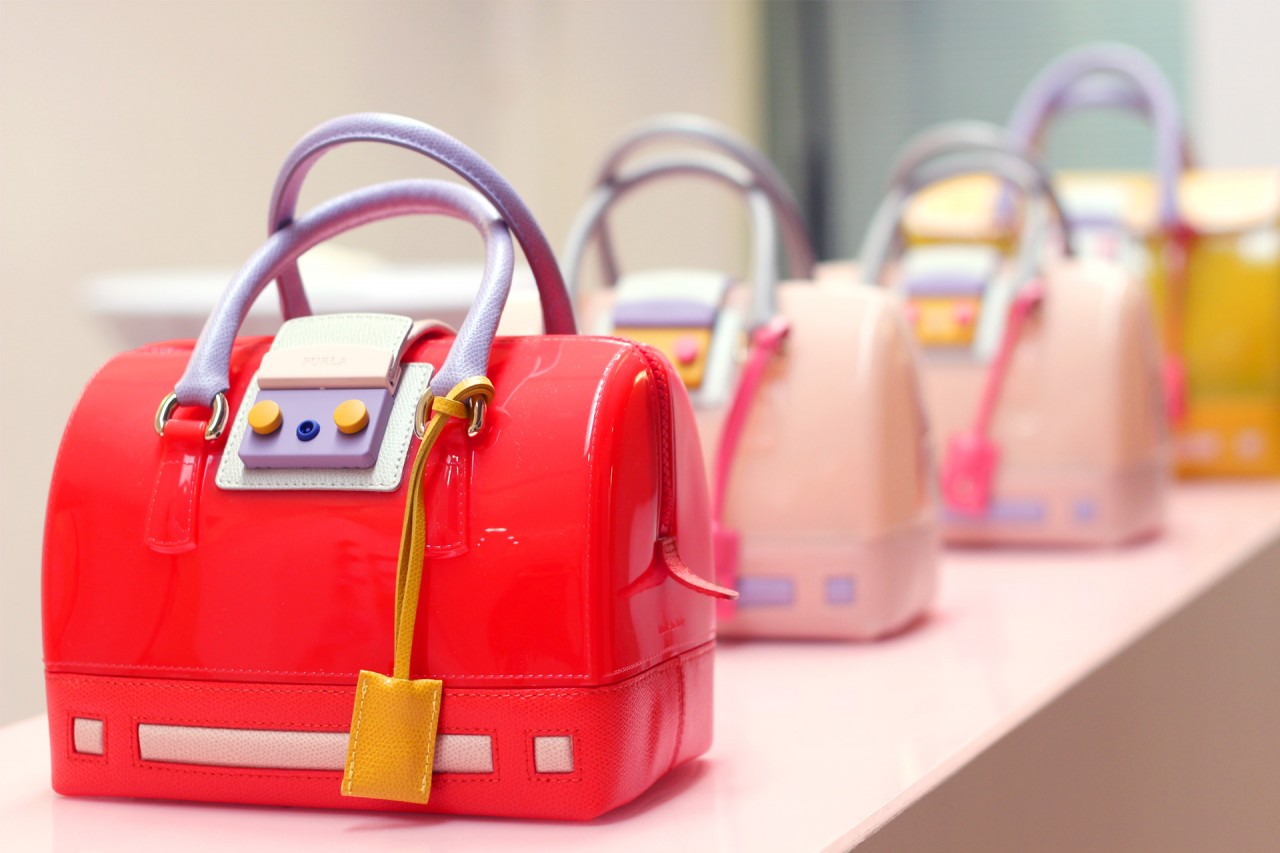 I've been caught in a whirlwind of traveling and festivities this whole week and haven't had time to blog but I just had to find time to share FURLA Spring/Summer 2015 gorgeous collection with you. I was invited to preview their collection in January and invited Regina along since she loves all things fashion related.
If you haven't taken any notice of Furla handbags recently, it might be time to start tune into this brand as it showcases a mix of fashion, art and graphics in their latest collection. It was a wonderful melding the worlds with a dynamic appeal, understated elegance and upbeat energy. Furla pulled out all the stops with eye-popping colours, textural experimentation and painted effects.
The attainably priced line is looking more trendy than ever.  Inspired by the Neo-Pop artistic movement, a post-modern interpretation of Pop Art, the new styles vibrate with lively colours, primarily festive shades of sunshine, hibiscus orange and ocean blue, counterpointed by gentler shades of white, grey and dove.
Splashes of colors that with chromatic gusto are often combined together to form daring color-block effects, adding a distinctive personality to the new "Furla Twist bag", a versatile and labor-intensive buckets-shaped shopper, complete with a metal bar and a woven inner compartment.
For trendsetters on the go seeking a relaxed modern elegance from sunup to nightfall, Furla presents the season's novelty shape: the soft-edged, user-friendly "Furla Spy backpack" in soft nappa and suede that is adorned with either mini or macro flat studs in burnished metal that set off a graphic polka dot effect.
In the iconic "Furla Metropolis bag", a small chain-strapped bag characterized by hand-stitched padded details that trace geometric motifs down the front, the clasp features a multi-color rubber coating, again in pretty color combinations.
The same padded details also enhance the clean and sleek personality of the new "Furla Alice tote", an expression of contemporary casual class that reveals a painstaking artisanal expertise and distinctive details that transcend time.
Pushing ahead with its ability to innovate and reinvent a longstanding heritage, anchored on impeccable Made in Italy craftsmanship, prized materials and an ever-evolving creativity, the latest version of the iconic "Furla Candy bag" in soft PVC is a high-impact explosion of colors and opposing textures that add a touch of playful glamour to any day. Also of note is the version featuring resin brush-stroke effects that vary from subtle trickles to bold splotches, rigorously hand-applied to make each bag unique.
Other than the lovely new variations on Furla's ever-popular "Candy" clear bags, their adorable Mini Candy bags caught our eyes! The waterproof material and slings make them perfect little travel bags for those casual holidays.
Further strengthening the brand's bond with the art world is the collaboration with prominent Tokyo-based illustrator, Maho Tonouchi, who inspired the interactive artistic installation, starring the new Furla bags that will be presented during Milan Fashion Week. I personally loved these limited edition paint splattered bags.
Shop for Furla Spring Summer 2015 in stores now. You can find the listing of Furla boutiques in Singapore here.
Thanks for reading and enjoy the rest of this long holiday weekend.