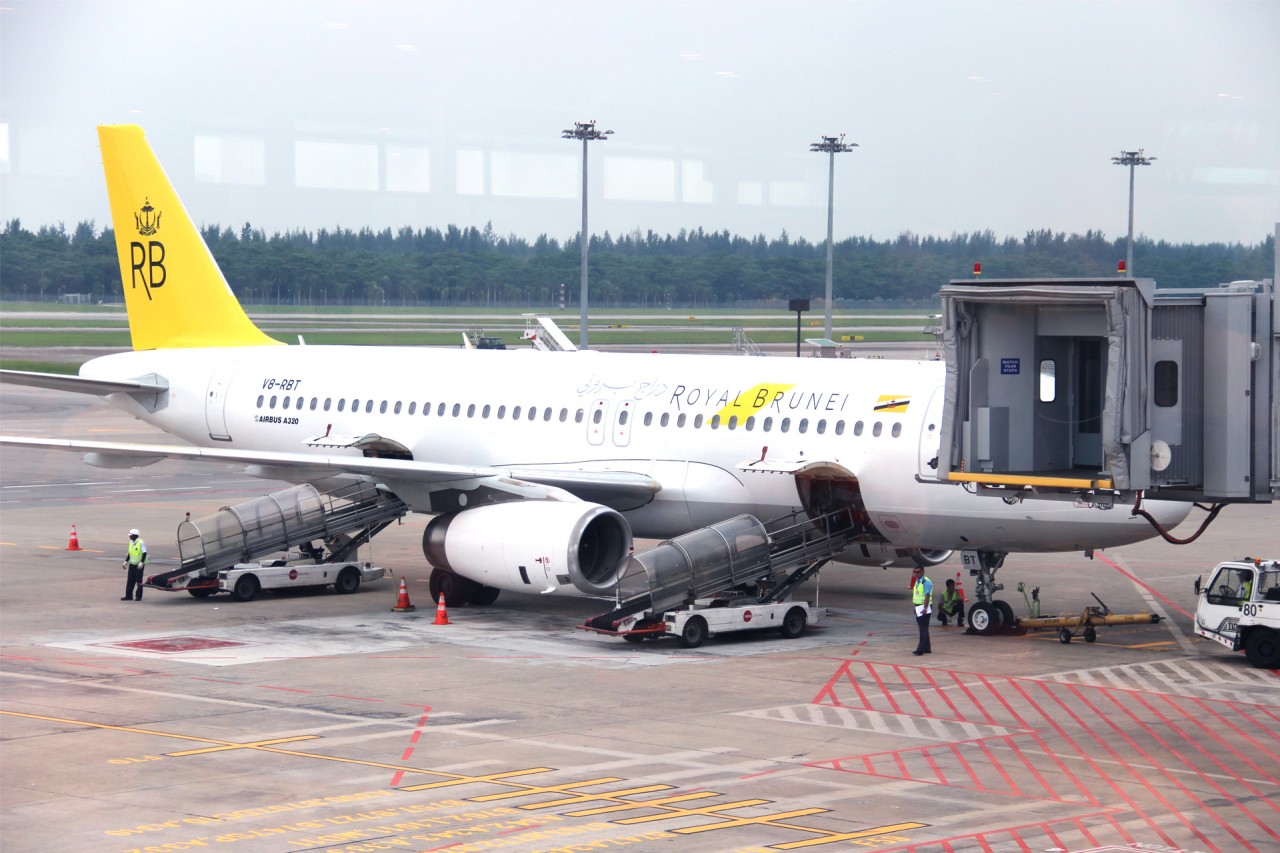 I wrote about how excited and why I wanted to go Brunei and I even put up a teaser video about my trip. Now you're gonna get a sensory overload with all the photos that I've captured during my trip. Every travel experience is valuable to me and it was my first time heading to Brunei even though it is relatively close to Singapore.
At the Singapore Changi Airport, we prepared to board using the Premiere Check-in counter for Royal Brunei at Terminal 2.
'
One by one we checked our bags in and got our tickets. It was really sweet of Royal Brunei Airlines to let us use the Premier Check-in counters so we can avoid the usual long snaking queues. Guat Wen, the Royal Brunei Airlines Country Manager Singapore was there to make sure we had a smooth transition and to give us our first taste of Bruneian warmth.
A quick breakfast at the transit area as we got to know our travel partners better and we were all prepared to board the Royal Brunei plane. It's just a small group of 5 bloggers traveling this time round which made it a lot more intimate and fun.
Even though Brunei is just a short 2 hour ride from Singapore, you can expect some yummy meals to be served on board.
I opted for the usual normal meal and went with the chicken and potatoes. The meal was really tasty and that chocolate cake you spot on my tray was a big hit with everyone. However, if you have a specific dietary requirement, Royal Brunei Airlines is prepared to customize the meals to your needs. Just make sure you let them know in advance.
Deenise made a request for a low calorie meal and she had smoked salmon with potatoes, salad, fruits and a wheatmeal bun. It's definitely, a healthier alternative compared to mine.
Tiffany on the other hand, chose a high fiber meal and she too had more vegetables compared to my normal meal.
What I really liked was that they use actual stainless steel cutlery. None of those nonsense plastic cutlery that makes the food difficult to cut and are bad for the environment. The whole service throughout the trip was warm and friendly thus giving us a premier experience traveling with Royal Brunei Airlines.
As soon as the scene outside my window changed from white clouds to greenery, I knew we were arriving.
78% of Brunei is covered by greenery so the bird's eye view of the country was really beautiful.
All of us were excited to have landed smoothly and had a great time chatting with the super friendly Royal Brunei cabin crew.
Upon exiting the customs area, we were all shocked to see Muaz Roslan from Royal Brunei Airlines holding up our twitter nicks to welcome us! He even prepared 3G local sim cards knowing that the social media addicts in us will be eternally grateful to him. Other than Muaz Roslan, we also met up with Tom of Sunshine Borneo Tours who will be with us every step of our trip in Brunei. Public transport is not very well connected in Brunei because everyone owns a car. When visiting Brunei it is much better to either rent a car or follow a customized tour group.
Even though the Brunei International Airport is still under renovation, you can immediately feel their sense of pride and love for their country. There are beautiful artworks and even a golden arch made completely of recycled local Bruneian chopsticks which are slightly different from the chopsticks that we are used to as it's joined at the top.
I think it's a wonderful idea to use these Brunei chopsticks as they are able to portray the Bruneian concern for environmental protection as well as showcases their own unique culture.
The  Rizqun International Hotel is only 10 mins from the Brunei International airport and located at the city center of Gadong which is the heart of all the entertainment and retail. We were brought here to check in and given some free time to rest and relax. The warm wood and leather lobby  juxtaposed with the beautiful stain glass gave the hotel an old school luxurious feel. We were all dying to check out the individual rooms we were given.
My room was huge! Besides the king sized bed, there was enough floor area to do some yoga or dance around.
Even the bathrooms were very spacious.
Since I hardly slept the night before my Brunei trip, I took this chance to take a quick 20 mins nap.
I could have probably slept longer but I was keen to explore more of Brunei.
I took a nice warm shower and checked the contents of the lovely "I heart Brunei" gift pack given to us by the Brunei Tourism board. There were several brochures, a polo tee, name card holder, Brunei souvenir magnet and my media pass. I really like the design of this bag and it proved to be really handy to have around because Fridays to Sundays are "Plastic bag Free" days in Brunei. What a wonderful concept and I'm amazed that the Bruneians have long accepted this as a part of their way of life. Singapore has much to learn about forcing encouraging their citizens to bring their own shopping bags. I really think that Singaporeans need a jumpstart to learn not to rely so much on plastic bags.
After admiring the view from my room, I headed out to meet explore The Mall. Yes, their shopping mall is literally called 'The Mall'. While shopping is not as vast or as competitive as what we have in Singapore, they do have a lot of familiar brands such as Charles and Keith, Misa, The Body Shop, Bata and even a cinema.
It feels a little like the smaller malls in Malaysia. I managed to get my sim card cut down to nano size for my Iphone 5 here. Since Singapore dollars and Brunei dollars are of equal value, there is no need to do any currency conversion. In fact they accept any Singapore denominations except for the Singapore $1 coin. How convenient.
Spotted a Royal Brunei plane mural on the ceiling of the mall!
Even though there are quite a number of KFC restaurants in Brunei, there is only one McDonalds restaurant in the whole country! Also, you can find The Coffee Bean and Tea Leaf but you won't find any Starbucks around. But given the fact that food is cheaper in Brunei than in Singapore, you won't feel the need to eat fast food while you are here.
I had some yummy crepes in The Mall before getting ready to meet Tom for our dinner and night city tour.
More about the amazing architecture of Brunei in my next post!
If you are heading to Brunei and want to stay in Gadong area, you can try the hotel we stayed in.
The Rizqun International Hotel
Telephone: (+673) 242 3000
Fax: (+673) 242 8000
Abdul Razak Complex
Gadong BE3519
Bandar Seri Begawan
Negara Brunei Darussalam
The moment I entered Brunei, the slower pace of life and the extensive greenery immediately imparts a calm and peaceful feeling over me. It was a fun yet very refreshing holiday and I learnt so much about what Brunei had to offer. Thank you Royal Brunei Airlines  and Brunei Tourism for sponsoring this trip and giving me yet another eye-opening experience.
Brunei is definitely a destination to consider and offers a lot more than what most Singaporeans know about it. You'll find out more in my next few posts!
You can visit the Royal Brunei Airlines Facebook page to learn more about their promotions.
PS: There are 3 photos in this post of the group at the Singapore Changi Airport that I've put up in this post without my usual watermark as these photos are used courtesy of Tiffany Yong. 🙂