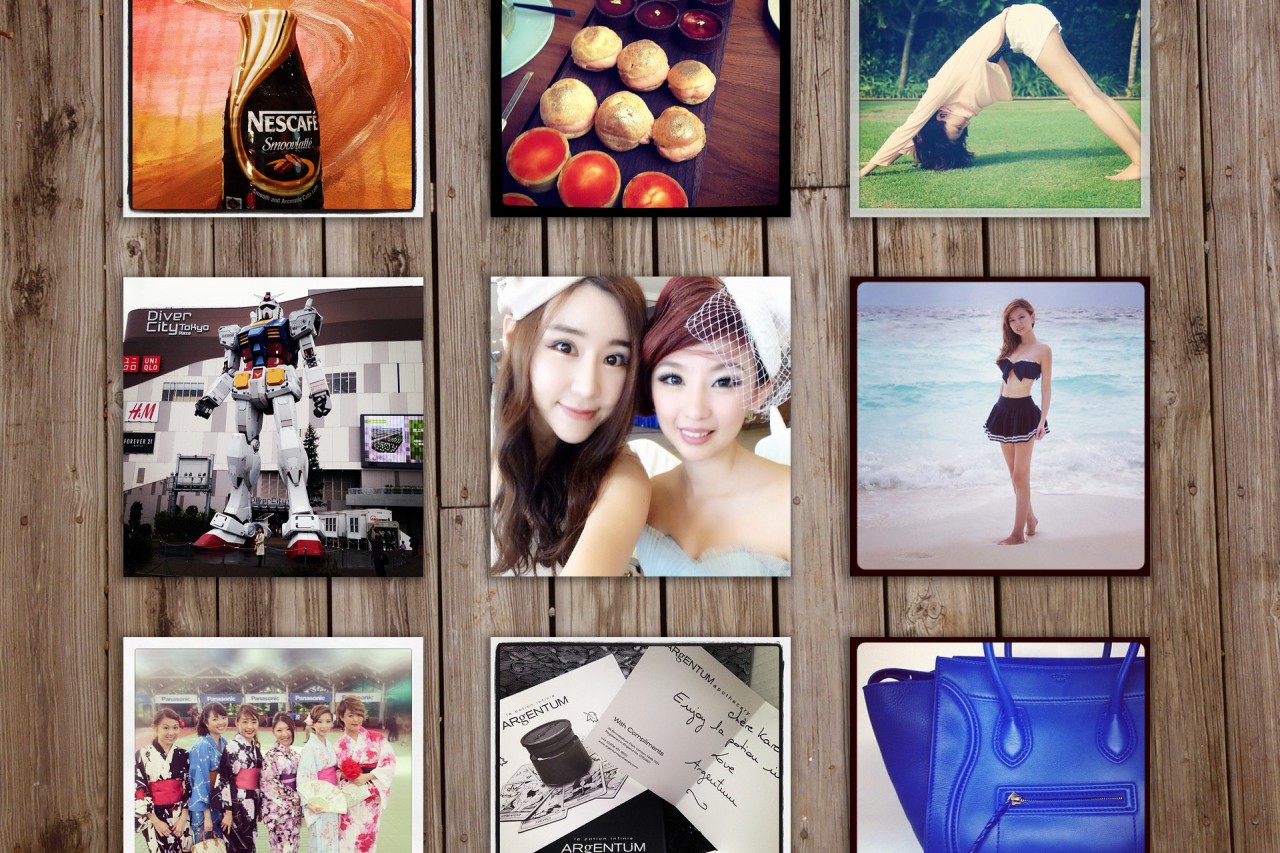 A blink of an eye and the year is coming to a close so it's a great time to look back on what I've been up to in November 2013.
I've always love watermelon so I really couldn't resist trying out Meiji's Watermelon flavoured milk. It's pretty good but I still prefer the melon flavoured version.
This set of Pazzion shoes and LV bag has been a favourite of mine in November and I wore them out frequently because they are so comfy and easy to match.
I blogged about my military theme outfit as well as about supporting our NS boys.
A selfie taken the day before I flew to Japan.
Packed a light luggage to the airport. Decided to go make-up free so I could apply a mask on board and sleep tight till the plane lands.
Visited Diver City to see the huge 1:1 size Gundam. If you are wondering, the lady in the pic is not me. I was behind the camera.
I always find new yummy food whenever I'm in Japan. Such as these delicious goyza (fried dumplings).
Spent a day traveling back to the Edo period while I was at a Japanese Onsen (hot springs).
I loved the yummy pancakes I had at Eggs n Things in Tokyo. I actually finished up everything on my own!
Krispy Cream in Japan has no queue. Look at the christmas donuts.
Bought some limited edition Gundam figurines from Gundam Front to bring back as gifts.
I've loved Bill Granger's ricotta pancakes since I first tried them in Sydney so I was so happy to know that Bills has a branch in Japan as well.
Wish I could stay in Japan longer but I had too many responsibilities back in Singapore. This selfie was taken just before I had to fly home.
Came home to a lovely surprise from Boots! I used to buy them in UK or Thailand but they've finally reached our sunny shores.
Been happily using my newest gadget – Plantronics Back Beat GO 2. 
Collection Cosmetics from UK is finally in Singapore and can be found at Watsons!
Yoga by the park when taking my dogs for their weekly outing. I haven't been going to Updog Studios as often. I really should. In case you are interested, they will be having a free session on 2nd January 2014 so don't miss out!
My 1950s Hollywood Pop Diva inspired look #fotd using Collection Cosmetics UK products.
Finally found time to have a sinful supper of lok lok in JB with friends.
Yummy Sunday Brunch at Eggs & Berries with Sebby. It was a great catchup session.
My poor baby Louis was sick and in pain. He was at the vet to do dozens of tests to find out if he had a slip disc. Luckily he's recovered and is doing well now. It's pure heartache seeing your pet suffer.
I went through all the snacks and chocolate I bought from Japan at an alarming rate. It's no wonder I put on weight.
A look at the fabulous teachers I have at Updog Studios. They are awesome! Quote "Renzze" when you sign up at Updog Studios and to get an Updog studios water bottle and a free class.
Have you visited Embellish.Sg ? It's a wonderful place to grab some good earrings for yourself and friends.
My sparkly nails done by Auum at Pasarbella . All the polishes they use are 3-free or 5-free… Meaning that they are safe for kids, pets or anyone who wants their polishes and nails to be toxic free!
Loving my onzie capri yoga pants (Audrey Lace) from myspringfling.com cause the material is just so good!
Had Ramen tasting at Ramen Champion's newest Great World City branch.
My little sis and I at my cousin Jonathan and Connie's wedding tea ceremony.
This was my #ootd for the wedding dinner.
Euni and I at the Longines Gold Cup held at the Singapore Turf Club.
Had my sweet craving fixed with this yummy vanilla souffle enjoyed with Rapheal.
Wrote a Travel Tips post for those thinking of heading to Maldives.
With the all new Nescafe Smoovelatte that you can now find in 7-Eleven and Supermarkets. I love the light taste.
Had so much fun at the Art Jamming session organised by Nescafe. Smooth as silk is the slogan for the new Nescafe Smoovlatte and behind you'll see my art piece done using both watercolours and actual coffee to paint.
Super luxe and super gorgeous ! I was super excited to try Argentum Apothecary la potion infinie which is known for its restorative powers! Sold at £147 for 70ml, this is a face cream with a potent story.
Fast becoming one of my usual hangouts, I was back at W Hotel Singapore again to chill with some out of town friends.
And afternoon shot of chocolate and strawberry shortcake brings lots of delight at Chock Full of Beans.
Had fun goofing around using blue screen with my Nemation! 8 team, Partta Kappa (NE8C06) from School of the Arts.
Wrote a post about the lovely time I had at the Singapore Turf Club for Sakura Day.
My Nemation! 8 team, Alpcalypse (#NE8C01) opened my eyes as they showed me how and what it is to Chug like a Thug.
Tested out more Watsons beauty products and you can read them at Watsons Beautyplayground.
Celine Phantom in Royal Blue for sale. It's going at SGD 3k but negotiable. Rarely used and in mint condition. Please email weird_joy@hotmail.com for more details.