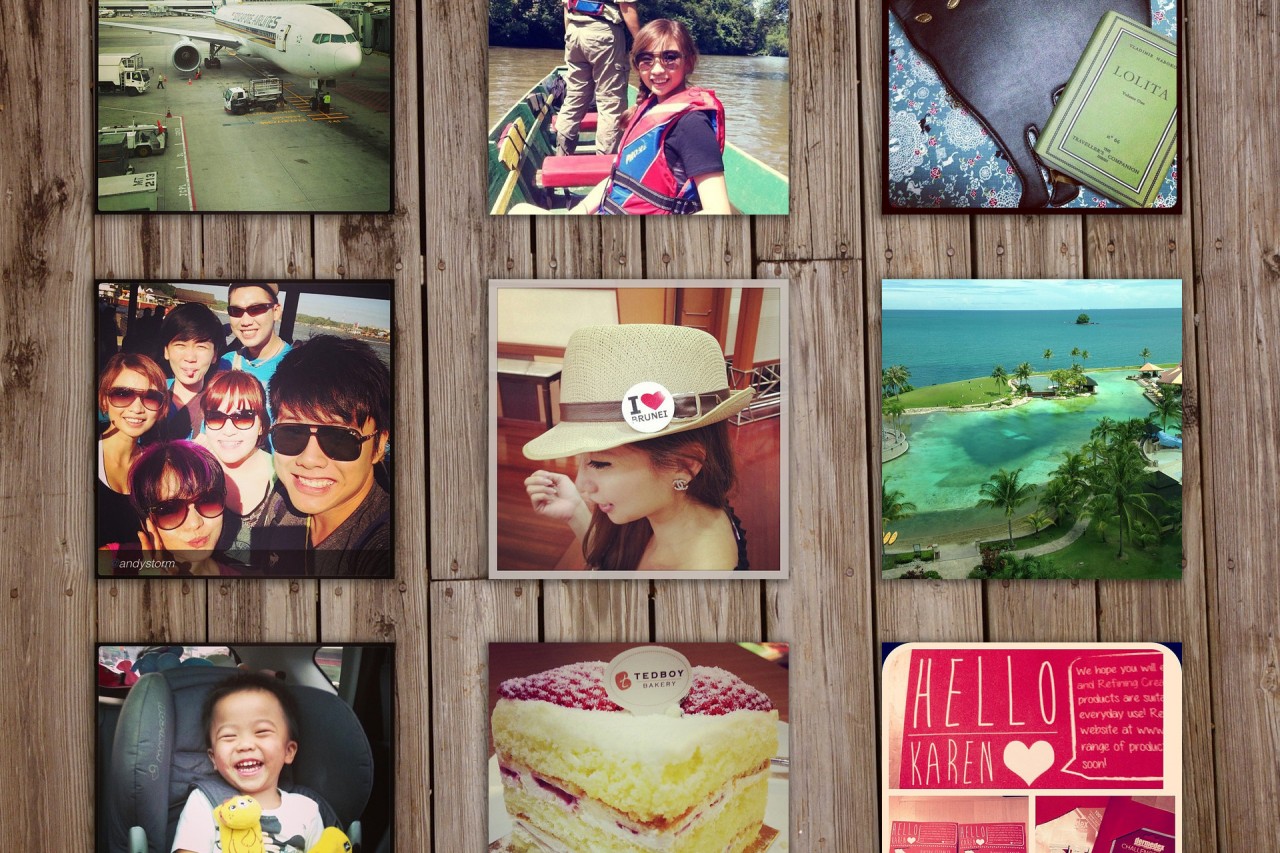 I can't believe how fast time flies. It's almost end June and I've not done my usual flashback post for May yet. Well, better late than never right?
Had lovely tea with JW, Regina and Steven at Strangers Reunion.
I was really lucky to be able to work with superstar makeup artist Clarence Lee for the TV show "  女人我最大" Singapore Edition.
The weekend crowds at IKEA Singapore are always crazy that's why I only visit on the off peak periods to get my fix of chicken wings and swedish meatballs.
I took a short weekend trip to KL in May.
Tedboy Bakery in Bangsar, Malaysia has my favorite strawberry shortcake! I fell in love with the first slice and ended up buying an entire cake back.
Nasi Lemak in KL just tastes so much better.
I always bring my trusty soft cotton travel pillow with me for flights.
Made it back to Singapore in time to celebrate Yitian's birthday with the girls.
I love surprises and @myjotterbook was so very sweet to send me one.
My Vanity Trove – May Edition. Read all about it here.
Baked incredibly delicious chocolate chips cookies with my girly @sushiwu and I'm missing it already. Time to bake more!
Play session with my Godson Leonidas on the piano.
Generous Cadbury sent me lots of chocolates, a cute mini Cadbury thumbdrive and night safari tickets!
Got my lovely book clutch and black cat clutch from @myjotterbook . I'm in love with their stuffs.
Fell ill suddenly on the day I attended the Ovarian Cancer Awareness workshop and popped into Watsons for this cold and flu medication. It's really strong!
Was super sick and alone that weekend. My grandma offered to bring me food but I refused her kind offer so I decided to make some mushroom porridge and drown myself with more meds.
Spotted my picture in the Aesthetics and Beauty Magazine together with a host of other blogger friends in that issue.
Got my mum's favorite durian cake from Jane's station to celebrate a belated Mother's day.
First time trying out Star Lashes and I loved it so much I had to take a selfie before I removed it and head for bed.
My yummy dollar pancake desserts from Paddington House of Pancakes.
In the car fun with Godson Leonidas. He's so easily amused!
Sushi was craving for Hill St Tai Hwa Pork noodles so off we went.
Had such a great time at the Audi Fashion Festival 2013 particularly since I'm a fan of Tsumori Chisato.
Weekend lunch with my family. Hainanese chicken rice, pork chops and more!
My girlfriend Sushi gave birth to Lysander in May and just like that, I've another Godson! I'm glad Godson Leo and Godson Xander (that's what I'm going to call him ) have each other to play and fight with.
Early morning makeup free face as I head into the studios to get my hair and makeup done for an outdoor filming assignment for Channel U.
One of the rare times that I have such heavy makeup on. There was nice sunlight that day so this photo was taken with #no filter.
An outfit of the day I posted on my instagram. @renzze
At the official launch of 4D movie Journey 2 starring Dwayne Johnson 'The Rock', Michael Caine & Vanessa Hudgens. Review coming up soon.
Just chopped of an inch and dyed my hair 2 shades darker.
Yay! Off on Royal Brunei Airlines to see what Brunei has in store for me. You should have read my Brunei posts by now!
Sightseeing in Burnei.
Cute cupcakes from the Brunei night market.
Sweet surprises left for me by the hotel on my first night in Brunei.
The beginning of my digital detox trip with fellow bloggers.
At 4am in the morning, I was ready to do some hiking into the top of the rainforest to catch the sunrise.
Viewed the amazing royal chariot at the Royal Regalia in Brunei.
It was an incredibly pampering and luxurious stay at The Empire Hotel and Country Club in Brunei. I'm really blessed.
Yes, our Singapore President Dr. Tony Tan was in the same hotel as us too!
Testing out Royal Brunei Airways latests sleep masks for their Dreamliner campaign and had such a wonderful time with all the warm and friendly Brunei bloggers.
Had a lovely lunch with the Brunei Tourism Board at The Empire Hotel.
The beach side scenery captured as I was riding my horse in Brunei.,
Brought #Dermedex travel kit cleanser and emulsion on my Brunei trip and it worked pretty well on my skin. I love how they customized my name in the packaging.
Back in Singapore, I met up with Rachie for a food tasting of the delicious new dishes at Skyve. Review coming up!