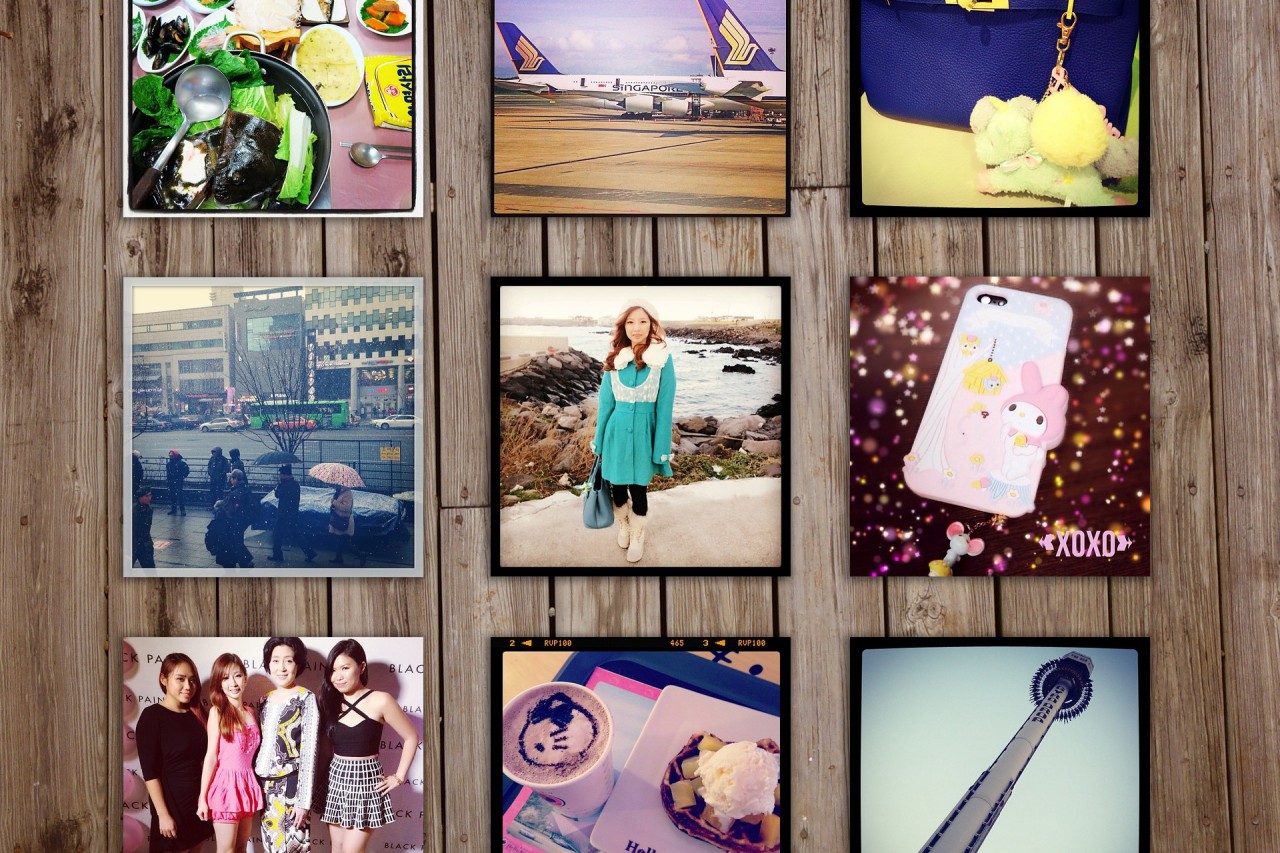 It is after all the last day before the Chinese New Year begins so I think it'll be a great time to reflect on what happened in Dec. Meanwhile I wish everyone a wonderful family reunion tonight.
I took one of my favourite bags with me for dinner with my family. I love that unicorn from My Little Twin Stars and even couldn't resist buying it from the Sanrio store when I was in Japan.
Attended the Black Paint Event and took a photo with Ms Miyuki Maeda, the founder of Black Paint as well as fellow blogger friends, Carrie and Rachie. I haven't reviewed about Black Paint yet cause I'm currently testing it out. So far it's looking promising.
 My dearest grandpa went back to heaven  in early Dec. And it was a really difficult time for me internally.
I know my grandpa is in a better place and I need to focus all my attention on my poor grandma instead. Imagine being married for 65 years before having your lifelong partner passing on before you. I was quite distraught and decided to stop blogging for a month or so. I just didn't have the strength or the heart.
I spent most of my December in Korea with my bestie from Australia. It was a good break for my heart and soul. I hardly took any photos in this trip. After spending more than 2 weeks in Korea, I only had 63 photos on my compact camera. If you divide it out equally, I took only an average of 3 photos a day for both of us.
My very first meal in Korea was this super delicious chilli pork cutlet with kimchi. Every single type of cuisine including western food comes with a side of kimchi in Korea. My hotel had a huge 60″ TV and I sort of curled myself indoors that day.
The next morning, I grabbed a cup of hot chocolate which was cutely dressed as an Angel at the airport. I was going to catch another flight to Jeju.
Jeju is a really relaxing place and my hotel faces the ocean. I experienced 4 seasons in a day while in Jeju. It started of Sunny, became cloudy and rained. Following that it started to snow and finally ended in hail. Apparently it is unusual for Jeju to be snowing.
I tried my hand to make my own kimchi. It's actually not that difficult but I can imagine how tiring it would be if you had to make enough kimchi to last your whole family for a year in one sitting.
Weather in Jeju was perfectly cool compared to Seoul's -8C freezing temperatures. When I went skiing during this trip, it was about -17c in the mountains!
This sashimi feast was just for 2 of us! It was our last meal in Jeju and you just cannot miss having fresh sashimi and seafood when you visit Jeju.
I had my pretty My Melody handphone cover with me in Korea. I got it from the first batch of items I ordered from Taobao SEA. It even came with the cute mouse dust plug.
It was snowing heavily almost every day in Seoul, Korea. Very pretty and very cold.
The super cold weather didn't stop us from heading to the amusement park. This Gyro Drop was a heart-dropping ride!
I bought my 3rd Repetto bag in Gangnum, Korea. My first 2 bags I bought in Paris. I was actually hunting for a pair of ballet flats but ended up getting a bag. I also couldn't resist getting a pair of those super cute mini ballet shoes as a bag charm. I did a lot of shopping in Korea but mainly for cosmetics, MCM, Hermes and Style Nanda. I saw so many gorgeous winter coats but I couldn't buy much because there is no winter in Singapore.
The Hello Kitty fan in me checked out the Hello Kitty Cafe in Korea for breakfast. It's a pretty place but I personally felt that it wasn't as nice as the one I went to in Taiwan.
I went with my Korean friends to try live octopus. I didn't actually eat it cause I'm allergic to seafood but just watching how those octopus continue to move and wriggle even after being chopped up was such an experience. Apparently, this dish isn't such a big deal to Koreans because most of them had tried them as toddlers.
A Merry Christmas selfie from Korea.
The last photo of the year I took was this outfit shot at my cousin's wedding dinner.
Dress: Australia
Earrings: Chanel
Watch: Cartier
Wallet: Hermes
Heels: Christian Louboutin