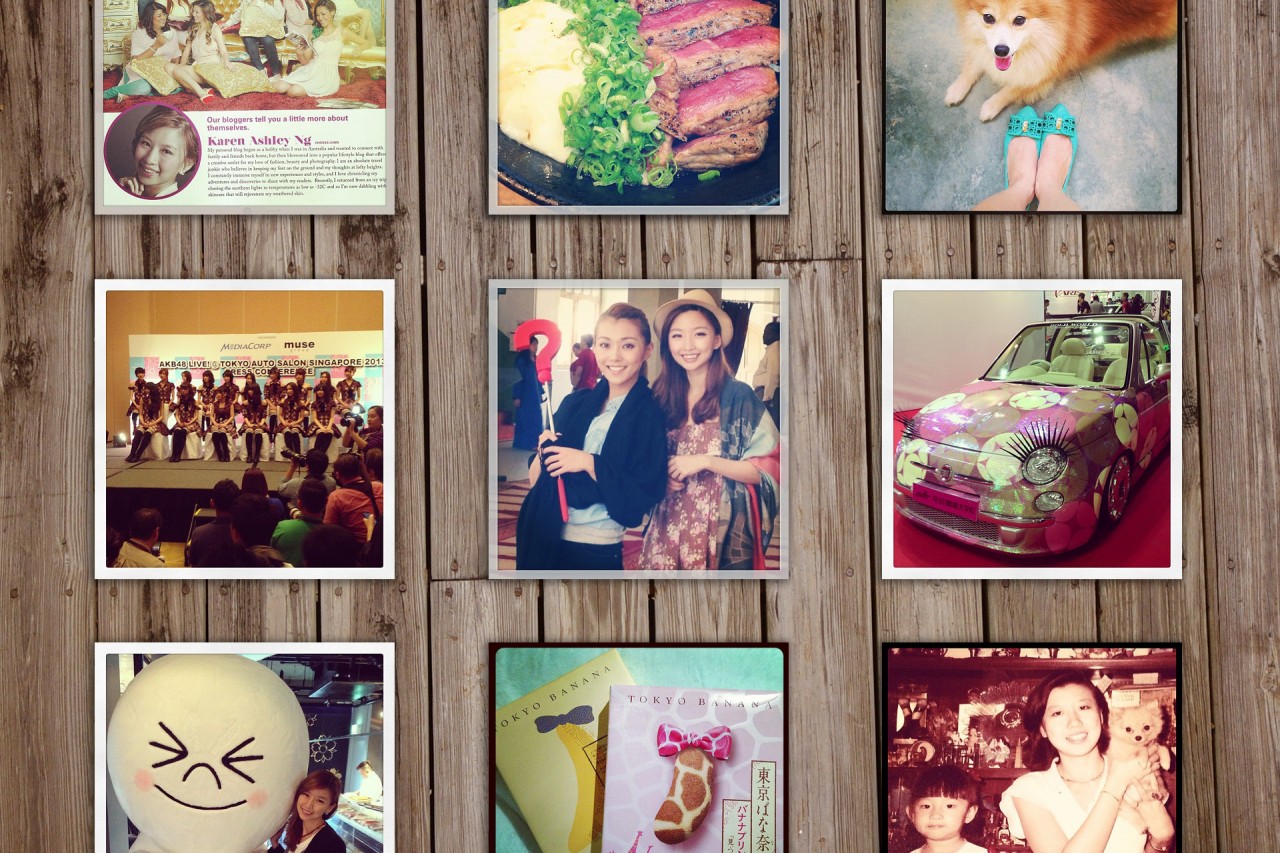 Went PS yet again because of truffle fries  and desert cravings.
Had a great catch up session at PS with Wendy. It was her first time there and she loved it.
I wore this yellow korean rosette dress with Chanel shoes.
Sushi threw a cool vegetarian tea party so we could meet up with Vernice and her little baby girl. It's been awhile since I saw Vernice.
I attended The LINE official launch party and it was awesome! Their original characters are so cute and I love the app.
Was obsessed over Tokyo Bananas for awhile. I think the pink one is cute but I actually much prefer the taste of the original one.
April's Vanity Trove which I included in my giveaway.
Late night foot reflex with Sushi followed by mee sua supper!
And Chew Kway for breakfast. I do love my local food!
Haven't had a free window of time in awhile and I had fun using my free time trying out sketching and mixing it up with digital art medium.
Outfit of the day as I took my granny out to run some errands.
Look at my bag filled with Cadbury chocolates and my cutest thumb drive ever! I got it at the Cadbury event.
I had a couple of really long days in April and this was a selfie I took on one of them before I was ready to bathe and crash.
Met up with Yan and Melvin for Thai dinner and late night drinks at Timber!
I had these for for awhile but it was only recently that I started to use my pink crystal calculator and fabric mouse pads.
Arranged dinner with Melva and blogger friends – Elaine, Herine, Tselyn and Verlyn at MooJaa for yummy thai UFO BBQ. Review coming up soon!
After being overstuffed at MooJaa, I wonder how I was able to fit this giant mudcake from TCC when I met JW, Regina and Sushi at the airport for supper before Regina flys off to China for work.
Learnt about Shiseido hair and fashion trends for 2013. Will be sharing those information with you soon!
Kombi Rocks is one of my favorite chill out place cause I love the root beer float.
A selfie with my new cap.
Late nights are for hot chocolate. One cup of milky hot chocolate always helps me to sleep better.
Went to catch Edges, The Musical with friends.
Had a great time at Savour 2013 with all the gourmet offerings. I especially loved Fadina chocolates.
Had the pleasure to meet AKB48 girls live and give them hi-5s at the Tokyo Auto Show 2013.
I really enjoyed seeing all the cars as well! Definitely worth going.
Charcoal promfret fish soup and dishes with my family for weekend dinner. It's perfect for the rainy days.
Kimchi Fried Rice with Egg for supper. Another obsession in April.
Attended a Bliss House party with Regina and my sister.
Had dinner at Two Chefs with Eunice, Smith and Pearlin.
Was in a Balenciaga mood in April.
My home cooked Kimchi fried rice is freaking good!
Throwback Thursday with my godma/aunt and my first dog, Melody.
Attended Bartitude grand opening. Owner is my gf Koji and I'm so proud of her.
Nailvibe is a sponsor for Korean boy band Ukiss and I attended the concert with Melva and friends!
Looking down, this was my view. Emmie and my green Dior flats.
The goody bag hamper for my Easter giveaway winner Eileen Lim!
Surprise Hello Kitty donuts that have been hand carried from Tokyo.
Yay! I'm in GLOW magazine 🙂 couldn't make it for the cover shoot as I was in China but flip inside and read all about me and the other lovely bloggers!
Awesome so-gyu I had at Kinsa sushi the other day. Wagyu beef from Japan. Review coming up soon.
The huge platter Morganfields with one of their signature garlic BBQ ribs. Review coming up soon.
Popping by 40 Hands for a quick chocolate or coffee fix with my dogs in the afternoons is a luxury I treasure.
Had a great time at the Singapore Turf Club at their Queen Elizabeth II cup! More photos soon!
Loving my book clutch from myjotterbook.
Makeup free and wake up hair. On the way to the studio to film with 蓝心湄 .
Had so much fun and learnt so much while filming Queen 女人我最大.
Another early morning…. Off to hair and makeup for another program, this time its on Channel U.
The lovely makeup artist yesterday that so kindly did all my touchups, wipe perspiration and sheltered me with umbrella throughout my shoot.
Behind the scenes with pretty babe 汤老师 Ling Yi.