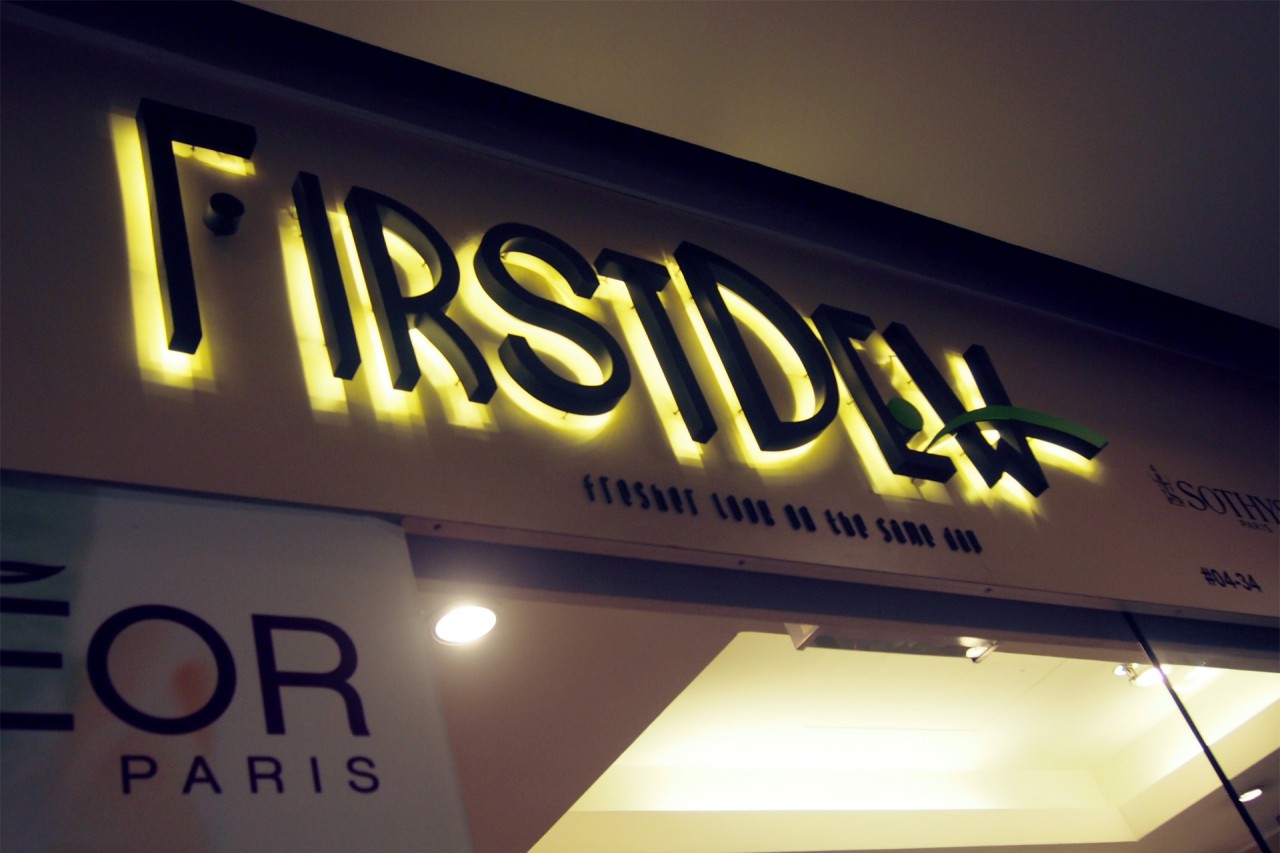 Recently my skin was feeling dull and rather lifeless from too many late nights. So it was great timing that  I should be reviewing First Dew Aesthetiques.
Located at Novena Square 2, First Dew has more than 20 years of experience in the beauty industry and aims to only provide tried and tested solutions for their clients. At the moment they are using products from 3 main outstanding French brands – Sothys, Decleor and Payot.
One of the first things required of me was for me to update my health history as well as wellness concerns. Over a cup of floral tea, the First Dew team started to explain to me more about the observations of my skin conditions, the services they provide and their recommendations.
First Dew proudly offers cosmeceutical products and treatments. Cosmeceuticals are cosmetic products with biologically active ingredients that combines the knowledge of beauty with pharmaceuticals. Their bioactive ingredients supposedly gives better results that your normal traditional skincare.
First Dew Aesthetiques also brings in several beauty machines like RF, IPL, etc to enhance the absorption and results of their treatments.
After testing various cosmeceutical products in the market, First Dew has decided to bring in Sothys, Decleor and Payot. They told me that these 3 brands were great for sensitive skin and all produces significant results with the brands technological advancements and research breakthroughs.
So why 3 different brands?
First Dew wants to use their many years of experience of dealing with skin problems in Singapore to customize the best facial that meets the individual needs. Each brand has their strengths and their different products might have different effectiveness for different skin issues. By providing 3 renown brands, First Dew is able to mix and match treatments to offer their clients the best results.
After a thorough examination of my skin, it was determined that I had dull skin due to the lack of hydration. Since I also had extremely sensitive skin, they recommended that I do a micro-current lifting treatment to prep my skin followed by Sothys hydraadvance treatment that works to increase and repair the skin natural barrier.
I love the soothing smells of the products they used. The whole treatment process was so relaxing it was hard not to fall asleep. If you are looking for a mini pampering session that will benefit your face, this is it. I love how they not only focus on you face but also remembers to pamper the neck area. The massage was probably my favorite part and they work gently on your face followed by easing the knots on your shoulders and even back.  Stress is a big factor in aging and it shows on your skin so this de-stressing treatment does good not only for my face but for my soul as well.
Here's a photo of me sans makeup immediately after my relaxing 2 hour facial. My skin was significantly brighter and more radiant. My skin was hydrated and bouncy! The micro-current treatment definitely helped increase the absorption of  the products and gave a slight firming effect.
Here's another look at my post-facial face when I place it directly under the light.
I have nothing on my skin except moisturizer yet you can see how nice and radiant it is. Even though I have sensitive skin, there was no signs of redness at all. My fine lines were also lightened because my skin was pumped up and hydrated.
A big thank you to Annie and the First Dew Aesthetiques therapists.
If you are still hunting for that perfect Mothers Day gift, you could consider giving First Dew Aesthetiques a try since their anti-aging treatment are highly raved. For $280 you get up to $830 worth of treatments that all issues head to toe. For $88 you get up to $415 worth of facial treatments which is similar to the one I reviewed. What a deal!
For inquiries please call:
Square 2 #04-34, 10 Sinaran Drive (near Novena MRT)
Tel:6397 2249